The owners of the former Debenhams store in Manchester city centre has been urged to clean up the building and improve its current state.
ManchesterWorld understands that Manchester City Council is in ongoing discussions with the building's owners over the former flagship department store, which occupies a key location on Market Street, being in need of some work. And Manchester councillor Pat Karney reiterated the message, saying the building is currently "an unholy mess" with graffiti and posters on the front of it.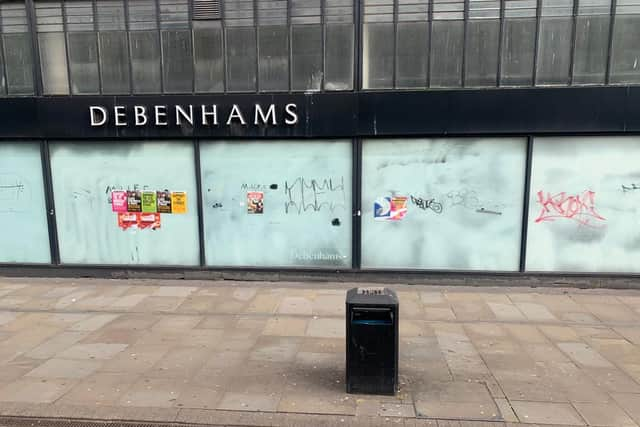 What has been said about the former Debenhams store in Manchester?
Coun Karney spoke out on social media about the state of the building, calling it "scruffy", and told ManchesterWorld it was vital that the ex-store remains in tip-top condition as it is in such a prominent location in Manchester city centre.
He said: "The building got cleaned a couple of months ago but unfortunately it needs doing again. People are postering things all round the frontage and the side and there are scratches and graffiti.
"There are adverts for this, that and the other and we want the building owners to take down all the stuff on the windows. It just looks an unholy mess.
"We are calling on the owners to make sure the building is not a bad advert for Manchester given its prominence. It's right at the top of Market Street and thousands of people pass it.
"Currently it's a terrible advert for the city centre. It's one of the main buildings and it needs to be carefully maintained. When these things go up they need to be taken down."
Coun Karney added that the authorities have a good relationship with the building's owners and he was confident they would comply with the clean-up request.
He also said they are aware of the ongoing issues with the former store's frontage and discussions about it are continuing.
What happened to the former Debenhams store?
Debenhams closed its doors in 2021 in a move which caused a seismic shock in the retail world as the high street name vanished after more than 200 years of trading.