Marcus Rashford looks in good spirits as he enjoys getaway with Tyrell Malacia in New York
Marcus Rashford is currently in New York with his Manchester United teammate.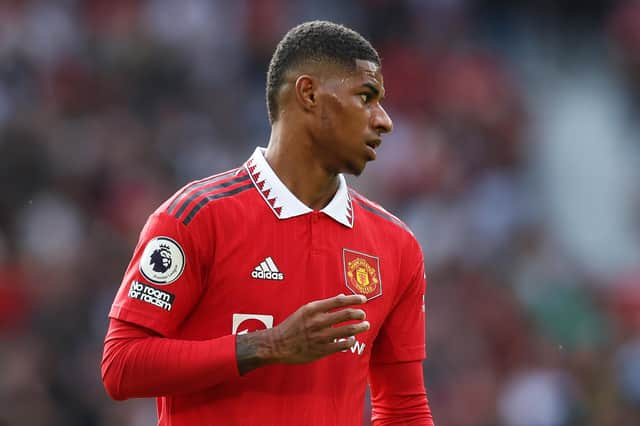 Marcus Rashford has shared a snap from his trip to New York with Manchester United teammate Tyrell Malacia. The England international posted the picture to his 15.9 million Instagram followers.
The snap shows Rashford and Malacia posing in what appears to be a hotel room, each draped in flashy expensive jewellery. The Red Devils' duo were coordinated as Rashford rocked a pair of blue Louis Vuitton shorts, whilst Malacia wore a matching Louis Vuitton hoodie.
The United winger captioned the post: "Clean with it 🧽" and tagged the location as "New York, N.Y." Over 400,000 fans liked the post with many gushing over their style and "bromance."
However, others were left unimpressed and opted to mock Manchester United's  top goalscorer for the season. One Instagram user said: "Rashford you're a footballer not a rapper🤦🏾‍♂️😂", and received over 1,000 likes on their comment. 
A loyal fan of the MBE footballer jumped to his defence, saying: "Incoming hate comments about how footballers aren't allowed to enjoy themselves while on holiday", and received 900 likes. Another of his followers wrote: "Marcus 🤝 Tyrell 😮‍💨" and a fourth added: "Marcus>>Mbappe".
Rashford has been subject to a handful of online-mockery recently, as just yesterday he was roasted by football fans for his pose in Manchester United's 2023/24 kit reveal. The Manchester born star recreated NBA legend Allen Iverson's iconic 'Roses' photo, in an attempt to pay homage to the 76ers hero, but some fans labelled the tribute as 'blasphemy'.
Some of the lighter-hearted responses to the controversial shoot included a comparison between a Jaguar sports car and a rusty Fiat Panda, and a picture of a cat wishing to be a wolf. One disgruntled Iverson fan said: "don't ever put the Legend Allen Iverson next to Rashford's name. Never."