Marcus Rashford pays homage to NBA legend as he recreates 'Roses' pose for Manchester United's new kit reveal
Marcus Rashford recreated an iconic photo of NBA legend Allen Iverson.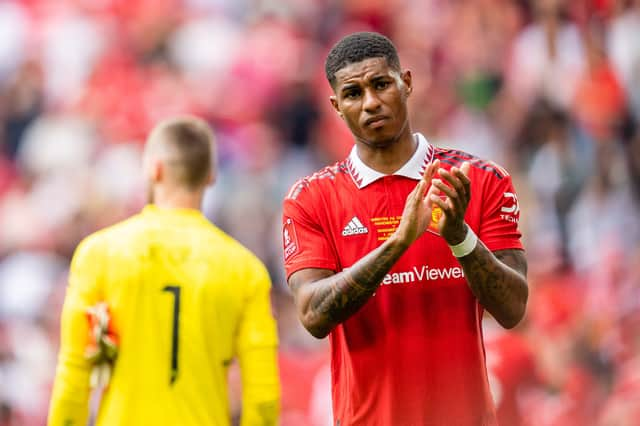 Marcus Rashford has stolen the show in Manchester United's series of photos for their new kit reveal. The 2023/24 kit features a black collar and accents, and dons the new TeamViewer sponsor.
The winger, 25, paid homage to an NBA legend in one of the pictures. He recreated an iconic photo featuring Allen Iverson, known to fans as 'roses'.
The original picture was taken in April 2000, featuring Iverson, who quickly became a cult hero in the world of basketball. The 6-foot-tall 76ers guard can be seen sitting in a chair holding a bouquet of wilted roses, whilst shirtless, but still donning his signature trainers.
For the Manchester United kit launch, Rashford recreated the shoot, of course wearing a shirt, the 2023/24 home kit to be precise. He sat on a stool draped in a Man United flag, with Old Trafford's red seats as the backdrop.
Fans were quick to poke fun at Rashford for emulating the NBA's most valuable player and 11 time all star. Football-heads flooded social media with memes designed to mock the Red Devils' top goalscorer this season. Highlights included a comparison between a Jaguar sports car and a rusty Fiat Panda, and a picture of a cat wishing to be a wolf. One disgruntled Iverson fan said: "don't ever put the Legend Allen Iverson next to Rashford's name. Never."
Despite the seemingly unwarranted mockery, United fans seemed pleased on the whole with their new kit. The upcoming season could feature Chelsea and England midfielder Mason Mount in the new shirt.
United have now submitted several bids for the English number 10, but Chelsea do not appear to want to part ways with Mount, who only has one year left on his contract. This has left fans feeling short-changed, as the move appeared to be almost certain just a few weeks ago.
Erik Ten Hag's side are now allegedly looking at alternatives to Mason Mount, including Brighton prodigy Moises Caicedo.