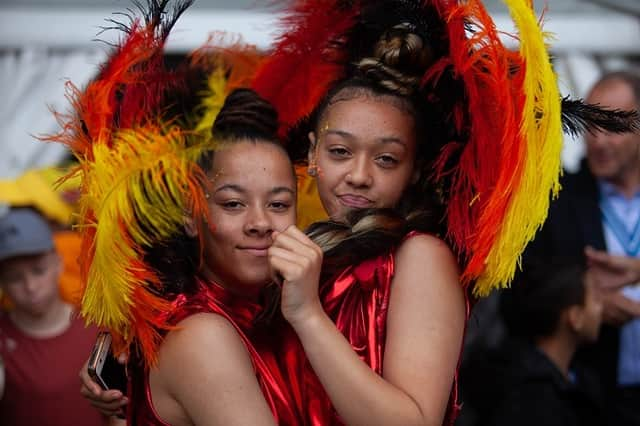 Manchester Carnival. Photo: Manchester City Council
Alexandra Park in Manchester will stage a Carnival family fun day.
The event is being put on by the community interest company (CIC) Manchester Carnival Together.
The event on Saturday 4 September is intended to be something of a bridge between the virtual event that had to be staged due to the pandemic last year and the return to the full-scale public events.
It also marks an important step on the road to the 50th staging of the Carnival in Manchester.
What will the Carnival fun day be like?
Organisers say the 2021 event will be a smaller scale celebration of Caribbean community, heritage and music.
There will be two live stages of musical performances, steel pans, dance, DJs spinning the decks, displays of Caribbean heritage, community stalls, food, and a funfair.
Manchester Carnival. Photo: Manchester City Council
The event will take place in the heart of the Moss Side green space from 1pm until 7pm.
Although Government restrictions around Covid were lifted on 19 July, the event will follow guidelines and advice to support the safe delivery of the event.
This includes encouraging all those planning to attend to take a free Covid-19 test on the day or the day before.
Why is this 'mini-carnival' event being put on this year?
Last year Covid-19 meant Manchester's celebration of Carnival had to be done in online form.
This local family fun day, The Road To Carnival 50, will kickstart the forthcoming countdown of celebrations leading to the return of the Manchester Caribbean carnival as a full-scale event in August 2022.
To make the full return even more special, Carnival will return in its full form for its 50th celebration.
This year's community fun day is intended to bridge the gap between the online event of the pandemic last year and the return to the large, physical annual events of the future.
What are those involved in the event saying about it?
Julia Burke, chair and project manager of Manchester Carnival Together CIC said: "It will be a full day of entertainment for all that aims to bring people together as a community after a long period of isolation, loss of life and tragedy, for a family orientated day of entertainment and activities where people can share a common experience after being separated for so long."
Coun Luthfur Rahman, deputy leader of Manchester City Council, said: "It's wonderful to see events return to our communities after a tough year.
"These events are so important to celebrate the city's cultures and carnival has been entrenched in Manchester's calendar for decades - this feels like a real reawakening.
"As ever, carnival will be a family-friendly day but this year slightly smaller to ensure we can keep the event as Covid-19 safe as possible.
"We know this event was sorely missed last year and we're really looking forward to bringing carnival back to the community."