Helen Flanagan has urged her followers to pamper and love themselves this Valentine's Day in a video encouraging self-love.
The Coronation Street star, 32, from Manchester, took to Instagram to share an empowering post, which referenced her split from ex-fiancé footballer Scott Sinclair, 33.
In the video, she declared: "I don't need anyone to write me a Valentine's Card telling me nice things about myself."
The mother-of-three is seen filming herself in the mirror of her stunning marble bathroom, before posing on the edge of her roll top bathtub and treating herself to a heart-shaped box of chocolates.
Whilst Helen addresses her followers, the song "I Am Woman" by Emmy Meli can be heard playing lightly in the background.
The actress highlighted the importance of "self-love" as she narrated the video.
Helen said: "So with Valentine's day only around the corner, the month of love, the most important and loving relationship you can have, is the one with yourself.
"I love my body, it may not be perfect but it doesn't have to be, I don't have a big bum or perfect, even skin-tone, and I do have cellulite and that's ok."
"My body has given me three beautiful children, which is amazing when you think what a woman's body can do," she added.
The soap star can then be seen sitting on the floor in a bathrobe with the remaining treats and writing a Valentine's card, which reads: "To Me, Happy Valentine's Day…"
As this is shown in the video, Helen declares: "I don't need anyone to write me a valentines card to tell me nice things about myself, when I can tell myself - I am kind, I'm a good mum, I have a good heart, I'm assertive!"
She encouraged her one million followers "to pamper, and love yourself this Valentines."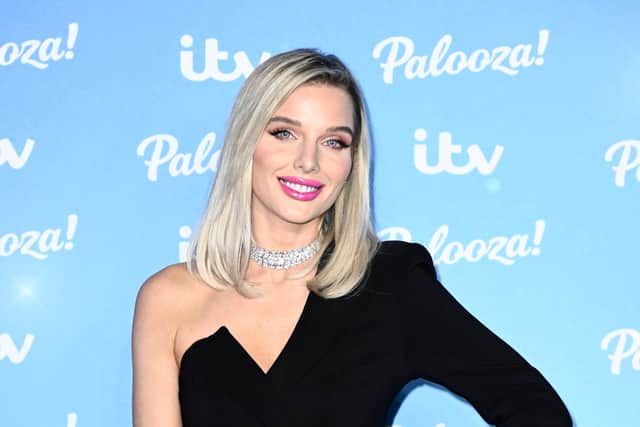 This comes after Helen and her ex-fiancé Scott Sinclair, split in October following 13 years together, and three children, Matilda, seven, Delilah, four, and son Charlie, 17 months.
The actress has previously addressed their co-parenting situation, taking to Instagram in January saying: "Kids with their daddy so just me and the guinea pigs."
Reportedly it was Helen's decision to call it quits, and in January her Corrie co-star Lucy Fallon gave Ok! Magazine an update, "She's good. She seems normal and happy," Lucy said.
In January, it was also revealed that Helen underwent breast enhancement surgery to help her to feel more confident. Although nervous to reveal the surgery, she took to Instagram to share the news with her fans.
Helen said: "It's just something that I did for myself, I really wanted to do it for my confidence. I have been really nervous about sharing this."