Helen Flanagan has been working on her "confidence" since splitting from Scott Sinclair. The former Coronation Street actress, 32, who called off her marriage to the Bristol Rovers star, 34, in October last year, took to Instagram to show off her stunning figure as she made the admission about "self love".
The mother-of-three, who recently competed in the all-star edition of ITV's I'm A Celebrity, showed off her new Moda Minx edit, which she is "so proud" of, last night (25 May). In the video, she posed in four bikinis and a figure hugging swimsuit, against a sunny backdrop.
Helen wrote: "So proud of my @modaminx edit 💗 was really empowering for me to do this as a mummy of three 💗 This year I've really tried to work on my confidence and self love 💗 I've always loved @modaminx as a brand so it's a really natural collaboration 👙 @modaminx celebrates all women and all body shapes, the one pieces and bikinis are always super flattering to make you feel amazing wether it's a girls holiday, a romantic break or a family getaway"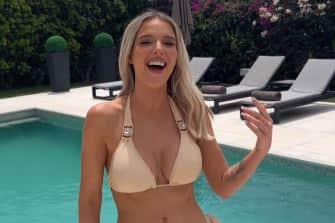 The former Coronation Street actress, who played Rosie Webster in the ITV soap, continues to co-parent her three children - Matilda, seven, Delilah, five, and Charlie, two - with Scott. She recently revealed they made a "compromise" about their eldest getting a TikTok account, directing her towards YouTube instead.
Helen is currently enjoying a girls holiday on the party island of Ibiza, whilst her children spend time with Scott's mum, who Helen gets on "so well" with due to being with the footballer from age 19. She told The Sun: "I was with Scott aged 19-31, so that's why I get on so well with his mum. So honestly it makes my life so easy because we hang out together. It's really nice. It's pretty drama free as I get on really well with her."