Emmerdale actress Amy Nuttall issues Broadchurch's Andrew Buchan with list of demands after 'cheating' scandal
Amy Nuttall has reportedly taken back Andrew Buchan after he left her for his Better co-star Leila Farzad
Amy Nuttall has seemingly forgiven Andrew Buchan just months after she demanded a divorce following his 'affair'. The Downton Abbey actress, 41, from Blackburn, was left heartbroken when her husband of 11 years left their family home to be with his Better co-star Leila Farzad,39, just before Christmas.
Amy, who shares two children with the Broadchurch actor, is reportedly attempting to repair their marriage by following the 777 approach. She has demanded that they should have full access to each other's phones and also Andrew must have no contact with Leila.
A source told The Sun that Amy didn't want to "throw away" over a decade spent together, having been married since 2012. The source said: "They will adopt the 777 approach which means every seven days you go on a date, every seven weeks you go away for the night and every seven months you go away on holiday just the two of you."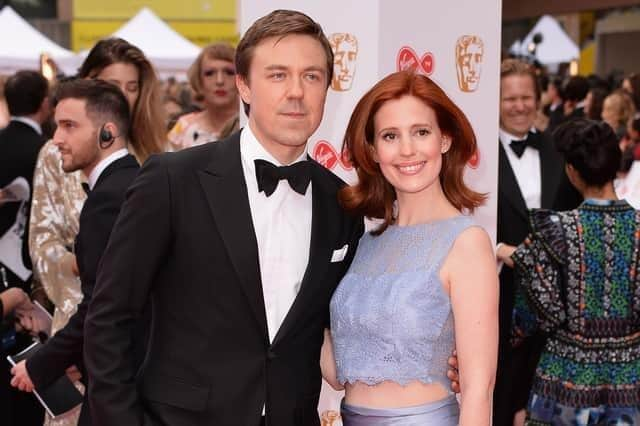 The couple are also allegedly set to become "equals in terms of work" rather than Andrew being the breadwinner and he will have to check in via FaceTime when working away from home. Their reunion comes shortly after Andrew was spotted wearing his wedding ring and visiting their home in Buckinghamshire.
Amy Nuttall, who made a name for herself in Emmerdale playing Chloe Atkinson and then starred as housemaid Ethel Parks in ITV period drama Downton, became suspicious of how close Andrew had become to his Better co-star Leila Farzad after spotting "tell-tale signs" in their social media posts together. 
The actor had also been frequently staying away from the family home in favour of sleeping at hotels "very near" to where they live. "But the final straw was the lingerie — that's what clinched it. Amy just knew instinctively that it wasn't meant for her," an insider said.
Amy was blindsided as one minute they were living an idyllic family life in a beautiful house and the next, Andrew decided to leave them. He and Amy were rumoured to have split during the festive season after over 11 years of marriage.
The actor is said to have fallen for Lelia whilst they were filming the BBC crime thriller, Better, but their romance "fizzled out quickly." By March, Leila returned to her husband James Maizels and their daughter, who was born in 2014.