An enterprising teenager from Manchester has become the youngest ever contestant to win investment on Dragons' Den.
Myles Dickinson, who is 19 but was 18 at the time of recording, struck a deal after pitching his custom metal credit card business, Haze, on the BBC1 show last night (2 February). Myles impressed the five Dragons with his confident pitch - and his revelation that he is well-known TV presenter David Dickinson's grandson emerged when he was asked if entrepreneurship runs in his family. Speaking after the show, he admitted his inspiration comes largely from his famous grandfather, who is famed for presenting antiques shows such as Dickinson's Real Deal.
Myles said: "Obviously my grandad is very successful so I feel the pressure to follow in his footsteps and become successful as well. I put my life and soul into this company, and I am thrilled to have the support of a dragon to run my business."
Viewers of the show were gripped as three of the five mega-rich Dragons battled to sign up super-smart Myles after a polished pitch, in which he revealed he'd set up his own eBay business before he turned 16, only pausing to complete his GCSEs, before landing on the idea of personalising credit and debit cards with bespoke designs, and marketing them on TikTok and Instagram.
In the end, Myles chose social media and marketing guru Steven Bartlett over fellow Dragons Peter Jones and retail tycoon Touker Suleyman who all offered him the full investment he asked for. Barlett, whose net worth is thought to be circa £71million, promised the teen he could come and work alongside him in his office with social media experts.
Myles founded Haze in November 2021 while he was in his first year of university. He was studying banking and finance in London but quickly dropped out to focus full-time on running the company. Prior to appearing on the show, Myles had used his maintenance loan to buy the machinery and build a website for his business.
The young entrepreneur started by employing his flat mates and making the stainless steel bank cards in his university dorm.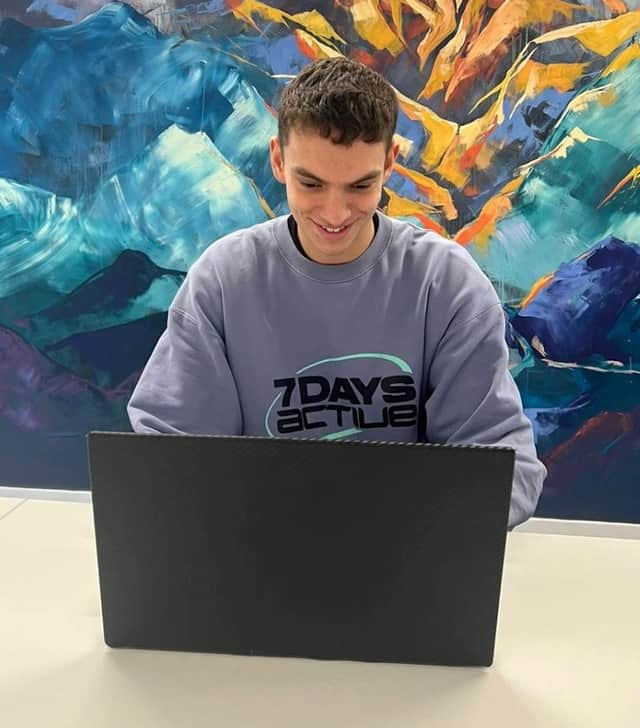 He quickly found there was a high demand for his product, and by the time he filmed Dragons' Den in March, he claimed he'd earned six figures in revenue.
Myles said: "The cards are customisable, durable, and an all round premium product. Before going on the show, my friends were helping me make them in my university room after I'd used my maintenance loan to launch the business. I was 18 at the time and it felt like a big risk putting all my energy into Haze when I had university work to be doing.
"But I believed in my vision, and in the end all the time and effort I put in paid off."
Haze personalised credit cards
On the day of his pitch, Myles requested a £35,000 investment from the Dragons in return for 35 % share of his company.
And, the business has been thriving ever since, much to the delight of Steven, 30, and his famous grandfather - a popular TV personality. David, 81, made his living as an antiques dealer - best known for presenting BBC's Bargain Hunt and his daytime show Dickinson's Real Deal on ITV.
Myles says David has been extremely supportive of his business venture, and that he's been largely inspired by his grandfather's success.
He said: "When family members do well in life, it inspires and motivates you to do the same. Going on the show at 18-years-old was nerve racking, but I was confident that my business had what it took to secure an investment. It wasn't just the money which I was after, I also wanted to benefit from the guidance and experience of having a dragon as a mentor.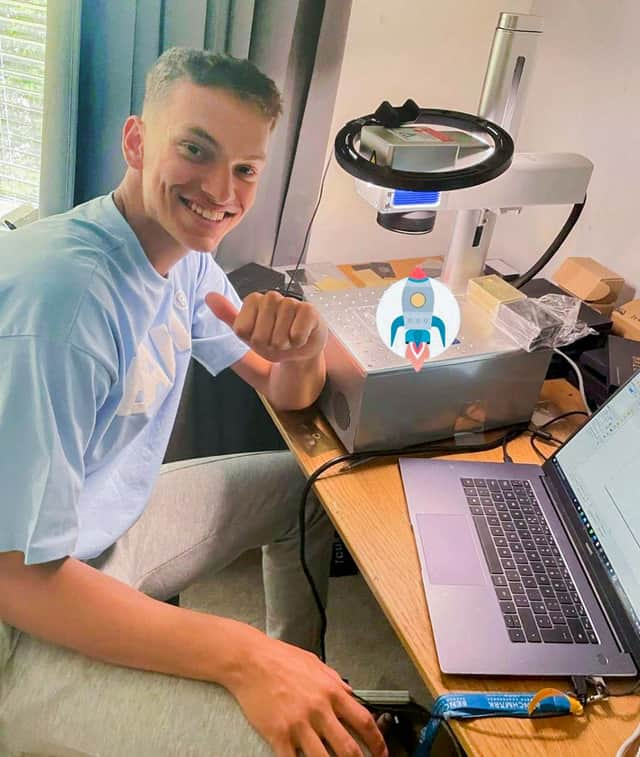 "Getting three offers was amazing, and in the end I decided to go with Steven because he's a lot younger and someone I've always looked up to. The business is currently in a strong position and I'm excited to see what the future holds for Haze."
You can catch Myles' successful Dragons Den pitch on BBC iPlayer.