Coronation Street fans have delighted on social media after two actors appeared to confirm they are dating in real life.
Elle Mulvaney, 20, from Bury, who stars as Amy Barlow in the ITV soap, was spotted with fellow actor Liam Scholes, who played Eli Higginson, at London's Winter Wonderland last month.
They seem to have now confirmed rumours that they are dating after both sharing sweet snaps taken together on their Instagram accounts.
"Miss u winter wonderland," Elle captioned a mirror selfie taken alongside Liam, who posted a photo taken in the same location on his profile with the caption "💚🎄".
Elle has since shared a series of snaps on her Instagram story from heartwarming moments they've spent together, including a lunch date and football match.
The actress split from her ex-boyfriend of 18 months Euan in August, but seemed to remain in good spirits with frequent Instagram posts showing herself smiling throughout summer.
Corrie fans have shown their support for her new relationship with Liam by leaving heart emojis under their posts.
One commented: "You both look gorgeous 😍😍😍😍😍😍"
Another wrote: "I just love your photos Elle. You always make me smile. Sending lots of love 💕"
A third added: "Wishing them both the best 👍👍👍👍"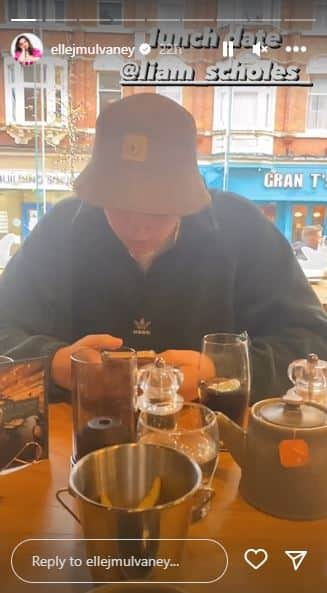 Liam is set to star in the upcoming series of BBC's Waterloo Road, while Elle has admitted that things aren't looking good for her character in Coronation Street.
Elle told Birmingham Live: "It's going to be really interesting when Jacob's dad Damon comes onto the show. He's going to bring a lot of drama.
"He's definitely going to be one to watch and I think it's going to get really interesting when we start to discover more things about Jacob's family. I think that's going to have an impact with Jacob and Amy so we'll have to see what's going to happen with that. We hope for happiness but there's going to be drama."