Becky Hill delighted 150 children with a surprise performance of her charity single in Greater Manchester on Wednesday.
The pop singer, 28, from Bewdley, was joined by a team from the BBC at Bolton Lads and Girls Club after the surprise event was teased on the charity's Instagram account.
The youth organisation shared a snap of the area they had prepared for Becky's performance, with the caption: "The stage is all set, and the BBC team are getting ready for our surprise mystery Pop Star guest at INFINITY Junior Club tonight! 🎤🤩 #BBC #excited"
She gushed about Bolton Lads and Girls Club being an "incredible place", after performing three songs including charity single Only You.
Fans have called the cover which features in McDonald'sChristmas advert "beautiful" and it has received thousands of views since it was shared on Becky's YouTube channel.
Children In Need are set to receive 10 pence for every UK download of the track. This is the second year that McDonald's is supporting the charity that helps to improve the lives of disadvantaged young people.
Pop duo Yazoo debuted Only You in 1982. Beck initially released her cover of the song three years ago, following the death of her grandfather.
The award-winning singer, who found fame after appearing on The Voice UK, was given an opportunity to pose for selfies and witness some of the children at Bolton Lads and Girls Club's talent in action during her surprise gig.
The singer admitted to wishing that she had had access to the music facilities that those who attend the youth organisation have, as she reflected on her own childhood while exploring the recording studio in the centre.
"There is nothing more pure than kids just going for it for a song.
"What an incredible place, and I really enjoyed singing for them all and seeing all their faces, knowing all the words, it was super cute," Becky told PA news agency.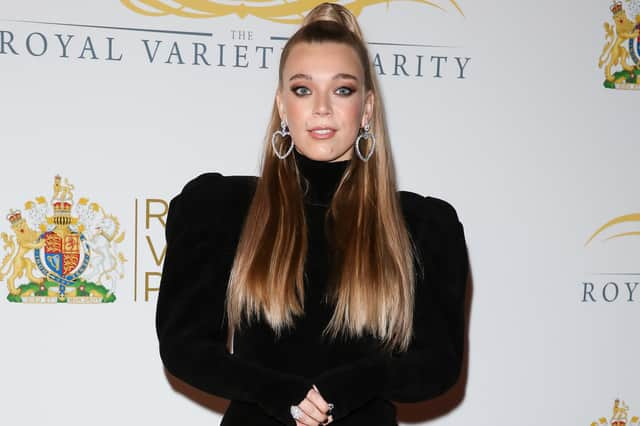 The youth organisation is yet to share clips from Becky's performance, however she shared a series of photos on Instagram to tease her 377,000 followers with her trip to Manchester.
The singer donned fuschia boots with a coordinating shorts set and sparkly top for one snap, and is seen in a relaxed cropped sweater in another photo.
Becky Hill captioned the post, writing: "i love having the glam team on hand to give u all this fresh content ✨"
One fan commented: "u got that Manchester glow😍😋x"
Another wrote: "Becky 🔥 we love ya!!!! happy holidays"