Beauty salons and bars replace chippies and banks in the changing face of Manchester's high streets since 2020
Across Manchester city centre's shopping streets there have been declines in banks and fish and chip shops and an increase in tattoo and piercing parlours and beauty services.
Watch more of our videos on Shots!
and live on Freeview channel 276
Visit Shots! now
Manchester city centre has seen changes to its high street over the past couple of years - with more tattoo parlours and beauty services while the number of banks and fish and chip shops has declined.
The BBC website has produced a postcode look-up tool where you can type in where you live and find out what kinds of businesses were operating on popular shopping streets in 2020 and which ones are there now. We decided to have a look at the picture in Manchester city centre and see how it has changed.
Analysis of 10 popular high streets in the city centre, including Deansgate, John Dalton Street and Oxford Street, shows that on those roads there have been increases over the past two years in beauty services (by 14%), cafes (by 12%) and bars and pubs (by 7%).
At the same time there has been a notable fall of almost a fifth in the number of clothes stores, while restaurants and fast food outlets have both seen decreases of 8%. Retail as a whole (not just businesses selling clothing) saw an 11% decrease on these streets. We also looked at a group of 10 shopping streets roughly centred around Ancoats and the Northern Quarter, which included Great Ancoats Street and Oldham Road.
There the two years between 2020 and 2022 have seen notable increases in the number of hospitality and food and drink-related businesses opening. There had been a 10% increase in the number of eating and drinking venues (considerably more than the national average of 4%), with a 21% jump in cafes and an 11% rise in the number of pubs and bars. Across those streets as a whole retail declined by 5%.
Across Manchester as a whole there have been more beauty services opening (though at a slightly slower rate than across the North West as a whole), and more tattoo and piercing studios setting up. However, the number of banks and public toilets in the city has declined in the past couple of years and one particularly eye-catching bit of data shows the city has lost one in 10 of its fish and chip shops since 2020.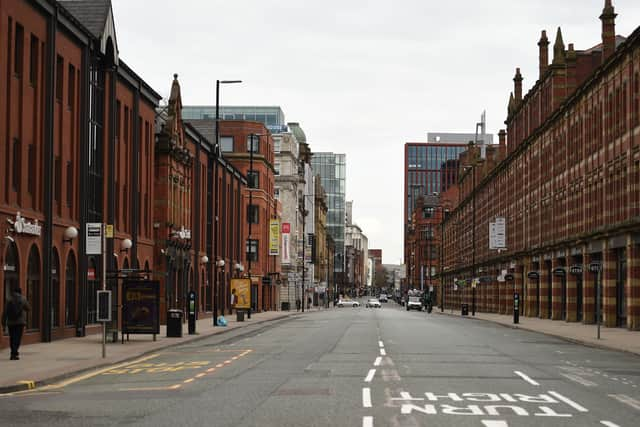 The number of supermarket stores operating in Manchester has remained more or less unchanged, the data suggests.
The data in the postcode look-up tool runs from March 2020 to March 2022 and comes from the Ordnance Survey. The researchers behind it have suggested it shows the impact of two years of Covid-related restrictions on the high street and continues to indicate a shift away from high streets as places for buying goods and towards them being places where people meet and do things.