Ariana Grande has been praised for continuing to send Christmas presents to the children in Manchester hospitals.
The singer, 29, from Florida, has had a strong connection with Manchester since a terrorist attack took place during her show at the Manchester Arena in 2017.
The Royal Manchester Children's Hospital charity gushed about her ongoing generosity five years after the incident in a post on Twitter as they shared a snap of the Christmas gifts she sent for patients.
The tweet received almost 2,000 likes with many commenters praising Ariana for the "thoughtful" gesture.
The Royal Manchester Children's Hospital charity shared a photo showing a pile of presents surrounding a Christmas tree with a sign saying "Thank you Ariana x".
The image was also posted on Instagram, with the caption: "Thank you Ariana! ⭐
"We were so excited to receive Christmas gifts for young patients across our hospitals from @arianagrande 🎁
"The Christmas presents were distributed to babies, children and teenagers at Royal Manchester Children's Hospital, Trafford General, Wythenshawe Hospital and North Manchester General Hospital."
Tanya Hamid, who is Interim Director of Manchester Foundation Trust Charity, added: "It's so wonderful that Ariana has once again been so thoughtful and made this special donation to our family of hospitals.
"We know Manchester, and in particular Royal Manchester Children's Hospital, holds a special place in Ariana's heart."
The post received a flood of positive comments from fans who were delighted by Ariana's kindness.
One wrote: "More wonderful people like Ariana in the world please. So thoughtful 💛🐝"
Another commented: "She has the sweetest and kindest soul 🤍"
A third said: "She really has a heart made of gold, i love her so much ☹️"
A fourth added: "What a lovely thing to do. Such a shame more people with money don't do the same."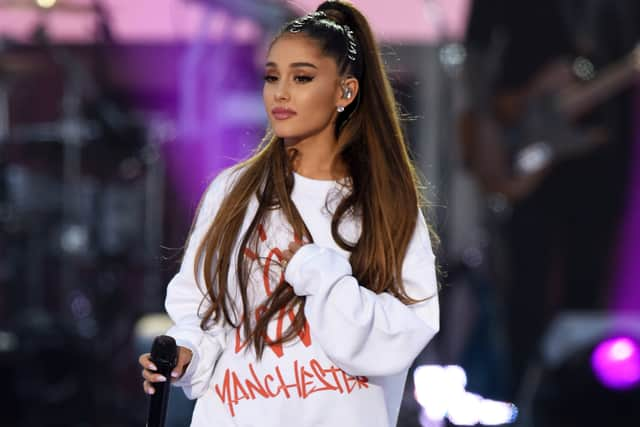 In recent years, Ariana has donated thousands of presents and Amazon vouchers to young patients in Manchester.
The singer made a surprise visit to Royal Manchester Children's Hospital two weeks after suicide bomber Salman Abedi's attack in 2017, which killed 22 people.
She then went on to raise over £2.35 million by hosting a star studded benefit concert at Old Trafford cricket ground.
Ariana has been made an honorary citizen of Manchester for her response to the terror attack.