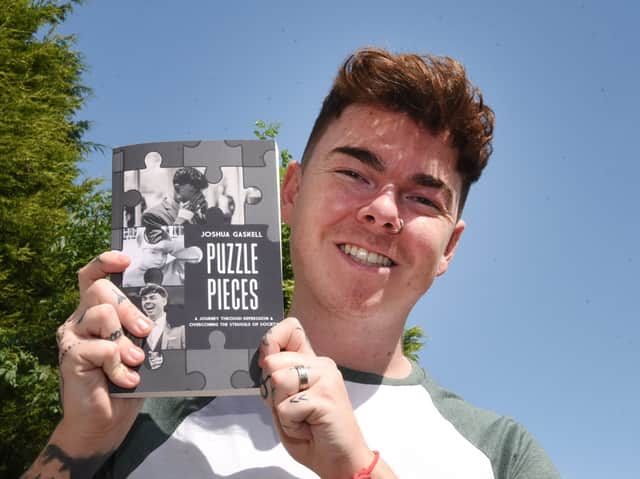 Josh Gaskell was at the Manchester Arena on the awful night a terrorist bombed an Ariana Grande concert, killing 22 people.
He was left battling survivor's guilt in addition to a catalogue of serious mental health problems he faced over the years.
Now he has written Puzzle Pieces, his account of his battles, and says he is amazed to be receiving messages that it is already helping other people who are struggling.
'A girl tried to explain a bomb had gone off but I didn't believe it'
Josh attended the American pop superstar's concert in Manchester in May 2017 with his best friend.
They had been sat at floor level and so were on a stairway underneath the foyer where the bomb detonated when the attack happened.
He said: "I remember hearing a loud bang but you hear that all the time in arenas so I didn't think it could be anything like it was.
"I said to my friend I wasn't sure if Ariana Grande had come back on stage. Looking back, that must have been when the bomb went off.
"There was then a bit of panic and I got lifted off my feet at one point with everyone pushing and shoving to get out.
"The next minute we were outside and you could just tell from the atmosphere something was wrong.
"A girl tried to explain a bomb had gone off but I didn't believe it.
"We bumped into a lady who was crying. I can't just leave someone who is upset and walk past so I asked her what was wrong and she was saying she had seen a girl being dragged out and she had blood on her.
"Eventually we got to the car and we were trying to get out of the car park for about 45 minutes to an hour.
"All we could hear were sirens and voices saying it was an emergency and to evacuate the area.
"It came on the news while were in the car that it was a terrorist attack.
"At one point my friend and I made a plan that if someone came into the car park with a gun we would just run to the nearest hotel. Looking back, the idea that we did that was terrifying."
Struggling with survivor's guilt
Josh said he and his friend were among the lucky ones to have escaped the attack without being injured.
However, the psychological impact of what had happened began to hit him almost immediately.
He said: "The first thing was struggling to sleep. The night of the concert I was on my own in the house and I woke up at 3am with my heart racing.
"This carried on for months afterwards, waking up in a panic.
"I had flashbacks to the sirens going off and even now when I hear a siren I automatically get a flashback to that.
"I can't watch or read any news articles about it or the anniversaries or any of the footage. I deleted every video of the concert.
"Straight after the concert I was obsessed, reading every article and having to know everything about the people who had passed away.
"I donated about a week's wages to charities straight away.
"I think I was trying to suppress the guilt, the feeling that I had survived and wondering if I was doing enough, being there for those who had lost loved ones or been injured.
"There was an eight-year-old girl who passed away and I couldn't understand why it was her and not me. That was what was going through my head quite a lot."
Earlier this week it was reported that a young woman who had been to the concert was found dead at home in the Midlands.
Josh said: "When I saw that my heart sank. There are still people out there struggling.
"Every single person who was there that night was mentally damaged in some way."
Writing a book about mental health
Josh's experiences around the Manchester Arena attack are now included in the text of Puzzle Pieces.
Sadly the concert is just one of the tough experiences the 26-year-old barber has faced in his life.
In the book Josh talks openly about his years of difficulties with issues including bullying at school, facing problems with his sexuality and relationships, suicide attempts, depression and anxiety and self-harming as well as more recent problems such as how tough lockdown was with his barber's salon having to be closed for months on end.
During lockdown Josh went back to therapy and it was there his therapist suggested writing down some of the experiences he had faced over the years.
About three-quarters of the way through the writing process his therapist suggested the text could also help other people, and the idea of creating Puzzle Pieces and then publishing it was born.
'Manchester was the hardest thing to write about'
Puzzle Pieces, the title of which comes from Josh's belief that each individual event and experience is a piece that fits in to making up the full picture of himself, is full of accounts of difficult periods in his life.
Despite that, having to recount the Arena bombing and the aftermath of it was the biggest hurdle the Wiganer faced.
He said: "It was so strange. I've been through a lot but Manchester was the hardest thing to write about.
"I remember one night I was writing about those who had died and I started to cry.
"My partner told me to stop and said it was becoming too hard, but I said: 'No, let me go with it, let me feel the emotion so I can put it into words.
"Again, it's not about my experience, it's the guilt that I survived it and they didn't."
'Helping other people is amazing'
Josh was supported throughout the several months he wrote Puzzle Pieces by his parents Nigel and Michaela, his husband Michael with whom he tied the knot last October, and his older brothers Adam and Connah.
The writing process may have been an ordeal at times but Josh says he has already been receiving very positive feedback after the book hit the shelves.
He said: "I'm overwhelmed and shocked by how well it's doing and how much support I have received.
"Every couple of days I get a message from someone saying it has helped them, which is just amazing."
Josh says the main message of the book is that no-one is alone in their battle against mental illness and anyone suffering should allow others to help them.