90-year-old Wigan gran fulfils life's dream of riding on a Harley Davidson motorbike
Fearless Barbara Morris from Wigan said she "felt 21 again" after hitching a ride on the powerful American cruiser for almost seven miles.
Watch more of our videos on Shots!
and live on Freeview channel 276
Visit Shots! now
A bike-mad great-grandma with "nerves of steel" was granted her birthday wish to ride on the back of a Harley Davidson – as she turned 90.
Fearless Barbara Morris from Wigan said she "felt 21 again" after hitching a ride on the powerful American cruiser for almost seven miles. The former florist with six great-grandkids got her motorcycle license in the 1950s as a teen.
And she mentioned to her family several years ago that if she made it to 90, she'd like to get back in the saddle one last time. But she was left stunned when her sons arrived at her nursing home with members of their local biker group, before taking her for a trip with 13 other riders to a pub.
Barbara said: "I felt 21 again, and I just felt the years melt away. It was just an incredible experience. It was just nice to feel the wind blowing in my face again."
Her granddaughter Kirsty Harvey, 34, who helped organize the surprise for Barbara, said the inspiring pensioner had a 'daredevil spirit' and wasn't fazed by anything.
Kirsty said: "My uncle said to her 'You always said if you made it to 90, you wanted to go on a Harley,' and then she said, 'Oh my gosh, I can't believe you remember that'."
"She's a bit of a daredevil. She's got nerves of steel, she's not really afraid of anything. She's kind of from that generation that was made of tough stuff. Nothing really fazes them."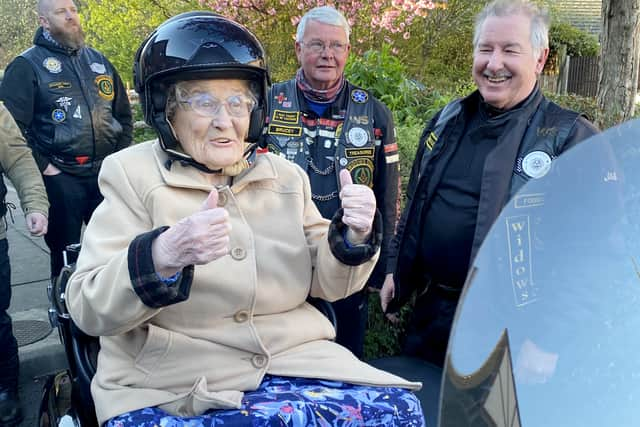 Widow Barbara, who grew up in Leicester before moving to Wigan, got her first bike, a Royal Enfield 350, in the early 1950s when she was about 19. And the mum of three, who was married to husband Peter for 58 years, quickly caught the bug for two wheels, which she then passed on to the rest of her family.
Kirsty, an NHS pharmacist technician, said: "In the 1950s, when she was a young girl, around 18 or 19 years old, it was the easiest way to get around. She did the equivalent of the CBT test and got a little 125cc bike. She went around town on that when she went to college. She always had a little bike that she nipped about on. Her three sons later all had motorbikes and a keen interest in motorbike racing and groups."
Barbara joked with her son Martin that she wanted to ride on a powerful Harley Davidson motorbike if she made it to 90 as she'd never been on one before.
So her family surprised her on Thursday (20 April) when they turned up at at Ambleside Bank Residential Home in Wigan with the North West Chapter of the Widows Sons. And she was thrilled to find out she'd be riding pillion for around seven miles on the iconic bike to the White Lion pub in Wrightington.
Kirsty said: "She didn't know anything about it at all but the care home staff were in on it. They permed her hair and did her make-up, and got her dressed up nicely.
"We all met there and two of the nursing staff led her outside because she's not very mobile, she needs a lot of help. She can't see very well, so they had to take her right up to the bike, and when she realised what it was, her face was just a picture. She thought it was just a nice bike to look at, and when we actually told her she was going on, she was a bit speechless. She couldn't quite believe what was happening."