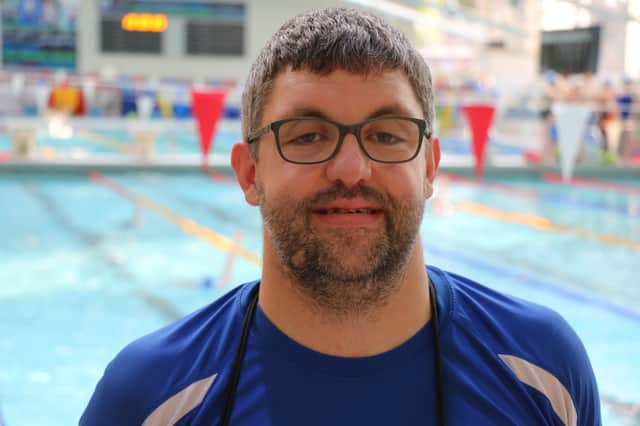 Dan Pepper has made a list celebrating the achievements of people with intellectual and learning disabilities
A Greater Manchester Paralympian, activist and presenter has been included on a list celebrating the notable achievements of people with learning disabilities.
Stockport swimmer Dan Pepper has spoken of his pride at being named on the Dimensions Leaders' List and why such high-profile recognition is necessary.
He recently brought this shocking story to a wider audience working with the BBC.
He also spoke about wanting to challenge perceptions of people with learning disabilities and his desire to use his platform to drive change.
What is the Dimensions Leaders' List?
Dimensions is one of the largest not-for-profits supporting people with learning disabilities and autism.
Its Leaders' List recognises the extraordinary achievements of people with these conditions.
Preliminary results from research conducted by Dimensions found that 96% of respondents felt everyone can learn something from people with learning disabilities and or autism but 75% felt it was easy for the wider community to forget about them.
The aim of the Leaders' List initiative is to address this by highlighting what people with learning disabilities and autism have done.
Dan spoke of his honour at being selected and the importance of the list.
He said: "It's quite emotional really because it is about a lot of my story: how the ban affected my swimming career, the whole experience of doing the podcast and putting it out there.
"It's quite overwhelming to have that recognised. I've been a bit taken aback by the support and reaction I've had."
How did Dan start swimming?
Dan started swimming aged four at Marple Swimming Club as his family initially wanted him to be safe in water as they lived near a canal at the time.
Success came quickly. At 14 he became a double world champion in the S14 category in Hong Kong and his path to the top of Paralympic sport seemed assured.
However, events in Sydney at the 2000 Paralympic Games completely derailed Dan's rise to success.
What happened with the Spanish basketball team and how was Dan affected?
It emerged that the gold medal-winning Spanish basketball team from the Games in Australia had cheated, and the majority of the players on the team did not have intellectual disabilities as had been claimed.
It had a devastating effect on Dan's career and he is still highly critical of the way the aftermath of the scandal was handled.
He said: "The ban effectively ruined my swimming career. There was no consideration of how to resolve it, no consideration of the athletes.
"It wasn't like they resolved it for the next world championships, they just didn't do anything.
"I understand why it was put in place to sort everything out, but I don't understand why it took nine years. Could they not work out a test to do?"
Dan got to compete at the London Paralympic Games in 2012 but did not medal, leaving him wondering what might have been. Photo: Fred Duval/Getty Images
Dan carried on swimming but with his category out of the Paralympic fold the championships he got to attend were much smaller and left him reliant on family support financially.
He said: "My mum and dad had to pay for me to go to the world championships. I was untouchable at one point, I would come away with something like 12 or 14 gold medals from individual events and relays.
"I did that for many years."
Eventually in 2009 the ban was lifted and Dan won three gold medals in the European Championships, which paved the way for him appearing in the GB squad for the London Paralympics of 2012.
By the time he finally got onto the biggest stage in disability sport, though, he was one of the older competitors and although he made the finals of his events he did not win a medal.
He said: "It was a double-edged sword. You had the experience which was wonderful and we had an amazing time, but afterwards you sit back and think that if it had been 2008 or 2009 when I was at my peak the outcome might have been a lot different.
"I might now have had X amount of Paralympic medals and my life might be different, and you know that your events were taken out even though you'd done nothing wrong."
The Fake Paralympians
Dan would find himself revisiting his career when the BBC decided it would make a podcast series out of the Spanish basketball scandal and sought an athlete with intellectual learning disabilities who had been directly affected by the IPC ban.
The podcast included a shocking sequence when Dan met Ray Torres, one of the players on the Spanish team who did have a learning disability and who spoke about his experiences.
Dan Pepper presented The Fake Paralympians about the Spanish basketball scandal which led to athletes with intellectual disabilities being unable to compete at the Games for years
Dan said: "It was heartbreaking. It ruined my career but he had to hand his gold medal back.
"He had his suspicions and the words he used about his team-mates were: 'What's strange is they're not strange'. They had normal conversations with the coach, they didn't have to ask questions and they seemed to get everything first time.
"The people who orchestrated the cheating preyed on the people who were legitimately disabled. They would say it was just because they didn't know everybody, and they would go off and just leave the disabled players in the room a lot of the time."
Changing perceptions of people with learning disabilities
In many ways life has come full circle for Dan, who is now 32.
He is head coach at Marple Swimming Club, where he started out on his journey, and also has a squad at Stockport Metro.
He is now keen to use his experiences to improve life for people with intellectual disabilities and expressed a particular desire to work with big companies to help them treat disabled customers better.
He said: "When you look at the cheating that happened, the disabled basketball players were pushed to one side, their comments weren't listened to.
"If you imagine that all the time it makes it very hard to break it.
Paralympic swimmer Dan Pepper
"Sport was a good way of doing that but the ban just absolutely dismissed all the work that had gone in to showcasing people with intellectual and learning disabilities.
"In the workplace people with intellectual disabilities can be dismissed, even when it's just doing something slightly differently like ringing on the phone rather than sending an email.
"For me trying to read an email is very hard, I can do it but you shouldn't expect a response straight away.
"My wife and I both have intellectual learning disabilities and we were buying a new car and we struggled with this kind of thing. It was obvious the staff had had no training and didn't know how to deal with us.
"We're both pretty easy-going and chilled-out and certainly don't mind people asking questions, but it's more about people having the greater skills.
"My friend works for a big company and they had some training and spent 10 minutes talking about people with learning difficulties and additional needs.
"It was all very textbook-driven and done by well-meaning people who want things to be equal and fair, but what's hard for me to appreciate is when the person presenting doesn't have any personal experience.
"Working with big companies on this is something I want to get into and am really passionate about."