First look at new £24.5m theatre set to replace Oldham Coliseum after it closes
Council chiefs want to open a new 'more modern' theatre – which would be smaller than the 585-seat Coliseum – at 84 Union Street.
Watch more of our videos on Shots! 
and live on Freeview channel 276
Visit Shots! now
Bosses have revealed how a new £24.5m theatre to replace Oldham's iconic Coliseum could look as the historic venue prepares to close next month.
At a cabinet meeting on Monday (27 February), councillors are set to 'recommit' to the development of a new theatre in the borough, and to formally accept £1.845m of Arts Council England funding to provide cultural activity for the next three years. It comes a week after the Coliseum Theatre said it would close its doors permanently at the end of March after being dropped from the Arts Council funding portfolio.
Council chiefs want to open a new 'more modern' theatre – which would be smaller than the 585-seat Coliseum – at 84 Union Street, in the the Old Post Office and former Quaker Meeting House. The report states that the new theatre is on target to be open by 2026, with a planning application expected by the summer.
It is the second masterplan for a new theatre in Oldham, after a scheme laid out under previous council leader Jim McMahon to move the Coliseum into a state-of-the-art £27m new venue was shelved in 2018.
Council leader Amanda Chadderton said: "After the really sad news from the Coliseum in recent weeks, it's great to see such a positive step forward for the future of arts and culture here in Oldham.
"It's so exciting to see what our theatre will look like and how architects have translated the plans we've worked up with our partners for a brilliant new space, in the heart of our emerging cultural quarter. This fantastic new theatre will offer performers, staff, and audiences a great experience as well as revitalising our cultural offer, creating jobs and adding to the buzz of a vibrant town centre where people want to live, work and visit.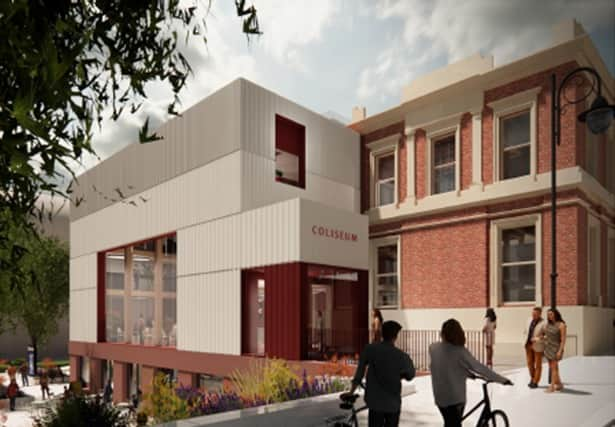 "Like nearly everyone else in Oldham I was devastated to hear the Coliseum proposes to close the doors for good. This makes it all the more important that our plans for a new theatre continue at pace; and we do still hope there can be a role for the Coliseum in this future."
She added: "It was always the plan that the Coliseum would leave Fairbottom Street and take performances on the road to maintain and build audiences while we built the new theatre. The current building is at the end of its life, and performers, staff and audiences deserve better.
"We have a fantastic future for arts and performance here in our new theatre, building on our fantastic arts heritage, which the Coliseum and cultural partners have been integral to designing."
The urgent report to cabinet states that the current Fairbottom Street theatre is 'beyond its expected lifespan' and a survey carried out in January uncovering 'numerous' urgent health safety works. These need to be completed while the theatre continues to put on shows until the end of next month.
While the new theatre is under construction, the Coliseum would produce and perform in other venues in and outside of the borough, the council says.
The Union Street venue would have an auditorium with between 300 and 350 seats, as well as a 120-seat studio.
It would also include enhanced back-stage facilities, and front of house areas such as a bar and a café. And education, event and rehearsal spaces would also be part of the designs, the council states.
"The new theatre will revitalize Oldham's cultural offer and create additional jobs, both in the venue and from the surrounding area," officers state.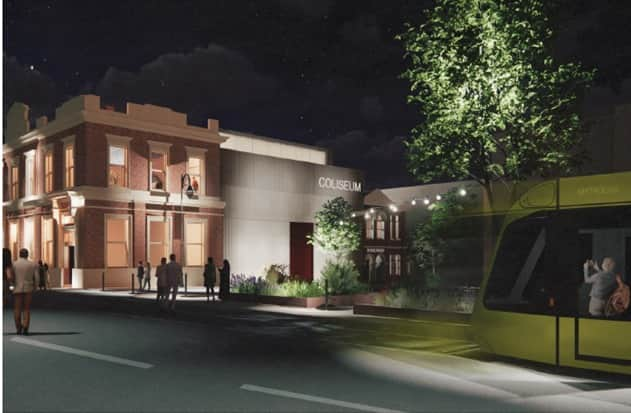 The space would be used not only as a home for the Coliseum, but also for local arts and community organisations.
Writing in support of the proposals, Chris Lawson, the interim chief executive of Oldham Coliseum theatre said: "We continue to support the development of a new theatre for Oldham, which we had hoped could be a new home for Oldham Coliseum.
"Oldham deserves a good quality theatre that produces and presents new work for local and visiting audiences. The current theatre building does not offer the space or facilities needed for a modern theatre.
"We also welcome Oldham council's proposal to accept the Arts Council's ring-fenced funding for the town.
"While we remain disappointed that this funding could not be given to the Coliseum to continue our work directly, we know how much performance means to local people and support the need for ongoing investment in the arts while a new theatre is developed.
"We continue to hope that there is a place in Oldham for the Coliseum and that we can find a way to remain part of Oldham's cultural offer while overcoming our current challenges."
Proposals have been developed by members of the current Oldham Coliseum Board and other cultural organisations, with support from Arts Council England (ACE).
In a statement ACE said: "We are working constructively with Oldham council on how this investment should be used to support the future of performing arts in Oldham and we are fully supporting plans for a performance space for the town.
"We have earmarked our £1.845 million investment against a proposal which we are expecting Oldham council to develop which will be for a programme of theatre and talent development for communities right across the borough over the next three years, to make sure that there is still a strong cultural programme.
"That will go in tandem with the council's plans to develop the new performance space.
"We invested some money to develop a vision for the new performance space and we are working hand-in-hand with the council to ensure that this new space, which will be comfortable both for modern audiences and for performers, really gives a strong future for theatre in the town."
The new theatre would be partly funded by £6m from a successful Towns Deal bid, as well as the authority's own capital funding.
Further consultation will now take place on the plans ahead of a planning application being submitted.