New immersive AR trail explores cultural history of Salford – featuring local legends John Cooper Clarke, Bez and Maxine Peake
This new AR tour of Salford will let you experience Salford in a totally new way.
Watch more of our videos on Shots!
and live on Freeview channel 276
Visit Shots! now
There's a new immersive way to explore the cultural history of Salford, thanks to a new augmented reality trail featuring some of the region's most famous faces and landmarks.
Echo Salford is a downloadable app, which leads users to various locations in Salford and offers an AR experience at each stop that includes never-before-seen images, the ability to create musical content and other digital memorabilia.
The project is funded by the National Lottery and is a collaboration between two Media City-based companies Dig Media, home of the archive of  social documenter Jack Henry Moore, and Toasted Productions. Other cultural partners include the University of Salford. It aims to share, uncover, and restore heritage content, supporting new and future music in Salford, and provide career opportunities for both students and early-stage professionals as they start their media production careers.
Where does the trail go and which celebrities are involved?
The trail starts at Media City and ends at the Kings Arms pub, with locations that span over 100 years of local history. Here are all the stops on the tour and which local legends you will meet (digitally) along the way.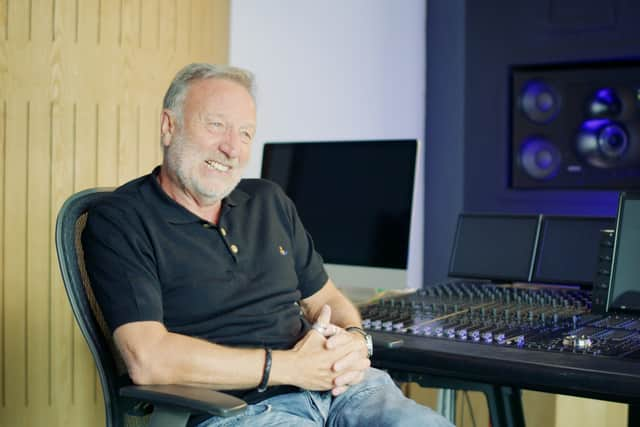 Media City – Head to Media City Piazza, where you encounter broadcasters Mark Radcliffe and Priya Matharu. You'll be able to mix a track using famous Salford instruments in the musical playground in the Piazza.
The Lowry – The next stop on the tour is the Lowry theatre, where you will see the punk poet himself John Cooper Clarke and get to write your own poem, which you can submit for your chance at winning a prize.
Salford Lads Club – Opened in 1903, this building was made famous by the Smiths and the photo they took here. On the tour, you will learn about the Salford Lads Club's 120 year history and get the chance to recreate the photo as a keepsake. This stop is introduced by DJ Mike Sweeney.
Islington Mill – At this art space, visitors get to experience the interactive graffiti and learn about the mill's musical history and LGBTQ+ community with Manchester-based drag artist Cheddar Gorgeous.
Working Class Movement Library – Here visitors will learn about the library's heritage and musical giants including folk singers Ewan MacColl and Peggy Seeger who were all inspired by the working-class struggle, with actor Maxine Peake.
Maxwell Hall – This building was a much loved concert venue in the 60s, 70s and 80s. Thanks to the AR experience, visitors will get to see a cascade of tickets from some of the most famous gigs there and other memorabilia from the Manchester Digital Music Archive. This stop features Joy Division's Peter Hook.
Chapel Street/Bexley Square – At this stop, you will get to experience all the best moments from the Sounds From The Other City festival with sarcastic fortune teller Miss Krystal. As you walk through the square, performance excerpts appear in front of you.
Kings Arms – The final stop on the tour is the legendary Kings Arms, where you'll meet their infamous cat and jukebox. This one features the one and only Bez from the Happy Mondays.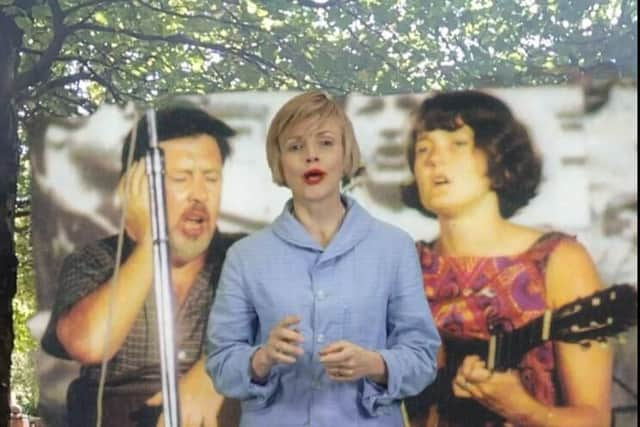 What have the organisers said?
Simon Marsland from Toasted Productions and one of the founders of Echo Salford, said: "This is a great experience for both city visitors to explore unknown cultural hotspots and city residents who can gain a new appreciation for their neighbourhood and community. Heritage sites can be lost to regeneration so by using non-invasive augmented reality, physical places can be celebrated for everyone to experience the impact they had and are still having."
Salford City Mayor Paul Dennett said: "The Echo Salford app is another superb 'Salford First', a perfect example of the world class innovation produced here in Salford – right in the heart of our city's immersive technologies and innovation hub in Media City. This wonderful immersive trail shows off Salford's vibrant cultural and musical past, present and future - bringing buildings and people to life in front of our eyes.
"It's also fantastic to see punk-poet and Salford son, John Cooper Clarke, who was recently awarded Freedom of the City making an appearance in the trail. There are many Salford greats to spot along the route. I would encourage residents and visitors interested in music, culture, or local history to download the app – it really is a fun way to explore Salford at your own pace."