Nationality and Borders Bill: groups in Manchester protest against refugee legislation
Community groups will stand together to express their opposition to legislation critics have dubbed the Anti-Refugee Bill.
Watch more of our videos on Shots!
and live on Freeview channel 276
Visit Shots! now
A Greater Manchester day of action against the legislation is being planned for Monday (21 March).
Critics say the bill, which is due back in Parliament, will increase the risks vulnerable people already face.
What is happening for the day of action against the Nationality and Borders Bill?
Groups wanting to show their opposition to the Nationality and Borders Bill will meet in Manchester city centre on Monday 21 March.
The protest takes place in St Peter's Square and will begin at 1pm.
A number of speakers will address the rally, including asylum seekers and refugees who have agreed to share their personal experiences of trying to stay in the UK after having to flee their homelands.
It is also expected that there will be some music performed and poetry recited.
What is the Nationality and Borders Bill?
The Nationality and Borders Bill contains a number of measures which the Government intends to use to discourage people from entering the UK to claim asylum via illegal routes, in particular the use of small boats in the English Channel.
It also allows citizenship to be stripped from people and suggests asylum claims will be treated differently depending on how the person trying to get leave to remain got to the country.
The Government has also raised the possibility of offshore detention centres being used.
The bill is returning to the House of Commons after the House of Lords raised strong objections to a number of the key aspects of the bill.
MPs will now have to go through the amendments to the legislation suggested by peers.
Why is the protest taking place?
The legislation has raised widespread concern, with some critics dubbing it the Anti-Refugee Bill.
Maggy Moyo from These Walls Must Fall said: "We are concerned that this bill is going to make people more vulnerable.
"Some people are victims of trafficking and abuse and they have made friends in the UK and settled into communities. We feel they are not going to be safe with what the Government is saying about using offshore centres.
"There is always a crisis such as Afghanistan or the one now in Ukraine, and we fear that after all this has died down all those who have been here waiting will be sent back because they came here through illegal routes.
"The Government is dividing asylum seekers but we are coming together and showing solidarity. We are fighting for anyone who is vulnerable.
"Asylum seekers are going to speak out about how this bill is going to affect them."
These Walls Must Fall member Hamdalat Bisi Balogun also raised concerns about how the bill will affect LGBTQ+ people claiming asylum due to being persecuted for their sexuality.
Alarm has also been expressed about how vulnerable people will be treated if the bill becomes law.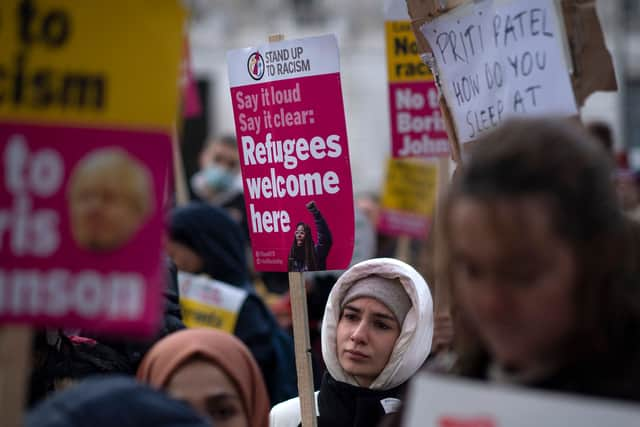 "Women have suffered trauma from persecution, war and other experiences and are going through a healing process, progressing to gain their confidence.
"Some of them have not been able to share their traumatic experiences five years down the line, but we expect them to be told to share their story in one go and if they cannot do that they could be disbelieved, detained and denied a fair judgement.
"We are also concerned that the bill has two groups of asylum seekers and treats them differently because of the way they arrived.
"The Government wants people to stay in the first safe country, but we find people are migrating from one country to another, facing hostility and being forced to go to another safer country.
"The system is already broken, it is not working at all."