Manchester is a truly multilingual city and its biggest library has delved into its archives to showcase this on World Book Day.
Manchester Central Library has taken a look through its records to show what is the most popular title on its shelves not written in English and what the most commonly-borrowed books in 15 different languages ranging from Urdu to Somali are.
The data is being shared through language learning platform Babbel, which wants to encourage residents to consider giving learning a foreign language a go.
Here are the most popular titles in each of the foreign languages that Manchester Central Library - the second-largest public lending library in Britain - has had on its shelves for bookworms to borrow over the last 30 years. It's an eclectic mix, ranging from books intended to inform or educate to fascinating novels and short stories and including plenty of stories for young children which help them with their language learning.
What are the most commonly borrowed foreign language books in Manchester Central Library?
The most borrowed book in Manchester Central Library not in English is the Arabic title Qasas Un Nabiyeen (or Stories of the Prophets) by Syed Saeed Ali Shah. This is an educational book which teaches the Arabic language and includes the religious story of Ibrahim, who was told to sacrifice his beloved son Ismail by Allah in a dream.
The library, which opened in 1934, has also delved into its records for the past three decades and revealed what the most popular books to be borrowed in 14 other languages are. They are:
Bengali: খাদ্যের পুষ্টিগুণ ও খাদ্যাভ্যাস (Nutritional quality of food and eating habits), by Harun-ar-Rashid.
French: Sépharade by Éliette Abécassis. A novel exploring the history of Moroccan Jews through the life story of its central character Esther Vidal, who struggles growing up with her mixed identity in France before moving to Israel to marry and exploring her heritage and family history.
German: Das Café am Rande der Welt: Eine Erzahlüng über den Sinn des Lebens by John Strelecky. Published in English as The Why Café, the German translation of this novel originally in English tells the story of an advertising manager on a road trip who unexpectedly finds himself confronting deeper questions than he expected on a cafe's menu.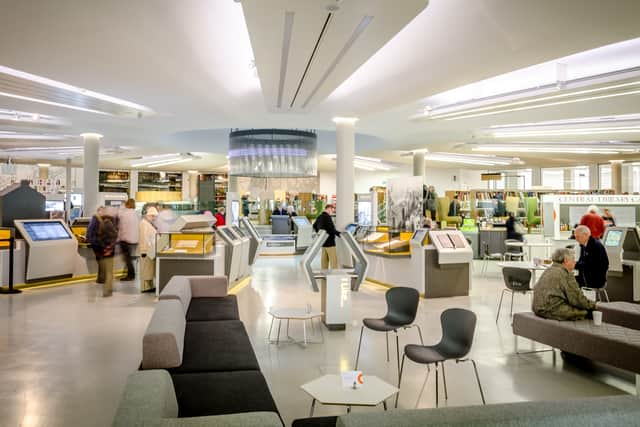 Irish: Go dtí an lá bán: Focal Labhartha (Until The White Day: Spoken Word) by Brighid Ní Mhonacháin, Máirín Uí Fhearraigh, Máire Dinny Wren and Síle Uí Ghallchóir. A short story collection by writers from the Irish-speaking community in Donegal, where this beautiful and ancient language is still used every day.
Italian: La Mafia spiegata ai ragazzi (The Mafia Explained to Young People) by Antonio Nicaso. A book for readers aged 12 and up teaching them about the history of the mafia and discussing ideas of justice and injustice, world, commitment and legality.
Lithuanian: Dievas visada keliauja incognito (The Gods Always Travel Incognito) by Laurent Gounelle, The Lithuanian translation of this French novel is a popular choice with Mancunian readers. It offers an immersive journey into the heady atmosphere of a Parisian summer.
Persian: ديدی نو از دينی کهن (A new view of an ancient religion: Zoroastrian philosophy) by Farhang Mehr. An exploration of Zoroastrianism, a religion founded in Iran and one of the world's oldest faiths.
Polish: Kosmici uwielbiają nosić majteczki (Aliens Love Underpants) by Claire Freedman. This bilingual version of a popular children's tale about how extraterrestrial arrivals are really after your underwear rather than planet Earth helps children to learn both Polish and English.
Portuguese: A Pequena Galinha Vermelha e os Grãos de Trigo by L. R. Hen. Published in English as Little Red Hen and the Grains of Wheat, this is a charming reworking of a Russian tale about valuing hard work, personal contribution and reaping what you sow. Like the Polish book this is a bilingual edition which helps very young readers master both Portuguese and English.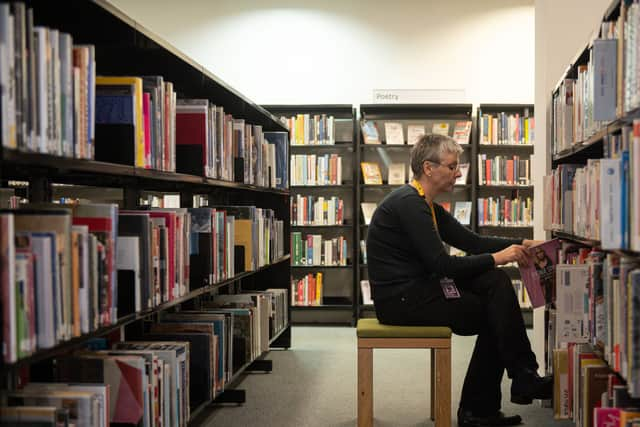 Romanian: Am luat luna la plimbare (I Took The Moon For A Walk) by Carolyn Curtis. Another bilingual children's book, this time about a boy who conquers his fear of the dark.
Somali: Stories from the horn of Africa (Somali and English) by Awil Hashi. Five illustrated stories for young children with words in both English and Somali to help youngsters understand this part of the world in an authentic cultural context and try learning a bit of Somali.
Spanish (Catalan): Aurora boreal by Åsa Larsson. A translation of Scandi-noir murder mystery,Solstorm originally written in Swedish by crime-writer Åsa Larsson, this follows a young lawyer drawn back to her hometown by the discovery of a body.
Swedish: Mormors lördagssoppa (Grandma's Saturday Soup) by Sally Fraser. A dual language book about belonging to two places at one and learning to love them both, with lush descriptions of Jamaica.
Urdu: جنت کے پتے (Jannat ke pattay) by Nimra Ahmed, With a title meaning Leaves of Heaven in English, this romantic novel explores the cultural complexities of Asian and Pakistani societies through the story of student Haya Suleman, who gets permission to study in Turkey only for a private video of her at a party to be leaked on the internet.
What has been said about the most borrowed books from Manchester Central Library?
Linguistic expert Lucy Trowbridge from Babbel said: "One of the best ways to expand your vocabulary is through reading. Whether learning a language for the first time or honing your skills, reading has been shown to increase your exposure to new words and introduce a whole range of grammatical structures.
"A key tool for learning a language is access to books in the target language. Whether studying French, German, Arabic, or Mandarin, the resources available in the target language influence how well you can immerse yourself in the language, as well as learning about culture through literature and history from other countries.
"Libraries allow people of all ages and backgrounds to access tools to help them on their language learning journeys - whatever their motivation.
"Manchester is one of the most culturally diverse cities in the UK, with more than 200 different languages found in the city, and it is great to see that the library caters to this, as well as allowing anybody in the city to explore new languages through reading."