Cladding protest: Manchester mayor Andy Burnham to address campaigners this weekend
Rebecca Long-Bailey MP and the Mayor of Salford city will also speak at the 'March to the Quays' rally this weekend.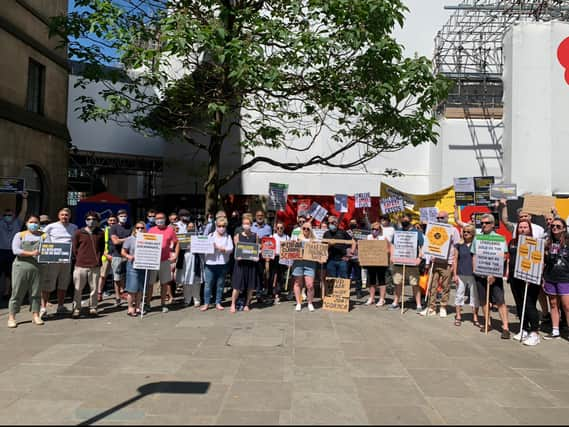 The Manchester Cladiators residents' group, which represents people across the city affected by cladding and building safety issues, is organising a rally at Salford Quays on Saturday 21 August.
The organisers have secured an impressive line-up of speakers, with Greater Manchester Mayor Andy Burnham set to address the crowds of leaseholders and their supporters.
Salford City mayor Paul Dennett will also be at the march, along with former Labour leadership contender and MP for Salford and Eccles, Rebecca Long-Bailey.
Greater Manchester Fire and Rescue Service is also set to attend.
What is the purpose of the protest?
The Manchester Cladiators say the protest aims to raise awareness of the situation and to push the Government to resolve it fairly.
Protestors say the current funding available for remediation work on high-rise buildings is limited in scope and scale and rules out too many people from being helped properly.
The Cladiators say no leaseholders should be paying for work to remove cladding or put in place safety measures which should always have been there such as fire compartments, safety doors and cavity barriers in external walls.
The lack of these measures, protestors claim, was caused by state and industry failings over many years.
The organisers of the protest say that leaseholders caught up in the crisis feel "trapped" in unsafe homes, and the fear of impending bills which could lead to bankruptcy is having a major impact on their health.
Hundreds of leaseholders are expected to turn out to the March to the Quays protest, which will start at 11am on Saturday at the Salford Quays Tram Stop.
The route will go past a number of affected buildings before arriving at The Lowry Plaza for a rally at 12pm where the guest speakers will talk to the assembled demonstrators.
Rebecca Fairclough, co-leader of the Manchester Cladiators, said: "The Government is still not doing anywhere near enough to finally bring an end to this living nightmare – we are physically, financially and mentally trapped in unsafe homes and we need the Government to finally and fairly ensure there is a solution that truly protects the innocent victims of this crisis.
"These are the promises successive ministers and prime ministers have made and we will not stop campaigning until they hold true to their words.
"March to the Quays is a chance for our residents to have their voices heard and let the public know that this nightmare is far from over for them."
Why are leaseholders protesting?
Many leaseholders who live in homes that have been deemed unsafe under regulations enforced since the Grenfell tragedy are facing massive bills for remediation works to put right the fire-safety defects.
The cost is falling on leaseholders, who do not own the buildings or commission the works, rather than the freeholders or developers who are responsible for the faulty work.
The government has consistently claimed it will not allow the costs to fall on innocent leaseholders, but has also failed to introduce legislation which would help the vast majority of those affected.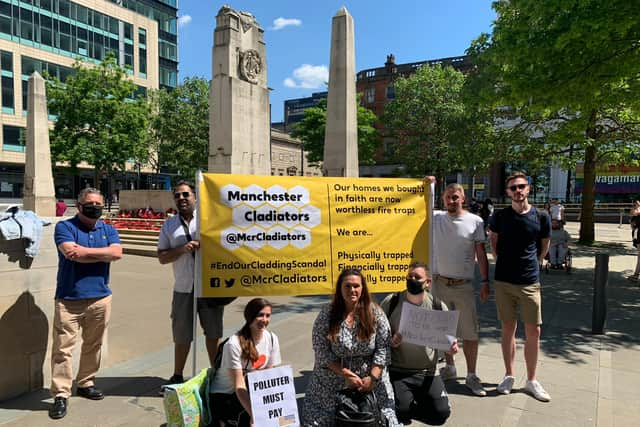 Manchester Cladiators co-leader Giles Grover said: "During the Fire Safety Bill ping pong earlier this year, ministers kept saying the Building Safety Bill would be where this issue was addressed.
"However, this has turned out to not be the case now the Building Safety Bill has been laid before Parliament and we see this as a betrayal of the promises that were made - we are aware that a number of Conservative MPs share our view and we are asking MPs across the United Kingdom to stand up for fairness now before our lives are completely destroyed.
"In the meantime, many are facing increased insurance premiums as well as additional costs for building surveys and waking watches; 24/7 security guards who patrol the building to make sure there are no fires. "
In Greater Manchester, leaseholders have been quoted more than £100,000 in some instances for remediation works which are no fault of their own.
A version of this story initially appeared at our sister site National World.