Buses will start turning yellow in Greater Manchester from today (March 24), six months before the new Bee Network is finally launched. The first publicly controlled buses will be rolled out in Bolton, Wigan and parts of Bury and Salford from September with the whole network to be franchised by 2025.
It means that fares, routes and standards will be controlled by local leaders rather than bus companies who will have to bid for contracts to run services. Operators will also be penalised if buses are regularly late or don't show up.
Fares will continue to be capped at the same price across Greater Manchester, but could increase above the £2 adult single ticket agreed last September. And a daily cap on buses, trams and rental bikes will be introduced which means passengers can tap-in and tap-out on all three for a fixed price each day.
Last year, Go North West won the first two main franchises which means the company will be running most routes in Bolton and Wigan later this year, while Diamond won seven smaller contracts to operate some services in this first phase of the Bee Network. Transport for Greater Manchester (TfGM) has also ordered hundreds of new electric buses which will be rolled out in these areas.
Eventually, all buses are set to be of the same standard with audio-visual announcements and a more accessible layout for disabled passengers. But until then, all of the buses will be covered in the yellow Bee Network branding.
Bus operators have now begun branding their buses in yellow with the first one landing in Bolton today (March 24). Transport commissioner Vernon Everitt explained that these new look yellow buses will be seen across the network now, with the operators' names to be 'peeled off' from September 24.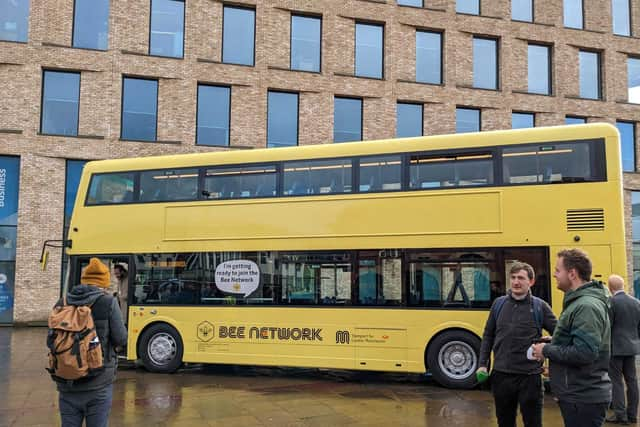 The change comes in the week that Greater Manchester signed a deal with the government which will allows local train services to be integrated into the Bee Network. This means that from 2030, passengers will be able to tap-in and tap-out when using some rail services, as well as on buses and trams.
Greater Manchester mayor Andy Burnham said he wishes the change could come quicker, but explained, "everything takes long in transport". He said: "We're moving from a very different system – the old system that we've got now – which has got multiple buses, colours, you name it, on the streets.
"To move from that to a standardised public transport system can't be done in a matter of weeks, months, it does take a few years to get there. But we're really motoring there now.
"There are hundreds of buses on orders for Greater Manchester, many of them zero emission buses. So the change is going to come thick and fast.
"When we get to September, the majority of the buses on the road serving Wigan and Bolton will be either new buses or modern buses that are being rebranded. The majority of the fleet will look to the right standard on day one."