Manchester Christmas Markets stall owners say trade is mostly ticking over this year despite the impact of the cost-of-living crisis – and insist they've tried hard not to put up prices this time, despite rising costs.
Traders reckon this year's market has seen similar visitor numbers to previous years, if sometimes a little quieter on weekdays with more folk working from home, however evenings have been busy despite the squeeze on people's budgets this year.
Paul Miller, who had been running his luxury Indian goods stall for 14 years, explained that next year traders might not be able to minimise price rises. He said: "We've noticed that we've had to increase our prices a little bit (in 2022) but talking to a lot of the traders they haven't passed on their full costs to the customers. We're a bit down on last yeat but I'm grateful for any business that we get. Impulse buying has dropped a bit."
Mr Miller feared that this year could be his last at the markets due to how he's had to adapt to the ongoing living cost issues – but that it shouldn't affect this year. He said: "The stall will be here, but me personally I've had to get a second job due to the pandemic and everything else, the business wasn't able to sustain itself.
"So, this might be my last year, it's a bittersweet time... I would say come down to the Manchester Christmas markets, forget about your troubles for a few hours at least, you know come down enjoy yourself."
Some stallholders who ManchesterWorld spoke to this week didn't see the same drop-off as some others have. Lisa, who runs a gin and toffee stall, has recorded profits akin to previous markets.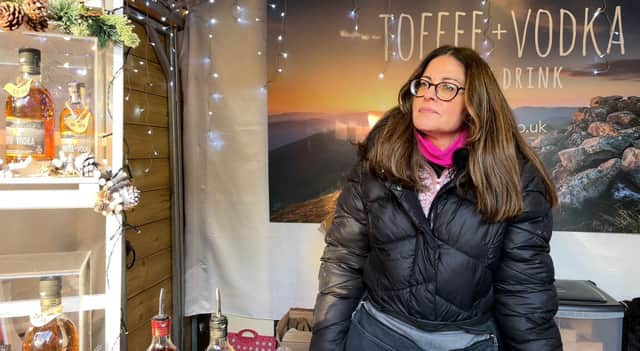 She said: "We've got a few loyal customers who do come back year after year, it's become a bit of a Christmas tradition. So, I think we may be bucking the trend where we are probably doing just as well as we have done in previous years."
According to Lisa there has still been a noticeable decrease in weekday visits as more people work from home, but it hasn't stopped people paying a cheerful visit. She said: "No matter what the situation, through Covid and now with this financial crisis people are always showing their Christmas spirit."
Another owner and one of the original market traders, Anja Manke, echoed this, and that she shared the same excitement.
She said: "I've seen a lot of people doing their Christmas shopping, I already started to do mine a little bit you know.
"They are getting into the Christmas spirit for sure. We're very happy our customers are still coming back to us."