Manchester writer and performer Oliver Sykes unveils new children's show based on his boxing exploits
Oliver Sykes' first touring show is based on his children's book which draws from his time in the ring as an amateur boxer.
Watch more of our videos on Shots!
and live on Freeview channel 276
Visit Shots! now
A Manchester writer and producer is hitting the road with a touring show based on his children's book which draws from his time in the ring as an amateur boxer.
Oliver Sykes is touring Alfie's First Fight to libraries, theatres and boxing clubs across the country this year, with a number of Greater Manchester dates already confirmed.
Oliver, who now lives in Chorlton, has traced an extraordinary path in his career from growing up in poverty on a council estate to joining Manchester arts hub Contact and getting to work with Bolton actor and writer Sophie Willan, whose sitcom Alma's Not Normal has made her one of the most acclaimed young creative talents in the country.
Now he is taking his story based in the world of boxing about a young boy whose brother goes missing just before the biggest fight of his life to venues and young audiences. And as Oli dons his boxing gloves to tell the story it is sure to be an experience the young theatre-goers will remember.
What is Alfie's First Fight by Oliver Sykes?
Alfie's First Fight is a new touring show for youngsters by Oliver Sykes based upon his book of the same name which came out at the end of 2022. It draws on the author's own experiences of growing up without a mum on a council estate and being raised by his dad in Chapel en le Frith in Derbyshire.
The book and show tell the story of 12-year-old Alfie, who is about to fight in the biggest match of his career for the Golden Gloves Championship when his older brother Jacob goes missing. Alfie must put his fears aside and investigate, finding out what figures like the Big Man and the cigar-smoking Posh Man want with his sibling. And after all that Alfie still has the prospect of the ultimate teenage warrior, the Boy Giant, who he has to face in the ring.
Oliver was himself coached as an amateur boxer by his dad, who is of Romani heritage. Oliver grew up on the breadline, receiving clothing donations from local charities, income support and free school meals.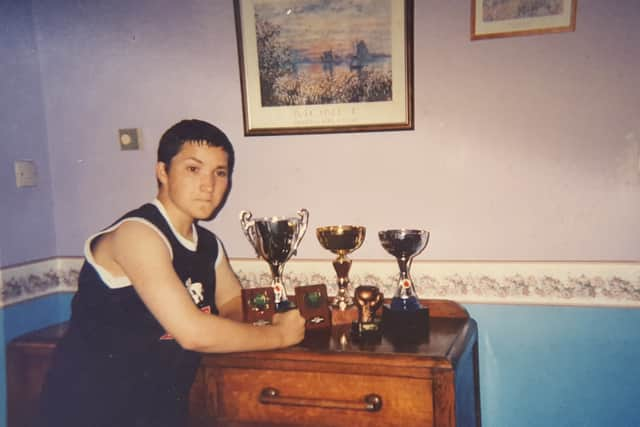 However, he was also inspired to aim high by his book-loving dad, and went on to graduate with a first from Lancaster University. He then managed to make the step into the arts world through the Jerwood creative bursaries scheme, which provides ring-fenced funding for high-achieving arts graduates from low-income families. Oliver took on a paid internship at Contact in Manchester and became a theatre and creative project producer, working with the likes of Sophie Willan who was in Contact Young Company and has won a Bafta for her show Alma's Not Normal.
On the surface, Oliver's first children's book is a simple adventure story about goodies and baddies and the drama of the boxing ring. But Alfie's First Fight is also about love, loss, family and teaching children how to fight for what they want.
And the show will have an extra fun theatrical dimension as Oliver will perform it wearing a pair of his boxing gloves.
When is Alfie's First Fight touring?
The tour opens in Burnley on Saturday 11 February and there are a number of Greater Manchester dates on the schedule.
The show comes to Salford Arts Theatre at 2pm on Thursday 23 February, to The Old Courts in Wigan at 2pm on Saturday 25 February, to The Way Theatre in Leigh at 2pm on Wednesday 5 April, to The Met in Bury at 1.30pm on Saturday 8 April, to Touchstones in Rochdale on Wednesday 12 April (time to be confirmed), and to Stubby's Boxing Club in Oldham at 10am on Saturday 6 May.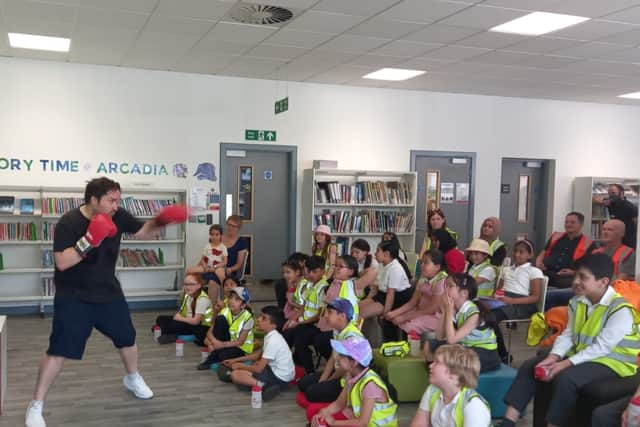 There are two shows at Waterside Arts in Sale on Sunday 7 May, at 11.30am and 2pm, and two performances in libraries in Trafford on Saturday 10 June, at Urmston Library at 11am and at Sale Library at 2pm. The show is suitable for children aged five and upwards and ticket information is on Oliver's website here.
The team behind Alfie's First Fight is also hoping to schedule more dates at boxing clubs across the region throughout the spring. The show is being supported by Manchester Libraries, Manchester City Council, Read Manchester, Stories Of Care, Manchester Children's Book Festival and Z-Arts in Hulme, and was developed using public funding from Arts Council England.
What has Oliver said about Alfie's First Fight?
Oliver said: "Alfie's First Fight is the kind of tale that you don't very often see on stage. It's a relatable, working class story about a loving and supportive non-traditional family who love boxing.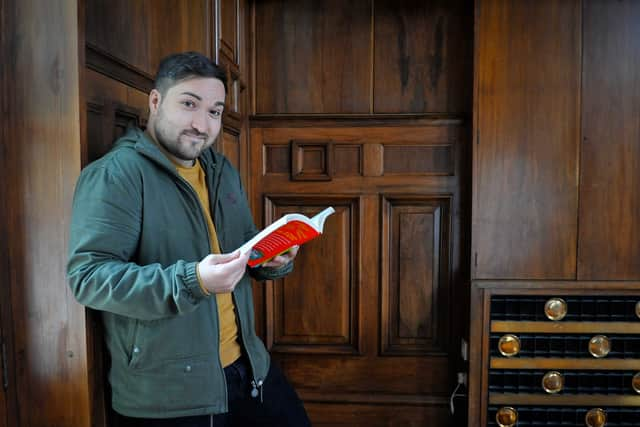 "Alfie's First Fight is a story about coming of age, fighting our fears and being who we always wanted to be. It will appeal to everyone who has ever felt like the underdog but has gone full throttle for the win regardless."
Oliver's second book for children, Fishing With Rainbows, is slated for a spring 2023 release.