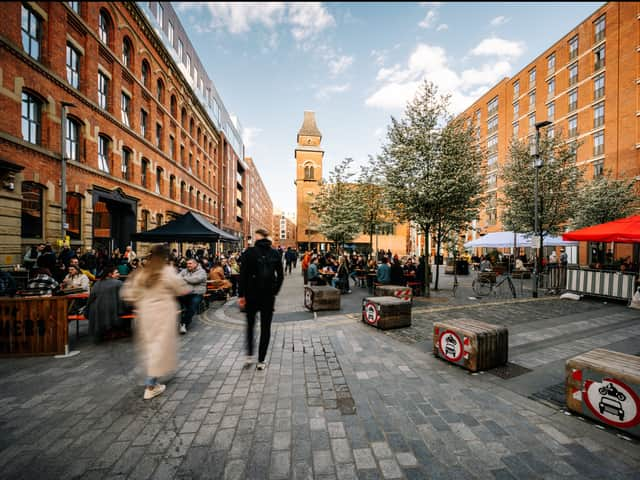 Cutting Room Square, Ancoats. Photo: Marketing Manchester
Manchester has done it again and made the upper reaches of one of Time Out's lists of the global places to be.
Why was Ancoats celebrated by the judges?
Time Out placed Ancoats at number 20 on its list of the 49 coolest neighbourhoods in the world.
The magazine praised the area, which is located just north of Manchester Piccadilly station and the Northern Quarter, for its rich fusion of cultures and the number of options for eating and drinking there.
It was also impressed by the strength of the community as seen during the Covid-19 pandemic and by the green initiatives taking shape there.
It also noticed the way the area's industrial past has been brought into the present day, with apartments being created in old cotton mills.
Ancoats. Photo: Marketing Manchester
More than 27,000 city-dwellers around the world were asked about the coolest, most underrated and most culturally exciting neighbourhoods in their city.
Time Out factored in not just great vibes, food, drink, nightlife and culture, but also community spirit, resilience and the areas setting new standards for sustainability with innovative green initiatives along with other quality-of-life factors to promote stress-free living.
Top things to do in Ancoats
As well as creating the list Time Out put together a perfect day of things to do in each of its 49 cool neighbourhoods.
Visitors to Ancoats are advised to go on a gastronomic journey they won't forget in a hurry at Mana, Manchester's only Michelin-starred restaurant.
They also suggested strolling around Cutting Room Square with its public art, before heading on to a venue like Hope Mill Theatre or St Michael's to see a show.
Ancoats. Photo: Shutterstock
Which are the world's coolest neighbourhoods?
The global list of the hippest hangouts was topped by Nørrebro in the Danish capital city Copenhagen.
The area is overflowing with exciting restaurants and bars, has a car-free Sunday in which traffic is swapped for live music and flea markets and is also home to the final resting place of famous writer Hans Christian Andersen.
Norrebro, Copenhagen. Photo: Giuseppe Liverino, Copenhagen Media Center
Andersonville in Chicago, known for being a hub of the US city's LGBTQ+ community and the bars and restaurants along its Clark Street corridor, came in second.
And the podium was rounded out by Jongno 3-ga, an historic and somewhat eccentric neighbourhood in the Korean capital city, Seoul.
What did Time Out say?
Caroline McGinn, global editor-in-chief of Time Out, said: "Time Out's annual list of the World's Coolest Neighbourhoods is a love letter to the city at its most joyful and surprising.
"It celebrates the hyperlocal places where the cities of the future are being made up, on the spot.
"In the last 12 months, grassroots community culture has been vital to preserving the health and optimism of city-dwellers and the restaurants, bars, galleries and culture spots that make cities such a crucible of invention and social life.
"It's been inspiring to see how much energy there is in these areas, where communities have come together, hung out and made new stuff, as well as supported other businesses and each other.
"You've probably never heard of most of the neighbourhoods on the list but these are places where a 'better normal' is emerging. I can't wait to visit."