When Ayesha Choudhury started looking at the books being offered to young children in schools or that were on the shelves for her to buy for her own sons, she became increasingly frustrated at the narrow range of topics, subjects and experiences on display.
She decided to act and the result was Mirror Me Write, an online inclusive bookstore based in Manchester that aims to get a much wider range of stories into the hands of young bookworms. Since setting up the business in 2019 Ayesha has been able to offer a whole world of stories and narratives to readers ranging from children to young adults as well as getting more inclusive reading material into schools.
Ayesha has also used her profile to campaign for better representation in the publishing and book worlds and explained why it is important for all readers to be able to be transported to different cultures and into different people's experiences through the power of the written word.
How was Mirror Me Write set up?
Ayesha, who lives in the Old Trafford area of Manchester, said she was always keenly aware of the importance of representation as someone who loved fiction and grew up as a British Muslim woman of Pakistani heritage. However, both as a parent and in her professional life (she currently works as a teaching assistant in a primary school) she quickly found the range of stories on offer for young readers starting out on their journey into literature was disappointing.
She said: "From being in education I had this conversation in my mind day in, day out about offering kids the same old types of books. It was draining and frustrating, it was like we were telling these children that there is one narrative in the world.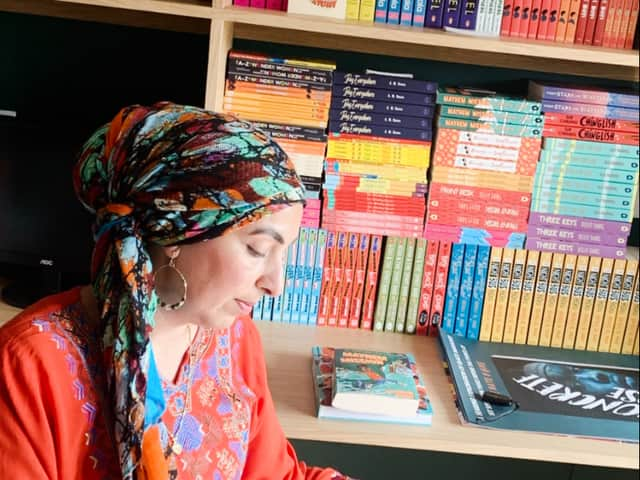 "When I became a mum I took my boys to bookshops or the supermarket there were no alternatives either. It was the same old, same old. I knew there were other stories yet we wouldn't see them on the shelves."
Despite, by her own admission, knowing "nothing about the book world", Ayesha decided to be the change she wanted to see and established Mirror Me Write in autumn 2019. Although she didn't begin trading straight away, she got herself a social media presence and then set the website up to create the online bookstore around a year after that.
However, she admits that taking the plunge and setting up the business was a little out of character and took a bit of courage after she noticed in education that there was an assumption that all children would have the same cultural experiences and this would not give value to their actual experiences.
From there Ayesha sent a message to a friend who had written a book and received a positive reception for it about her idea. She received a message telling her to contact the author's publisher and go for it, and the wheels for Mirror Me Write were set in motion.
Why does Mirror Me Write promote inclusive books and literature?
Ayesha said the core of her aim with Mirror Me Write is to get books promoting representation and inclusive stories onto school bookshelves, saying the reading material on offer for pupils is too often at odds with the education system's stated aims of preparing children to live in a globalised world alongside people of many different cultures and backgrounds.
She said: "I want to change the way schools use literature and offer up a more inclusive literature. We don't want to produce lots of young people who have become adults distrusting of other communities or ignorant of them. The narrative we offer up is very limited: it's very Eurocentric, white-centric and a little bit insular, yet we are supposed to be teaching children to be inclusive, accommodating and respectful. If we are not showing kids this from the get-go in the early years they are going to know nothing of other cultures, people or communities.
"There has been recognition in education that there needs to be change. It's slow but something is better than nothing. There are so many communities and people around us whose narrative is different, and it's not just ethnicity, it might be LGBTQ+ or gender identity. Finding out about these narratives or reading about them is a way to foster understanding."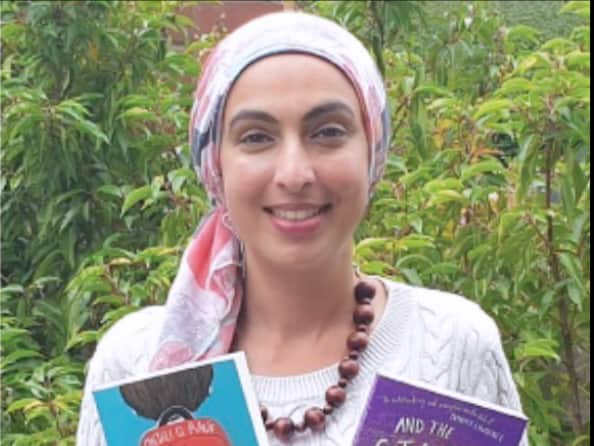 Ayesha is adamant that inclusive reading at a young age is extremely important for everybody and it is not simply a case of books reflecting someone's own personal background or experience.
She said: "Everybody needs to be reading all kinds of stuff so we have an understanding of each other. It's not about having African books for African kids. It's about normalising representation.
"The mainstream media has a lot to answer for in how they present other cultures and religions, it's often very negative. Through children's books and fiction you can often see another angle. These books are good-quality literature and they are great for promoting understanding and education."
Ayesha said mainstream booksellers or supermarkets often marginalised books by writers from minority communities and she wanted to change that by providing an online store where they could take centre stage.
She said: "I would ask about African authors and they couldn't give me an answer, they didn't know. These authors often get lost in the consumer world. They just get put to the side or shoved onto shelves. People then don't know they are there. I wanted to bring them to the forefront."
While admitting that she is still "no expert by all means" on book publishing Ayesha says she has enjoyed some notable successes in getting inclusive reading material out there. She says Mirror Me Write puts a big onus on "good-quality representation" and recognising the importance of the variety and complexity of people's lived experiences. As an example, Ayesha says that it would be virtually impossible to write "a Muslim book" as the worldwide community of Islamic believers numbers more than a billion people and spans multiple continents and a vast array of different life experiences.
What are some of the successes of Mirror Me Write and which books have been some of Ayesha's highlights?
While her initial aim was to widen the range of stories primary and secondary school pupils were reading, Ayesha says Mirror Me Write now stocks books for readers from early years to adults.
The business has arranged for authors to go into schools and has also received some large orders for books, one recently coming in when a library was re-fitted. It also has a campaigning element with ideas such as donations to get books by Manchester authors into schools around the city-region.
Asked for some of the workers and writers she is particularly proud of helping to find a wider audience, Ayesha highlights Elle McNicoll,a Scottish neurodivergent author who has autistic main characters in her books, and A.M. Dassu whose book Boy, Everywhere tackles the refugee crisis and follows the central character's harrowing journey from Syria to Turkey to a prison in Manchester and whose newest work Fight Back tells the story of Aaliyah who decides to challenge preconceptions about her faith and identity by wearing a hijab in the wake of a terrorist attack.
There's also the series of children's books by Nizrana Farook who has penned three thrilling adventure stories and whose latest work The Girl Who Lost A Leopard transports readers to a fictional version of Sri Lanka involving a child who loves exploring the mountains, poachers and the endangered big cat of the title.
Ayesha says she has a particular love of historical fiction and is keen to see it do more to explore different narratives to the more stereotypical view of British history and look at issues such as colonialism and empire. citing books about the Asian contribution to the world wars of the 20th century as an example.
Ayesha says these books encompass a whole range of the different things she wants Mirror Me Write and the titles it offers to do.
She said: "Elle understands her subject matter when she writes it and I think that's important. I'm not saying other authors don't have the ability to write diverse characters but you need a depth of understanding for a long time. We've had authors writing about people from other communities or representations and they haven't got it right. Authors need to have really studied their subject matter or come from that subject matter.
"A.M. Dassu has worked with refugees, been out to the camps and done a lot of personal interviews. It took her six years to write Boy, Everywhere but you see the power in what she's writing about. Her second book is equally powerful. It takes the premise of the Manchester bombing but is set in the Midlands and deals with the issues afterwards for a mixed group of friends. It deals with Islamophobia, what Muslim and English girls experience in their communities, it's a fantastic book.
"Inclusive books aren't all issue books, though. Nizrana's books are just brilliant adventure fantasy fiction stories with great moral messages in them.
"I think it's also important to use fiction to look at history from different angles. Often they are narratives we are not taught about. I didn't know some of these stories because I was brought up in the British education system. I only found out late in my life that one of Winston Churchill's top spies was an Indian Muslim woman who spoke fluent French, or that one of Queen Victoria's goddaughters was a founding member of the suffragettes."
What is next for Mirror Me Write?
Ayesha is currently running Mirror Me Write as well as doing a full-time job but admits she would love it to be a bigger concern, with a full team around her and one day a physical bricks-and-mortar bookstore.
For now, though, she is driven to continue by the importance of the business' work and how many more people are still yet to have access to diverse reading. She said it is also important to keep putting pressure on publishers themselves, especially as many of them made promises on diversity in the wake of George Floyd's murder and the massive increase in interest in the Black Lives Matter movement in 2020.
She said: "This is very much grass-roots work and it isn't temporary, it's a lifetime's work. It won't stop. It always needs to promote good literature and make sure it's representative of people from these communities and backgrounds.
"George Floyd's murder did start making a shift. It's now up to people to keep holding the publishing industry to the commitments it said it would do. It's still only a very small percentage of the mountain of books produced yearly, though. We need to keep addressing that, keep doing what we are doing and keep speaking about why it is important."