Manchester is facing the prospect of part of its public transport system grinding to a halt as Metrolink tram employees are being balloted for strike action in a pay dispute.
Staff working on the tram system are casting votes on taking industrial action after they were made a pay offer which their trade union Unite described as "woeful".
The ballot opens this week and if employees say they want to strike then trams could come to a standstill as early as the start of next month, raising the prospect of the Parklife Festival in Heaton Park being heavily affected.
Unite said Metrolink was in a position to make a more generous offer to its employees but had chosen not to do so and was now potentially facing the consequences.
Why is the ballot for strike action among Metrolink staff taking place?
More than 600 Metrolink workers are members of Unite and the trade union says they are angry at being made a pay offer of a 5% increase over a 15-month period.
The trade union says this is a significant real-terms pay cut for the employees when the current real inflation rate, or RPI, stands at 13.5%. The union also says the company is trying to move the annual pay anniversary date, when pay rates are due to increase, from 1 January to 1 April.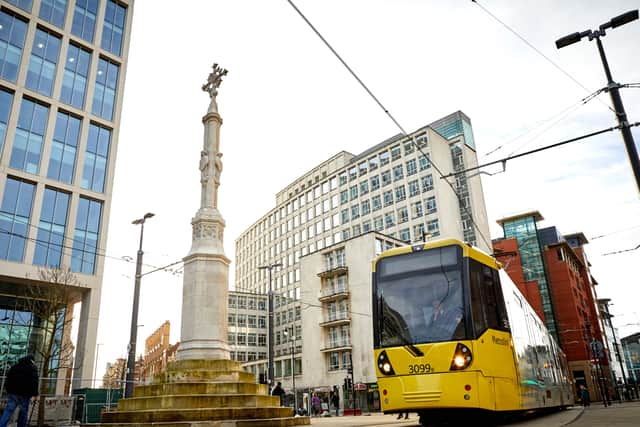 The ballot for Metrolink staff runs from Thursday 11 May to Thursday 25 May. Unite says that if the final vote result is in favour of strike action then there could be walk-outs on the tram system as early as the start of June. Tens of thousands of music fans are set to descend on the city for the two-day Parklife bash on 10 and 11 June.
Unite also says Metrolink, which is owned by Transport for Greater Manchester (TfGM) but run and maintained by the joint venture company Keolis/Amey, offers low starting salaries. The union says inspectors on the trams can earn as little as £20,000, while wages for drivers begin at £22,000 and engineers' salaries start at £26,000.
What has been said about the ballot for strike action?
Unite regional officer Colin Hayden said: "Metrolink has been given every chance to make a fair offer but has stubbornly refused to do so. As a result our members are now balloting for strike action."
The union's general secretary Sharon Graham added: "Metrolink are guilty of making a woeful offer to our members. This is a company operated by two incredibly wealthy multinationals who can fully afford to make a fair pay offer but have chosen not to.
"Unite is entirely focused on the jobs, pay and conditions of its members and the workers at Metrolink will receive the union's complete support."
Rob Cox, HR director for KeolisAmey Metrolink (KAM), said: "We have received notification from Unite of their intention to ballot their members for strike action. We will await the outcome of this ballot before deciding next steps."