Junior doctors who have gone on strike in a dispute over pay have spoken about taking industrial action on the picket line outside a Greater Manchester hospital.
A 72-hour walk-out got under way on Monday (13 March) and ManchesterWorld visited Wigan Infirmary to speak to some of the NHS staff taking part.
Junior doctors in Greater Manchester spoke about racking up tens of thousands of pounds in student debt at medical school and then finding themselves struggling financially as they try to make plans for the future while also having to cope with the current cost of living crisis.
What has been said about the junior doctors' strike in Greater Manchester?
Junior doctors on the picket line outside Wigan Infirmary were receiving plenty of support from the public with motorists in passing vehicles regularly tooting their horns as the went by. Chants of "claps won't pay the bills" and "overworked, underpaid" were heard while junior doctors held placards with slogans including: "Saving lives but no savings".
Grace Allport, a junior doctor in A&E and a BMA rep, said: "Depending on what measure of inflation you look at junior doctors have lost around 28% of their salary compared to 2008. We've seen record levels of inflation this year and many junior doctors took out a lot of debt to get through medical school, and then when they graduate they start on a basic rate of pay of £14 an hour.
"A lot of people think junior doctors are people in their 20s but the reality is you can be a junior doctor until well into your 30s. With the price of everything increasing it makes it hard in a lot of ways. Junior doctors are thinking about saving to buy a house, start a family or afford childcare. There's an impression these are not the issues we face but they are the ones that affect the personal lives of a lot of junior doctors.
"The salary you start on also has deduction for student loans, for things like parking, for professional fees and exams. These are coming out of our pockets and it makes our financial position a lot more precarious than people might think. It's not what first comes to mind when people think of doctors, people struggling to do things we would expect to do.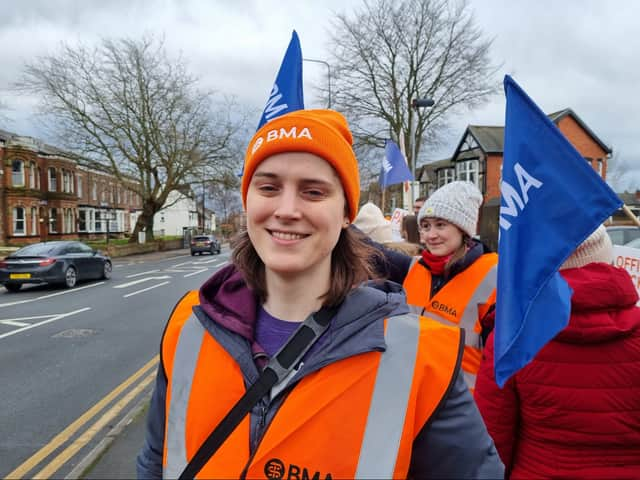 "We recognise we are in a better position than some workers but overall we need the rising cost of living to be addressed through pay restoration.
"A lot of people on the picket line will be junior doctors in their first or second year of practice. They will have been students for up to seven years in some cases and it's not a position any of us want to be in. Given the choice we would be happier providing healthcare than having to go on strike. We all got into this profession because it's something we want to do and really believe in. I guess what we are asking for is help to do that."
She said: "Our dispute is with the Government. We are all on the same side, the side of healthcare."
What else did junior doctors on the picket line say?
Junior doctors pointed out one financial issue for them is that they often have to travel considerable distances for their first few years of work in the NHS, and this notably adds to their costs as they have to either pay for public transport or run a car. Grace said she lives in Rusholme and commutes to Wigan for work, while fellow A&E junior doctor Adam Hinchcliffe makes the trip to Wigan from near the centre of Manchester.
Adam also said the recent months in the NHS had been extremely difficult for staff.
He said: "Working in A&E over winter was very, very stressful. This winter was the hardest one I've had at work. The dispute is about the principle as much as the money. It clearly shows a lack of willingness to show appreciation. There's an apathy there, an expectation that junior doctors are just going to be there.
"It's nice to see that people are supporting us. I think I already knew that there was a similar opinion shared by colleagues but it's nice to hear the cars beeping and the public supporting us."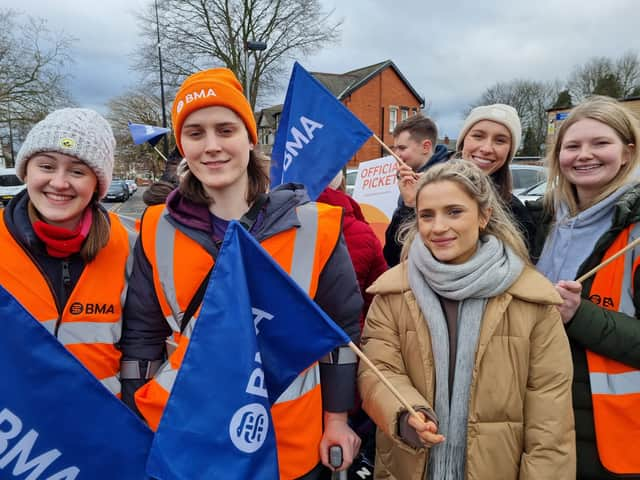 Brian Goh, who is a junior doctor in orthopaedics, said: "Over the years you see the pay erosion and our earning capacity is much less than it used to be. It's not just junior doctors, which is why you see strikes going on.
"I think it's necessary to make our voices heard for pay restoration. You do see people who struggle: single parents or people who need to care for relatives or people with disabilities. Especially if they have to work less than full time to care for people so their pay is lower you do hear those stories.
"Here in Wigan I'm quite sure a lot of people are supportive, as they were with the nurses and ambulance strikes, which is good. That's really reassuring."
The BMA is calling for a £5 raise in junior doctors' basic salary rate to £19 per hour.
Junior doctors are also expected to join a large demonstration in the middle of Manchester on Wednesday (15 March) which also includes teaching and civil service trade unions. Demonstrators will meet outside Manchester Royal Infirmary on Wednesday morning with the rally taking place in St Peter's Square from noon.