The marathon this year plays host to top some top competitive athletes as it holds qualifiers for the Commonwealth Games and European Athletics championship - as well as attracting 26,000 runners in total of all ages and abilities.
Organisers have confirmed the start times for different waves of the race on Sunday 3 April, and also have updated travel advice on getting to the all-important starting line.
Here's what you need to know.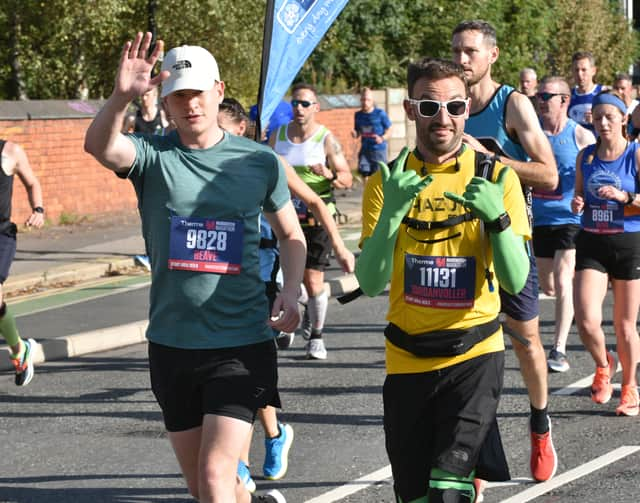 How do I find my wave start time?
The waves are co-ordinated by bib colour and a guide with full details has been emailed out to competitors.
From being called through to the start process to actually beginning the marathon should take about half an hour.
Runners are reminded to leave themselves about 30 minutes extra time if they need to drop off bags first. The bag drop is at the Athletes' Village.
First to start will be the wheelchair athletes, who set off at 9am.
Next up is the elite athletes and White Wave who start at 9.05am, and will begin the access to the start point process between 8.10-8.20am.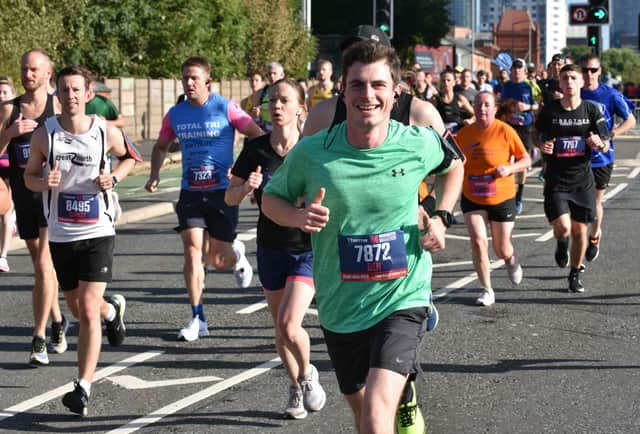 They are followed by Red Wave A who start at 9.15am (arrival process begins 8.20-8.30am) and Red Wave B at 9.25am (arrival 8.30-8.40am).
Next is the Pink Wave A who start at 9.35am (arrival 8.45-8.55am) and Pink Wave B starting at 9.45am (arrival 9-9.10am).
This is followed by Blue Wave A who start at 9.55am (arrival 9.10-9.20am) and Blue Wave B starting at 10.05am (arrival 9.20-9.30am).
Next it is the Orange Wave A who start at 10.15am (arrival 9.30-9.40am) and Orange Wave B starting at 10.25am (arrival 9.40-9.50am).
Following on is the Yellow Wave A starting at 10.35am (arrival 9.50-10am) and Yellow Wave B starting at 10.45am (arrival 10-10.10am).
Finally, it is the Purple Wave who set off at 10.55am (arrival 10.10-10.20am).
Start times are approximate and can be seen in full on the marathon site here.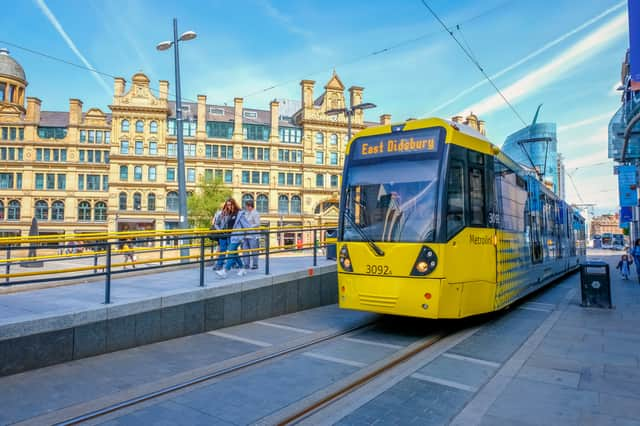 Is there car parking for the marathon? Or which tram should I use?
Organisers recommend you avoid driving there if possible, as there will be lots of road closures in the area because of the marathon route.
Those diversions and closures will also affect bus routes close to the start point.
The limited number of pre-bookable car parking spaces at the Old Trafford car park near Manchester United's ground have now sold out.
However, there are also a number of park and ride services which will be running in Manchester and you can view them on a map here. There are a number of car parks with transport links to help you get to the start line.
Sale Water Park Metrolink station has 300 car parking spaces, as does East Didsbury, and you can travel directly from those to Trafford Bar, near the start and athlete village.
You could also try parking at MediaCityUK, or if you don't mind a trip from the city centre, then you could try parking at Piccadilly where there are 500 spaces and then get a tram to Trafford Bar.
Metrolink has a number of tram stops close to the starting point and organisers recommend tram is the best way to travel, though services are likely to be busy so allow plenty of time and don't forget you need to buy a ticket before boarding.
The athletes' village, start line and finish line are a short walk from these tram stops - Old Trafford (which is a one minute walk), Trafford Bar (10 minute walk) and the Imperial War Museum (20 minute walk). You can see them on the tram map below.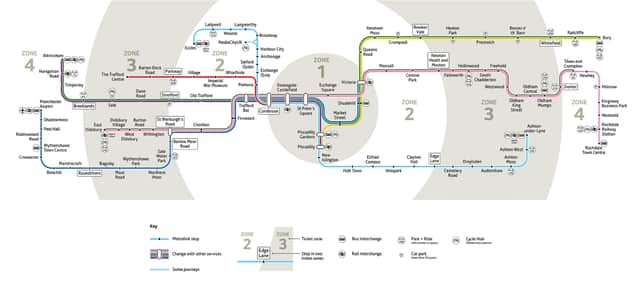 You can also check out the Transport for Greater Manchester travel page dedicated to the Marathon here for updates.
For train travellers, note there are planned railworks on the West Coast mainline on race day, so if you are travelling to Manchester from further afield, be aware of changes that could affect your travel plans. You can check operator Avanti's website here for information ahead of travelling.
TransPennine Express (TPE) rail replacement bus services will be in operation between Manchester and Preston and Carlisle and Edinburgh.
Customers are advised to check TPE's website for details and to travel on Saturday if they can. The operator has arranged with some other rail companies for its tickets to be recognised on some services.
More information and amended timetables can be found here.
What are the Manchester Marathon road closures and parking restrictions?
The main areas affected by the Marathon route on the day include Altrincham, Sale, Stretford, Chorlton, Hulme and Manchester city centre.
Residents living in affected areas are being sent information leaflets ahead of the day to advise of detailed closures and timings.
Organisers have issued this map below as guidance but fuller details can be found for each area on the marathon website here.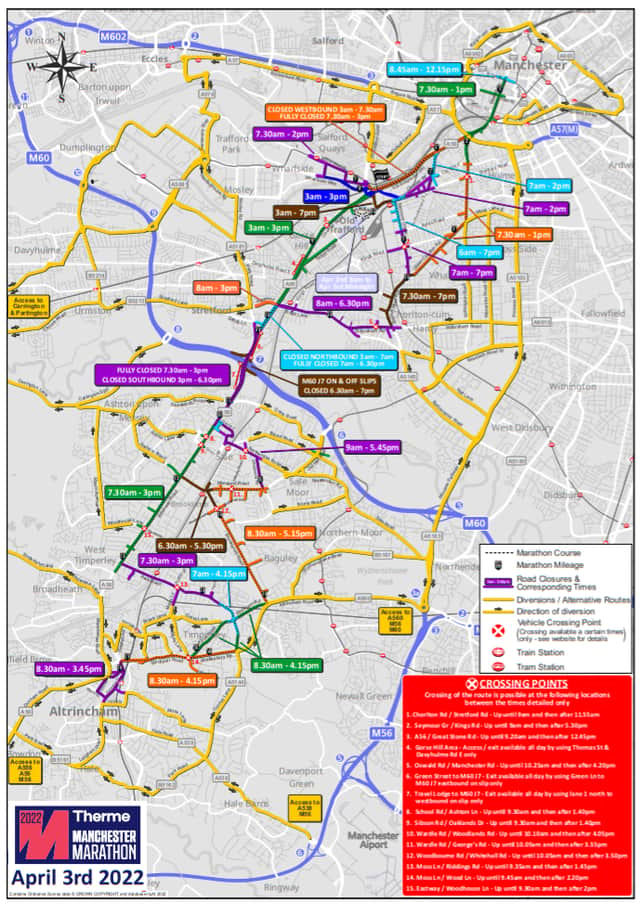 Significant closures to note include sections of the A56 in both directions, with diversions being put in place, and the M60 exit at junction seven from 6.30am to 7pm.
Parking restrictions in affected areas will be in place starting from 11pm on Saturday 2 April to 10pm the following day and again individual arrangements will sent out to residents.