Manchester Laces founder Helen Hardy gets artwork at Wembley Stadium for her contribution to women's football
Manchester Laces provides somewhere for women and non-binary players of all ages and abilities to enjoy the beautiful game.
Watch more of our videos on Shots! 
and live on Freeview channel 276
Visit Shots! now
A Manchester resident who founded the city's first football club for female and non-binary players has been honoured with a national award - and had a striking artwork of her created at Wembley Stadium.
Helen Hardy always felt unwelcome on the football pitch until she started her own club Manchester Laces in 2021. She has now cultivated a diverse and empowering space where anybody can play football and feel good doing it.
Helen also spoke of how creating the inclusive approach and atmosphere at the Manchester Laces has enabled her to find happiness on the football pitch herself.
What is the mural of Helen Hardy that has been unveiled at Wembley?
Helen's commitment and achievements in progressing women's football in her community have been celebrated through a striking mural portrait of her, which has been painted onto the iconic steps at Wembley that come into view when approaching the national stadium.
Created by artist Charlotte Archer, the artwork recognising Helen's unwavering dedication to her sport is part of a campaign championing the individuals and projects who have achieved incredible things for women in sport in their communities.
It's all being done with the help of National Lottery funding and players, who raise £30 million for good causes every week.
What did Helen say about the mural?
Helen, who regularly appears on radio broadcasts of live matches and in the media as an expert on women's football, said: "I'm so excited and honoured to have this experience.
"Most people that do stuff like [Manchester Laces] are doing it because they love it, so it feels weird to be patted on the back for doing something that I so genuinely love and get so much fulfilment from. I just absolutely love my football club and my community, and all the players involved in it.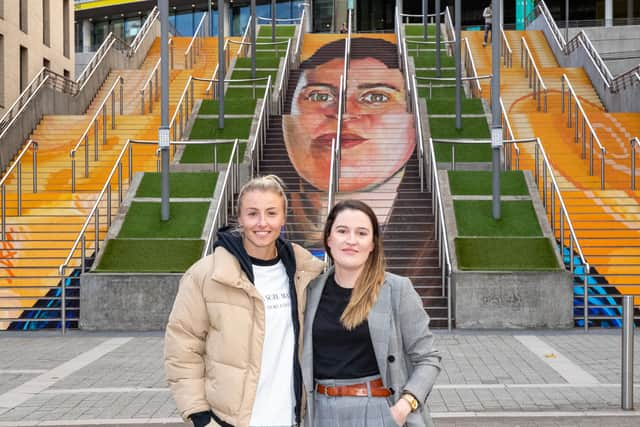 "When I first moved to Manchester in 2019, I had no friends and then the pandemic happened, and I just felt like I needed to do something so started the club.
"And now I've only got happiness and joy from the community so to be recognised for it feels odd in a way because it's been as much of a saviour for me as for others."
What did Helen say about the Manchester Laces?
Helen began Manchester Laces to create a safe space for people from all walks of life to play football and the club now fields five squads with over 100 fee-paying members.
She said: "I just wondered whether it would be possible to create a football club which focused its energy on empowerment and kindness and being friendly in exercise above winning.
"As part of that journey and going into it with an open mind, I discovered so many nuances about the football culture that I feel like we have the power to change.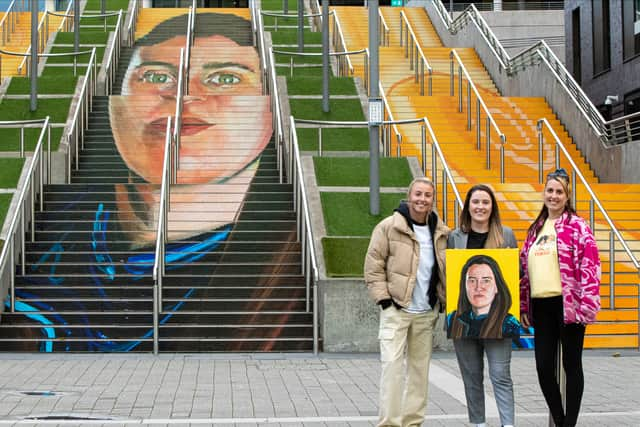 "If somebody tells me they want to play football in an empowering and inclusive environment, that they just want to play casual football and identify as non-binary or as a transgender male or female, then they can. It's having that perspective of moving your goalposts around your players and it can be really special."
Bringing a 'fresh perspective' to the game, the club has cultured its own welcoming mini ecosystem with a team of doctors, electricians, and teachers. And in this team, football-mad Helen is pleased to say that she has finally found her community.
She said: "For me, I think that community and sport have the power to change lives and help people so from a selfish perspective it can be really fulfilling being a part of a community.
"That's the whole essence of a community. Bringing people together who all have different backgrounds and experiences and sharing in that. And that's got to be pretty close to the meaning of life."