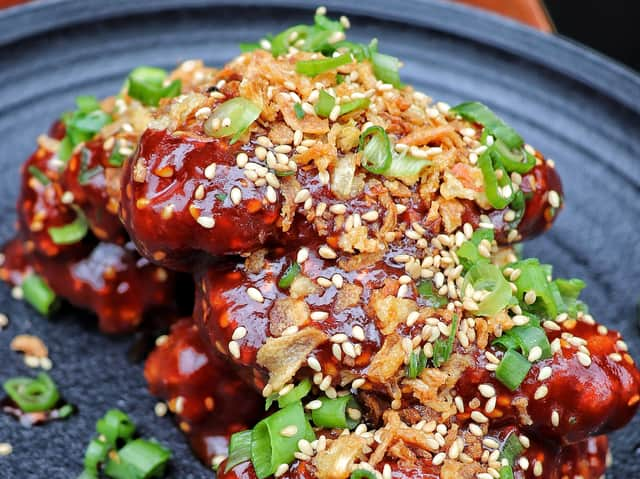 For fans of fried chicken Manchester is the place to be this month as a huge event descends on the city centre.
Manchester Wing Fest takes place over two fun-packed days at a site on First Street between Deansgate and Oxford Road stations on Saturday 25 September and Sunday 26 September.
The huge outdoor area will be transformed into a poultry eating, music thumping, axe throwing, beer and bourbon drinking space for what promises to be quite a spectacle.
What's on at Manchester Wing Fest?
Restaurants, street food traders and pop-ups will all be battling it out to answer the burning question of who makes the finest wings to be found anywhere in the UK.
The competition is split into two categories.
Contestants will battle it out in the buffalo wings section to make the most perfect classic spicy sauce, while the best wild wing competition will give them the chance to give their creativity free rein.
The aim of the game is to secure a spot in the coveted Hall of Flame.
Festival-goers will have an important task in deciding who should win the ultimate prize as they will be able to vote for their favourites by text.
Things will also get decidedly heated in the Lava Wing Challenge as brave or foolhardy competitors attempt to chow down on super-hot wings, while the Frank's RedHot Wing Eating contest will see poultry guzzlers line up to scoff as many wings as possible in a messy and entertaining spectacle.
Away from the chicken there will also be beer from Meantime Brewery, entertainment including live blues music, brass bands, bourbon masterclasses, axe throwing and BBQ cooking demonstrations.
DJs will be spinning the decks, complete with the obligatory chicken wing in hand, playing summer party tunes into the night.
What exactly is Manchester Wing Fest?
Manchester's ultimate celebration of chicken is one of three Wing Fests that take place across the country, with the other events held in London and Bristol.
The 2021 edition will be Manchester's second wing festival, after last year's event had to be scrapped due to the Covid-19 pandemic.
Organisers said the 2019 inaugural festival was a massive success, with Birmingham's Greidy's Wings and Strips being declared the champions.
They will be back to defend their title this year alongside other prize-winners such as local favourite Yard and Coop, Chicken George and Sutikku, who will be making the short journey from Liverpool to compete.
The event is the brainchild of Richard Thacker, who previously worked in restaurants and has been around chicken rearing all his life as he grew up on a farm.
What else do I need to know if I want to go?
Manchester Wing Fest takes place on Saturday 25 September and Sunday 26 September.
The Saturday is already sold out but tickets priced at £20 are available for the Sunday.