The inquiry into the Manchester Arena bombing has found that the catastrophic attack may have been prevented if intelligence services had acted on key information in the months leading up to it.
Twenty-two people died when suicide bomber Salman Abedi detonated a huge explosive device in the foyer at Manchester Arena in May 2017. His brother Hashem was later jailed for life for his part in planning the deadly attack at an Ariana Grande concert.
An inquiry into the bombing today highlighted failings by MI5 to recognise that two pieces of information on Salman Abedi related to terrorism. An officer admitted a piece of information was not discussed with colleagues right away and a report was not immediately written up on it - which inquiry chairman Sir John Saunders said should have happened.
In the third report as part of the inquiry, published today, Sir John said: "There was a significant missed opportunity to take action that might have prevented the atack. It is not possible to reach any conclusion on the balance of probabilities or to any other evidential standard as to whether the attack would have been prevented. However, there was a realistic possibility that actionable intelligence could have been obtained which might have led to actions preventing the attack.
"The reasons for this significant missed opportunity included a failure by a Security Service officer to act swiftly enough... The delay in providing the report led to the missing of an opportunity to take a potentially important investigative action....
"Although I accept that Salman Abedi demonstrated some security consciousness and that this might have affected the efficacy of the investigative action that I have identified, there was the real possibility that it would have produced actionable intelligence."
Sir John also highlighted had intelligence been acted on then, Salman Abedi could have been stopped days before the attack at Manchester Airport on his return from Libya, where he believes he learnt many of the skills he needed to make the bomb.
Radicalisation of Salman Abedi
The final inquiry report looked in depth at Manchester-born Salman Abedi's radicalisation. Sir John said his family had 'significant responsibility', with his mother, father and elder brother Ismail holding 'extremist' views. None of his family have co-operated with the inquiry.
Abedi's friend the convicted terrorist Abdalraouf Abdallah was also ruled to have played a role in his radicalisation.
Sir John also looked at Abedi's passage through the education system in Manchester, but concluded: "Overall, none of the educational establishments that (Abedi) attended was at fault in failing to identify him as being at risk of being radicalised or drawn into terrorism. No single institution had a comprehensive-enough view of SA's behaviour, family situation or potential risk factors, over a sufficiently long period of time, to recognise his descent into violent Islamist extremism."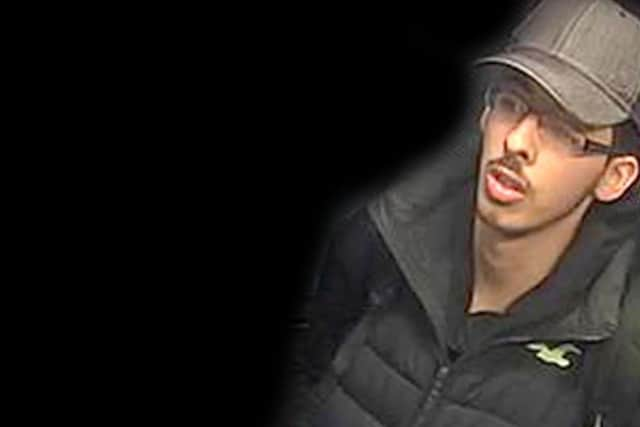 The chairman examined incidents, including one where Salman Abedi was seen at college with a picture of himself holding a gun, and another where he attended a university exam a few months before the bombing, but only wrote his name on the paper - and he has suggested in his report that more 'continuity or transfer of information' between different education providers might help professionals pick up on signs of radicalisation more easily.
Sir John also looked at the Abedis' attendance at a local mosque and summarised: "The mosques attended by Salman Abedi and Hashem Abedi were not an active factor or cause in their radicalisation." However, he noted that "the leadership of (Didsbury) mosque did not pay sufficient attention to what went on at its premises and did not have policies in place that were robust enough to prevent the politicisation of its premises, which I find occurred. It should have done."
Reaction to the report
Chief Constable Stephen Watson QPM, of Greater Manchester Police, said: "On this difficult day, our thoughts are with the bereaved families and the survivors of the cowardly and brutal act that took place at the Manchester Arena on the 22nd May 2017.
"I thank the Chairman, Sir John Saunders, for the final volume of a highly comprehensive inquiry which has already done much to shape and deliver improvements into how Greater Manchester Police prepare for and respond to major incidents.
"We are fully resolved to never repeating the failings previously identified and will ensure that the final volume is fully reviewed and considered. We will do this with a continued fierce determination to ensure that the loss and hurt experienced by those still suffering will not be in vain."
Mayor of Greater Manchester, Andy Burnham, added: "This has been an authoritative and exhaustive process of inquiry and we would like to thank Sir John Saunders for leading it in the way that he has. At all stages Greater Manchester has faced up fully to the findings and we will do so again. Major changes have already been made to our emergency services and if more are needed as a result of this report we will do so.
"What has become clear through the stages of this inquiry is that, both at national and regional level, the country was not prepared for a terrorist attack of this nature in a city like ours. It is now beholden on all public bodies to use the findings of the inquiry to ensure all places are better prepared to protect people and respond to acts of terrorism.
"We know that today is another very difficult day for those bereaved, injured and affected by the attack at Manchester Arena. Greater Manchester has stood with them from the beginning and our support will remain constant."