Manchester animal rescue organisation launches desperate funding appeal to stay afloat as vets' bills soar
Animal rescue Changing Lives at Carrington has been hit by soaring vets' bills as more pets come through the doors needing care with owners struggling to afford to look after them.
Watch more of our videos on Shots! 
and live on Freeview channel 276
Visit Shots! now
A Manchester animal rescue organisation has launched a desperate public appeal for funding in a bid to stay afloat as its costs have rocketed and demand for its services increased during the cost of living crisis.
Changing Lives at Carrington says it has seen vets' bills alone go from around £1,000 to as much as £7,000 per month as more animals needing new homes keep coming through the doors with owners struggling to afford to keep their furred friends and shelters full to overflowing. Charity founder Nicole McGawley says she is desperate for whatever help people can give her to meet the increasing costs of keeping the operation going, whether it is sponsorship or donations of items.
She says she is ploughing on in the face of adversity because so many animals desperately need a bit of love and attention and fears to think what might happen if she cannot raise enough money and has to face the prospect of closing down the not-for-profit organisation.
Why has Changing Lives at Carrington put out a funding appeal?
Changing Lives at Carrington was founded in September 2020 as a response to the Covid-19 lockdowns by animal lover Nicole, who said she saw a grass-roots animal rescue looking after a neglected cat in a Facebook video and thought she could do something similar.
However, she says the current cost of living crisis means the organisation, which is run out of a few stables and a number of shipping containers on the farm where she lives, has experienced a surge in demand at a time when prices have gone up dramatically.
The sanctuary is currently trying to look after 56 cats (three of which are pregnant), 17 rabbits, six guinea pigs, five rats, five African land snails and five dogs. Many of them have come in requiring urgent veterinary treatment, which means Nicole has seen bills for medical care shoot up from around £1,000 to about £7,000 per month and costs on occasions reach the five-figure mark.
One example is Pancake, an eight-week-old kitten brought into the shelter who has a collapsed ribcage pressing on her heart and lungs due to a congenital defamation of the sternum pectus excavatum and which will be fatal if she does not have urgent surgery.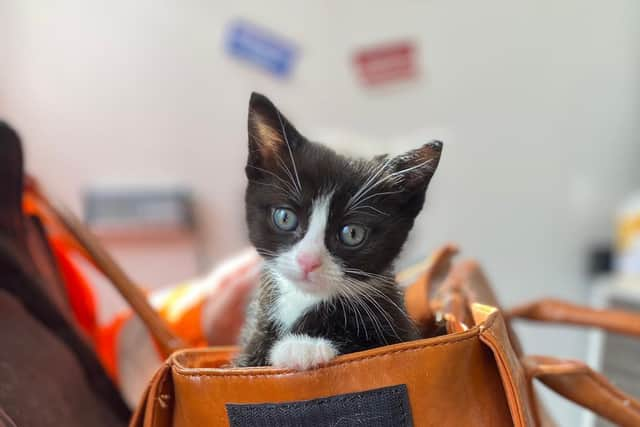 Nicole said: "As we get no government funding, we rely solely on the generosity of the general public to help us provide care. However, with the pandemic and the cost-of-living crisis, we're struggling to stay afloat.
"We've seen a huge increase in surrenders over the last 12 months, mainly due to people not being able to look after their pets following their return to the office, or the fact that they simply can't afford to feed them any more.
"With so many rescue centres full or unable to afford to take in more animals, we're finding more are being dumped in bags or boxes on the street and left to fend for themselves. The lucky ones make their way to us and other sanctuaries but others aren't so fortunate. It's so upsetting to see. It's mainly vets' bills, but we have also seen the cost of everything increasing, including fuel, gas and electricity."
What is Changing Live at Carrington appealing for and what is the outlook for the charity?
Changing Lives at Carrington is desperately appealing for financial help in the form of sponsorship as well as practical assistance buying items such as food, cat litter, shavings and cleaning products.
Nicole says she is trying not to dwell too much on what might happen if in straitened times her organisation is unable to get enough support from the public.
She said: "It's a big question for me, of where all the animals are going to go if I'm not there to look after them and if I can't raise enough money. In January I thought about shutting down and was struggling but I've kept going.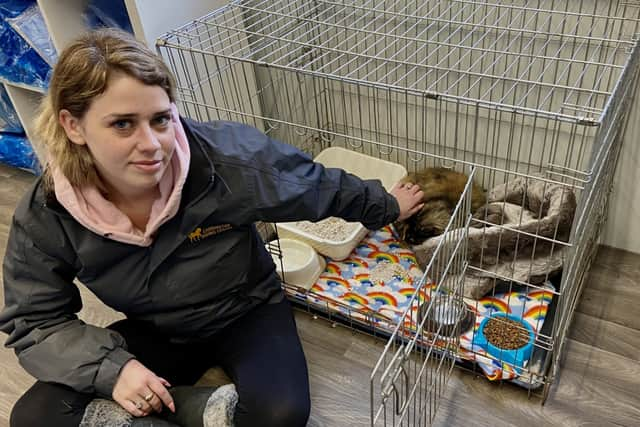 "It spurs me on to do a quite a lot of fund-raising and to get it out there that we need sponsorship, because al the other rescues are in the same position. I don't know what I would do if it came to having to shut down."