Little Amal in Manchester: giant puppet of Syrian refugee girl set to arrive in city
Amal's arrival in the city is the culmination of an epic 8,000km journey across Europe which started at the Turkish-Syrian border.
Watch more of our videos on Shots!
and live on Freeview channel 276
Visit Shots! now
A giant puppet of a Syrian refugee girl will be in Manchester for the spectacular end of an epic journey across Europe.
Little Amal, the 3.5m high puppet representing a nine-year-old from the Middle Eastern country which has been torn apart by brutal conflict, arrives in the city on Wednesday 3 November.
The ambitious project, called The Walk, has seen Amal cover some 8,000km across Europe since she set off from the Turkish-Syrian border in late July.
Who is Little Amal and why is she coming to Manchester?
Little Amal is a huge puppet representing a nine-year-old refugee girl from Syria, where a civil war has been raging for years.
She has been doing The Walk since late July, when she set off from Gaziantep in Turkey.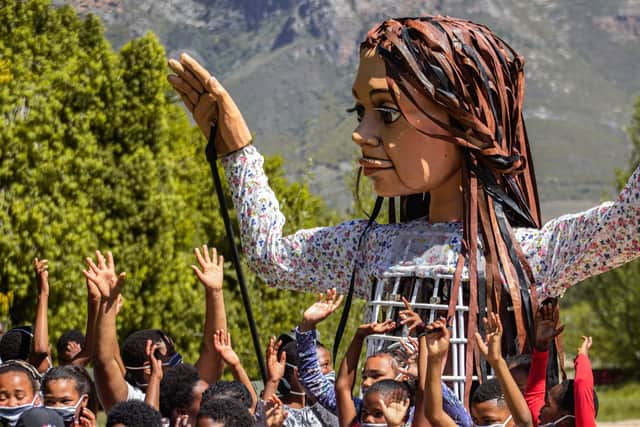 The huge public art project has been put together by Good Chance, led by its artistic director Amir Nizar Zuabi, in collaboration with Handspring Puppet Company which is famed for creating and bringing to life the four-legged members of War Horse's cast.
Little Amal has travelled from the Syrian border across Turkey, Greece, Italy, France, Switzerland, Germany and Belgium in search of her mother.
In 65 villages, towns and cities along the way she has been welcomed by artists including dancers, singers, film makers and painters as well as civil society and faith leaders.
Her journey represents those taken by the millions of people who have been violently displaced by war or persecution, especially children, and urges the public not to forget about refugees and asylum seekers at a time of multiple conflicts around the globe.
Manchester has been chosen for the end point of the walk as the city has long welcomed a diverse and dynamic population of refugee and migrant communities and has the highest concentration of dispersed asylum seekers in the UK outside of London.
How is Manchester celebrating Little Amal's arrival?
The finale of The Walk is being celebrated with a large, free outdoor public event called When the Birds Land, which is part of Manchester International Festival.
It will take place at 7pm on Wednesday 3 November at the Castlefield Bowl and is already sold out.
Little Amal will be greeted as she arrives with live music, song, puppetry and dance.
The event has been put together by a team bringing together refugees and asylum seekers and people who work with and support them, renowned puppeteer Sarah Wright and film and theatre director Simon Stone.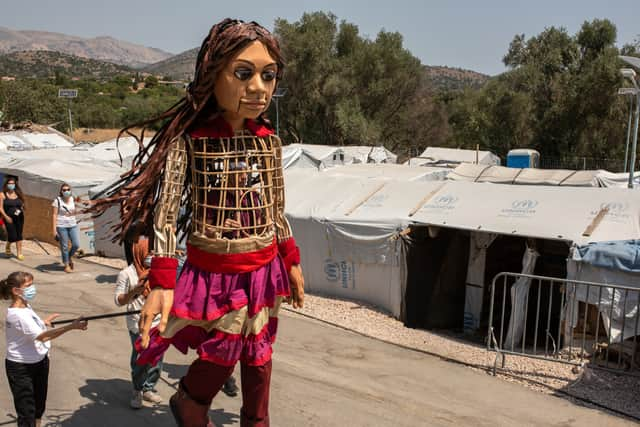 In the run-up to Little Amal's arrival 10 primary schools across Greater Manchester took part in music sessions with Music Action International and dance and drama workshops with Magdalen Bartlett.
Manchester Street Poem, an art collective of people with lived experience of homelessness, is creating a book of stories for Little Amal.
Community associations which support asylum seekers Caring and Sharing, Rethink Rebuild Society and the Support for Wigan Arrivals Project have been creating a patchwork quilt for her with local artist Ibukun Baldwin.
Where else is Little Amal visiting?
Before the big day in Manchester Little Amal is making a couple of other visits to parts of the city-region.
She will be in Wigan on 31 October and Rochdale on 2 November.
Wigan is laying on a 45-minute show including a dance performance by WigLe Dance and music from Wigan's Youth Brass Band, while a main road will be closed while Little Amal makes her way to the venue at The Edge Conference Centre.
Manchester Street Poem will also be there reading stories to Little Amal.
What have those involved said?
"At Manchester International Festival we have a proud history of creating participatory events that bring the city together.
"As we continue to navigate these uncertain times, the power of arts and projects like these to start important conversations, create connections and safely bring communities together is more important than ever.
"We hope that everyone who calls Greater Manchester their home will help us welcome Little Amal when she arrives at the end of her long journey."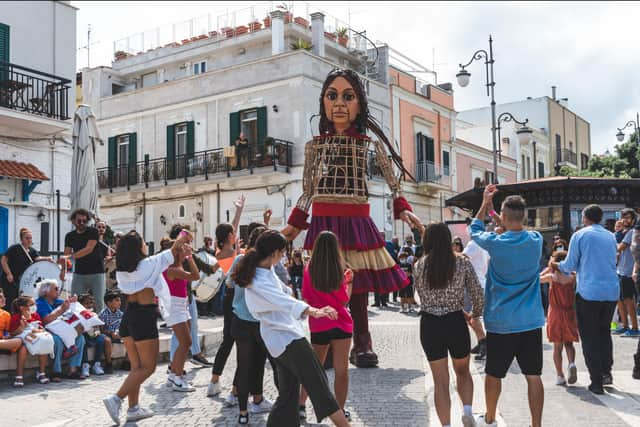 Amir Nizar Zuabi, artistic director of The Walk, said: "It is because the attention of the world is elsewhere right now that it is more important than ever to reignite the conversation about the refugee crisis and change the narrative around it.
"Yes, refugees need food and blankets, but they also need dignity and a voice.
"The purpose of The Walk is to highlight the potential of the refugee, not just their dire circumstances.
"Little Amal is 3.5 metres tall because we want her to inspire us to think big and to act bigger."