A student at a Manchester college has become an online sensation after her TikTok account about fashion racked up tens of thousands of followers.
Jasmine Shum, who goes to Xaverian College in Rusholme, started making videos and posting them on TikTok during the Covid lockdowns as a way of passing spare time and getting back into having an online presence.
Her videos, which feature her insights and thoughts on fashion trends and which also detail her life as a college student in the city, quickly became popular and she now has more than 60,000 followers. Jasmine combines being a social media fashionista with doing a BTEC extended diploma in business at Xaverian and says she is hoping to do a degree apprenticeship in marketing and PR before building a career in the industry.
How did Jasmine Shum become a TikTok star?
Jasmine said she had previously run a business as a young entrepreneur on Instagram, but got back into being active on social media during the first Covid-19 pandemic lockdown, partly as a way to make use of the spare time she had on her hands.
She uses her account to post about fashion trends and styles and share her thoughts and opinions on them. Her videos on TikTok include vlogs about days in her life at college or out and about, the outfits she wears for studying at Xaverian and her ideas on topics related to being a student such as mental health and whether or not it is the right choice to go to university. She has also worked with leading high street fashion brand H&M, making a piece of paid content with them.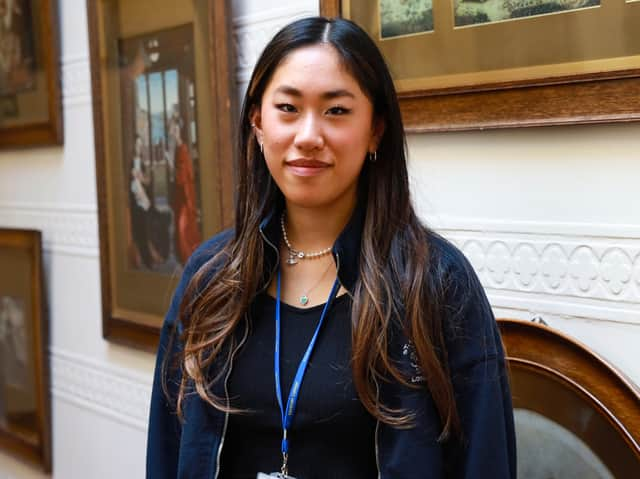 Jasmine said one of the keys to success on the platform has been successfully finding her niche in order to grow her audience.
She said: "I've had a few videos reach views in the millions, however, I'm quite lucky that my growth on the platform has always been more steady rather than in rapid growth spurts, which can be unsustainable as a creator in the long term. When I started posting more fashion-focused content I definitely saw an increase in engagement."
How has being at Xaverian helped Jasmine?
Jasmine is now coming towards the end of her two years at Xaverian and she paid tribute to the college for the amount she has learned on her business course and the friendly and welcoming community of young people she has able to join.
She said: "I love my business course because it involves so many different things such as being creative, strategic and innovative. Every lesson is so different and I'm constantly learning new things and seeing how they apply to real-life current affairs.
"I remember my first day at Xaverian, I didn't know a single person but during the day I spoke to a lot of students and made friends that I still have to this day. I remember thinking that everyone would already have their friendship groups from high school and no one would make an effort to talk to me, but in reality everyone was so nice and that first day really set the tone for the rest of the year."
Jasmine chose to study at Xaverian as she wanted to be close to the city centre and gain a broad range of skills which she could then apply in the real world. She spoke about the most important lessons she has learned during two years of studying while also successfully developing her TikTok presence.
She said: "The most important skill is believing in and backing myself. Ultimately the only person who can give you what you want is you and if you don't fully believe in yourself, then why should you expect others to?
"A lot of my drive comes from within, and I've always been extremely ambitious and set on achieving what I set out to do. I also gain inspiration from women in business online, such as Grace Beverley and Krissy Cela, who definitely help inspire and encourage me to pursue as many opportunities as I can so that I can expand my knowledge and experience."
Jasmine is now looking at doing a degree apprenticeship in marketing and PR before embarking on a career in the industry. She will also, alongside of this, be continuing to build and develop her work on social media. She said one of her ambitions is to do more work around the crucial issue of student and young people's mental health.
She said: "As well as working towards having my own business again, I'd love to combine my passion for social media and marketing to create a digital platform that will help support young people with all things mental health and well-being, as this is something that is extremely important and personal to me.
"I would advise other students to listen to advice from others but prioritise your own wants and needs and explore the opportunities that you are actually passionate about.
"Put you first, prioritise your own mental health and well-being, interests and passions. You can't show up for others and succeed in your studies and other areas of your life unless you prioritise and show up for yourself first."