Jarmila Kocanova: GMP officer sacked after drink driving while more than four times the legal limit
A Greater Manchester Police officer has been fired at a misconduct hearing after being caught drink driving while four times the legal limit.
Watch more of our videos on Shots! 
and live on Freeview channel 276
Visit Shots! now
A police officer has been dismissed from Greater Manchester Police (GMP) and barred from policing for drink driving. PC Jarmila Kocanova, who was convicted for the offence after pleading guilty in court last June, was more than four times the legal limit when she was caught.
Apologising for her actions, the Rochdale resident said she 'genuinely regrets' the events which took place last April. At a misconduct hearing on Friday (28 April), though, a Police Federation representative urged the force not to dismiss her, telling GMP's top cop that the move would effectively make her homeless.
It comes after the father of her child fled to Slovakia, leaving her with no family or support network in this country, according to her representative.
GMP chief constable Stephen Watson said he fully accepts the officer's expressions of remorse, but concluded that she should be dismissed with immediate effect.
What did Jarmila Kocanova do?
The chief constable was told at the hearing that the lowest exceedance of alcohol recorded on the evening of the offence – April 22, 2022 – was 141 micrograms per 100 millilitres, four times the legal limit of 35 micrograms.
Representing GMP, solicitor Gareth Madgwick also said that the officer stated she has no knowledge of how she came to consume so much alcohol.
He said that, by the officer's own account, she was in Leigh at the time and was stopped at Wythenshawe police station in Manchester. Kocanova pleaded guilty on June 9 last year and was convicted of driving a motor vehicle with excess alcohol.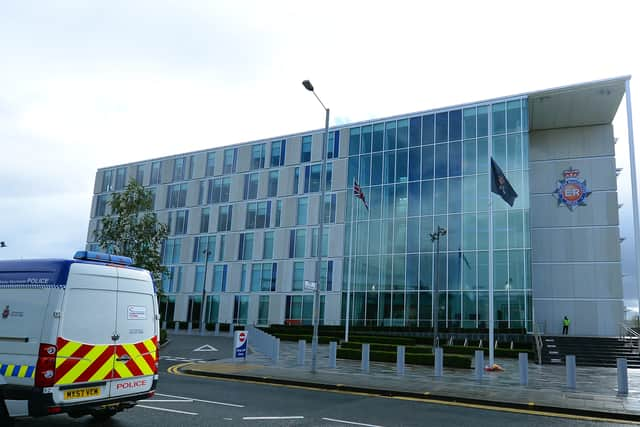 She received a 12 month community order, was charged £85 in costs and is disqualified from driving for 29 months, the chief constable said. She has also had to pay a victim surcharge of £95 and take part in rehabilitation activities.
Kocanova attended the accelerated misconduct hearing, but did not speak. The panel decided she should be dismissed from the force and added to the College of Policing's Barred List, which means she will no longer be allowed to serve in any police force in the country.
What was said about Jarmila Kocanova's actions?
Police Federation representative Leeson Ferguson said that Kocanova was 'absolutely mortified' about her behaviour and was 'genuinely remorseful'. She has continued to work for the force in a restricted capacity since her arrest, the hearing was told.
Insp Ferguson told the chief constable that PC Kocanova is due to give birth in August, but the father of her child has fled to Slovakia, leaving her with no family or support network in this country or financial funds to fall back on. He argued that she would therefore 'in effect' become homeless if dismissed.
He then read out a statement on her behalf. It said: "I genuinely regret the events on the evening of Friday, April 2, 2022. I'm disgusted with my behaviour.
"I feel terrible that I put others at risk by my actions. I'd like to apologise as well to my colleagues, to you Sir, and most importantly, the public, which I serve, for my behaviour. I accept this fell well below what is expected of a police officer."
The chief constable said he fully accepts the officer's expressions of remorse and said took account of character references submitted in support of her. However, he concluded that the facts of the case could 'substantially diminish public confidence' in the police and declared that she should be dismissed.
He said: "What is clear to me, is that this episode marks a terrible lapse in judgement which flies in the face of the evidence provided which suggests PC Kocanova is an otherwise decent and hardworking officer who has shown significant early potential.
"It remains clear, however, that all of these personal attributes do not outweigh the potential loss of confidence that would ensue if PC Kocanova was permitted to continue to perform in the office of constable."
He added: "This has been a difficult decision to come to given that the circumstances reflect a waste of great potential from a promising young officer. I understand the significance of the consequences of this incident."