If you've ever fancied trying a brand new beer for free, then you might be in for somewhat of a treat this weekend.
Stockport based brewery Robinsons are giving people the opportunity to have a pint of their new beer in an exclusive offer that coincides with International Beer Day 2022.
Here's what you need to know about how to get a free pint, including which pubs in Greater Manchester are involved in the offer.
What is the offer?
A spokesperson for the brewery said: "We are supporting our pubs and communities by giving away free pints of our brand new brewhouse continental lager, Brüh.
"The promotion is set to coincide with International Beer Day 2022, and will run from Friday 5August to Sunday 7August.
"We can't wait for you to get into the Beer Day spirit and enjoy a free pint of our 4.1% ale to celebrate in over 60 of our pubs."
What is Brüh?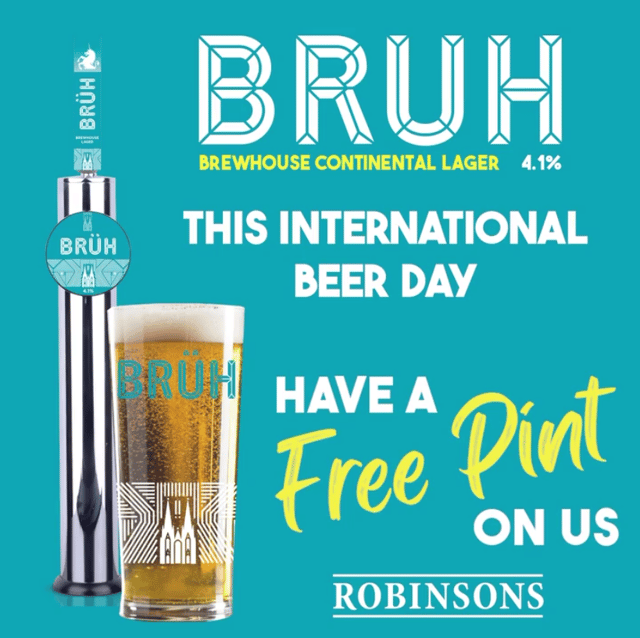 Brüh is a new continental lager brewed by Robinsons.
Tasting notes for the lager are available on the Robinsons website, and these read as follows:
"Delivering a distinctive taste and refreshment, this continental lager with a US twist adds to our delicious range of beers.
"Bright and crisp with a touch of bitterness, it is inspired by the Kölsch-style of beer famous in Germany.
"This lovely, easy drinking style originates from the iconic cathedral city of Cologne to offer a classic and time-honoured taste which is now widely loved in the USA. Brüh is dry hopped with the American hop variety Sultana.
"It balances a pale ale malt, lager malt, torrefied wheat with soft delicate hops to refresh the palate. An easy drinking bright and crisp lager with a nice amount of bitterness."
The lager is said to have a floral smell to it, and is slightly more bitter than it is sweet.
David Bremner, Director of Marketing said: "Brüh joins the Robinsons collection as an easy drinking continental lager, and we're really excited for our customers to try it!
Sitting next to Pitch (Robinsons' latest stout), Hopnik Citra and Helles, the branding uses block colour, bold fonts, and contemporary design to create striking standout on the bar.
"Geometric patterns and the dynamism of the lines hint at the process behind the beer; the movement of the water, the ingredients, the change in temperature. These geometric graphics are built around a central illustration that closely links to the brew."
Which pubs in Greater Manchester can I go for a free pint?
You'll not be short of options of where to go to grab your free pint this weekend, with 13 pubs in the Greater Manchester area taking part in the offer.
These pubs, along with their address, are as follows:
What is International Beer Day?
International Beer Day was first celebrated in August 2008, with August being chosen as the month to celebrate due to the summery weather and distance from other beer related celebrations.
A spokesperson for the organisers behind IBD said: "International Beer Day is a global celebration of beer, taking place in pubs, breweries, and backyards all over the world.
"It's a day for beer lovers everywhere to raise a toast to our brewers and bartenders and rejoice in the greatness of beer."