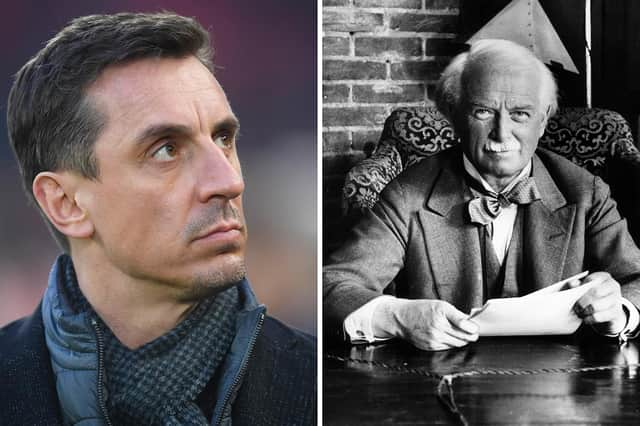 notable people composite neville lloyd george
Manchester isn't short of famous names - but who are its 'most notable' people?
That's the question researchers from the University of Paris set out to find answers for when they compiled a new global map of notable names in a new digital tool.
The map, developed by Topi Tjukanov, lets users search for the most significant people born in their home town or city and divides the answers in categories including culture, science, leadership and sport.
The interactive map highlights the birth places of the most notable people
The data was based on a range of factors, including the number of Wikipedia entries, how long they are,how many times they were viewed between 2015 and 2018, and how many references they are in the endnotes.
The notable names include people past and present. For example, Charlie Chaplin comes up top for London, while the late Sean Connery claims Edinburgh's most notable title.
So what about Manchester's most notable names?
A search across all categories suggests that former British Prime Minister David Lloyd George, who was born in Chorlton, is among the city's most notable figures. He was born in 1863 but moved to Wales as a child when his schoolteacher father died. He went on to run the country in 1916, during the First World War.
Other notable names on the map for Greater Manchester include J.J. Thomson, a Noble physicist born in Cheetham Hill in 1856 who was credited with the discovery of the electron, and Annie Kenney, a leading Suffragette born in Springhead, Oldham, in 1879.
Gary Neville has criticised the Glazer family for paying shareholders £11m in dividends. Credit: Getty.
But there are also some modern day points of reference on the map - which also includes ex-Manchester United star turned pundit Gary Neville (who was born in Bury in 1975) and award-winning film director Danny Boyle, who was born in Radcliffe in 1957 and is famed for films including Trainspotting and Slumdog Millionaire.