Ukrainian communities across Greater Manchester are bracing for a humanitarian crisis after Russian troops invaded Ukraine.
In a pre-dawn televised statement on Wednesday, Russian President Vladimir Putin announced an invasion and called for the Ukrainian military to lay down its arms.
In response to the catastrophic conflict, the Association of Ukrainians in Great Britain (AUGB) has called on the UK to apply immediate sanctions against the Kremlin. Prime Minister Boris Johnson is expected to address the House of Commons at 5pm following an emergency Cobra meeting.
We spoke to people from both Ukrainian and Russian communities in Greater Manchester. Here is what they had to say.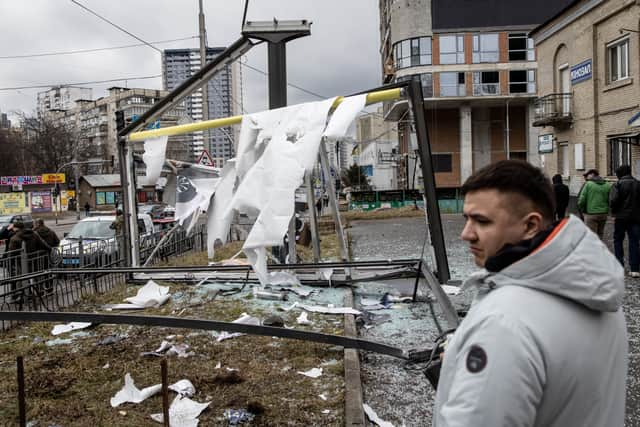 "The biggest humanitarian crisis in Europe since World War Two"
In a Greater Manchester branch of the AUGB (Association of Ukrainians in Great Britain), the Ukrainian community fears an imminent collapse of world stability.
Yaroslaw Tymchyshyn, chairman of the AUGB's Bolton branch, predicts that the invasion could "create the biggest humanitarian crisis in Europe since World War Two".
"The elderly, vulnerable, children and families will lose their homes, access to medical and other vital services," Mr Tymchyshyn.
Many members have family in Ukraine, he said, and they are "deeply concerned for their safety".
The invasion has brought back memories of destruction and bloodshed for the older generations, many of whom fled to the UK as World War Two refugees or to escape the Soviet oppression that followed.
"This is the land of our parents, grandparents, and great-grandparents," Mr Tymchyshyn said.
"They fought against the Russian army towards the end of the Second World War and I know they would be willing to fight again."
Protopresbyter Bohdan Matwijczuk of the Ukrainian Orthodox Church in Great Britain said the community is coping with Thursday's events with great difficulty.
"A lot of people are saddened, heartbroken that this has happened to Ukraine," said the Very Reverend Matwijczuk.
"The biggest concern is the family, wherever they may be in Ukraine, and then the effect of the invasion on the country itself, its economy, its culture.
"From the previous two declarations, Mr Putin seems to have a very perverse view about Ukraine and it's history…he seems to be recreating a lot of memories from World War Two," he said.
Ukrainians across the country are "troubled and worried" due to rumours about Russia's intentions to "wipe out the Ukrainian nation", he claimed.
He predicted that the conflict will spill into partisan warfare in Ukraine - he knows many who are fleeing for safety, but he also knows people who want to stay.
"Many have declared that they will stand there and fight until the last drop of blood, because this is our land and we won't surrender to Mr Putin," said the Very Reverend Matwijczuk.
He believes the promised sanctions are a step in the right direction, but past British sanctions "have not been enough and have been mistargeted".
"The conflict will lead to a lot of bloodshed and a lot of destruction," he predicted.
"In the community, what I've seen today is tears, sadness, shock - not believing, to some degree."
Communities gather together
Ukrainians, both in Rochdale and beyond, have gathered around community centres and churches to help the families who are stranded.
One man said he wants to go back - but he won't be going back to Kyiv.
"He wants to bring his family to the villages, where they may be more protected from the fighting. There will be displacement, maybe a major refugee crisis," the Very Rev Matwijczuk said.
"I don't think we've seen the worst of the slaughtering of people…this human side of it is unbelievable. In the year 2022, we will see the biggest conflict since World War Two."
What about the Russian community in Manchester?
The Pokrov Church in Manchester, a Russian Orthodox church based in Longsight, said that their community remains tight-knit despite the conflict abroad.
The church's congregation consists of people from across Eastern Europe - including Russians, Ukrainians, Estonians and Romanians - and they "continue to live peacefully", according to a spokesperson who we spoke to on Wednesday, the day before the invasion happened.
How many Russian and Ukrainian people live in Greater Manchester?
Data from the Office of National Statistics suggests there are around 1,000 people who were born in Russia now living in Greater Manchester, and 2,000 people born in Ukraine living in the city-region.
The figures do not include people of Russian and Ukrainian backgrounds who were born in Britain or have adopted British nationality.
Humanitarian appeal
The AUGB has launched a #HelpUkraine emergency appeal to raise at least £50,000 for agencies in Ukraine to distribute medical packs, food, blankets, and other humanitarian aid.
The project has already raised over £45,000, which has gone to the aid agency Fondation Humanitaire Internationale AICM Ukraine, an accredited partner of the World Health Organisation, in preparation for any casualties.
Medical packs have already been delivered safely to two hospitals in Luhansk and Kharkiv Oblasts, they say.
Donations for humanitarian aid can be made on the fundraising pagehere or directly at the Ukrainian Cultural Centre in Bolton.