Greater Manchester has received £2.4m in funding to create safer streets and crack down on anti-social behaviour and crime.
The Safer Streets Fund, launched by the Home Office, aims to tackle issues that blight communities by putting in place measures to stop them happening and support victims.
Authorities in the city-region have now been awarded £2,400,856 to be spent in three of Greater Manchester's 10 boroughs - Manchester, Wigan and Stockport.
An active travel group said the money being spent on the Fallowfield Loop travel route in Manchester is welcome but increasing the numbers of people using walking and cycling routes can be an effective deterrent to crime and there are still places where accessibility could be improved.
What will money be spent on in Manchester?
The improvements will include:
Employing a community warden who will work with the local community and support people who use the Loop to increase the number of people getting out and about using it, including a local buddy scheme, guided rides and walks and cycle training.
The creation of a Safe Space which will be used as a hub for the community warden and will be a place for people to access help and support if needed.
The installation of new lighting, fences and guard rails.
Work with local schools to deliver cycle training.
Site clearance and landscaping along the eight-mile length of the Loop to help reduce crime and improve feelings of safety.
What will money be spent on in Stockport?
Stockport Council, working with Greater Manchester Police (GMP), has been awarded £436,81 to help tackle anti-social behaviour in the town centre and Brinnington.
This will include youth workers delivering mentoring to young people involved in anti-social behaviour and criminality, investment in community, sport and other activities for people to do, and specialist support for vulnerable victims.
Stockport Council will also work with residents to set up a community speed watch scheme and work with local businesses to help reduce retail crime through a reporting pilot scheme.
What will money be spent on in Wigan?
Wigan Council also teamed up with GMP for its bid and received £745,518 to help tackle anti-social behaviour in the Platt Bridge, Woodcock Drive and Scholes areas.
This will include investment in CCTV, working with local businesses to help people into employment and expansion of the Safety of Women at Night initiative by working with schools to deliver sessions on healthy relationships and public safety.
Community groups will also be invited to apply for pots of funding to deliver local projects.
Has any other funding been given out?
In addition to the three main bids from local authorities the British Transport Police, working with the Greater Manchester TravelSafe Partnership, has been awarded £275,000 to tackle crime and anti-social behaviour on the transport network.
A further £490,448 has been awarded to GreaterSport for working with Trafford Council on schemes aimed at promoting active travel and active lives for women and girls.
What have the authorities said about the funding?
Greater Manchester's deputy mayor for policing, crime, criminal justice and fire, Bev Hughes, said: "I'm pleased that Greater Manchester will receive more than £2.4 million from the Safer Streets Fund, which will be invested in tackling the issues that local people have told us are blighting their communities and making them feel unsafe.
"This is the fourth round of funding which has seen more than £4.2 million invested in Safer Streets initiatives across Greater Manchester since August 2020.
"This additional funding will allow us to build on this work in other parts of the city-region to deliver activity to reduce crime and anti-social behaviour and work with local people to strengthen neighbourhoods and keep them safe."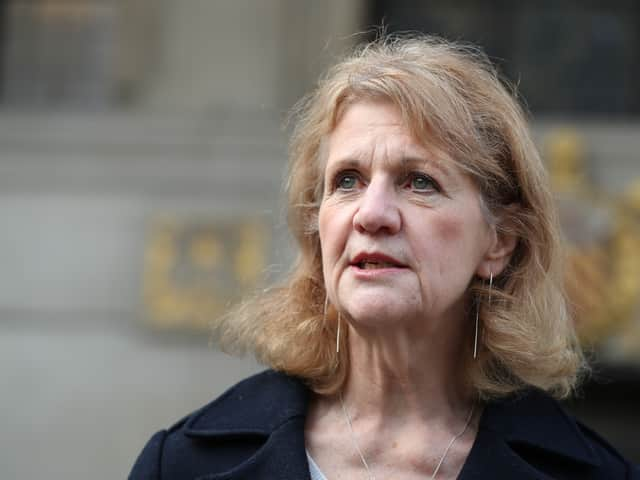 Coun Luthfur Rahman, deputy leader of Manchester City Council, said: "Tackling crime and anti-social behaviour is a key priority for the council. Everyone should be able to live in peace and without the fear of intimidation or violence. That is why with our partners, we have made this successful bid for additional resources to tackle issues in Fallowfield.
"Collective action is the best way for us to transform communities and make them safe, prosperous and happy. I look forward to implementing new measures which can help us fulfil our goals."
Coun Helen Foster-Grime, cabinet member for communities and housing at Stockport Council, said: "The Safer Streets scheme focuses on bringing about improvements for local communities and this project in the town centre and Brinnington is aimed at improving the quality of life for people in our communities.
"Safeguarding our residents is a key priority for the council and this grant and the activities planned with it, will help make residents feel as safe as possible in their own neighbourhoods and surrounding areas."
Coun Kevin Anderson, cabinet member for police, crime and civil contingencies at Wigan Council, said: "We are absolutely committed to tackling anti-social behaviour across our borough. To secure this funding is huge step and it will enable us to bring about real and visible change for residents.
"This wouldn't have been possible without the contribution made by the Place and Community Safety Partnership and local councillors. We want residents to see that we are taking their concerns extremely seriously and are committed to working with them to ensure they feel safe and secure in the place they live."
What have active travel campaigners said?
WalkRide GM said the investment to help keep people safe on the move in Manchester was welcome but there was still more that could be done to deter crime against walkers and cyclists by making routes such as the Fallowfield Loop more accessible.
A spokesperson for the organisation said: ''Walking or cycling after dark is a big worry for many due to personal safety concerns so we are pleased to see this funding.
"One of the biggest things that helps reduce crime is other people - so making walking and cycling routes that are high-quality, easily accessed and safe from vehicles so that they can become popular - is a key deterrent to crime.
"We hope that the funding for the Fallowfield loop continues to improve access and remove barriers so more people can use it – because there are still multiple access points that fail accessibility standards and prevent many people joining for no good reason.
"We support the principle that the best deterrent is to make our Bee Network routes safe, comfortable and direct; and thus so well used the crime is much harder; for there to be lighting, and for increased enforcement by police.
"We support Greater Manchester's active travel design guide which says lighting should be appropriate for the setting- eg low level bollard lighting, or solar powered LED surface studs.''