Plans unveiled to remodel Deansgate to improve cycling and walking in Manchester city centre
The plans include changing road layouts and new segregated cycle lanes in the Deansgate area of the city.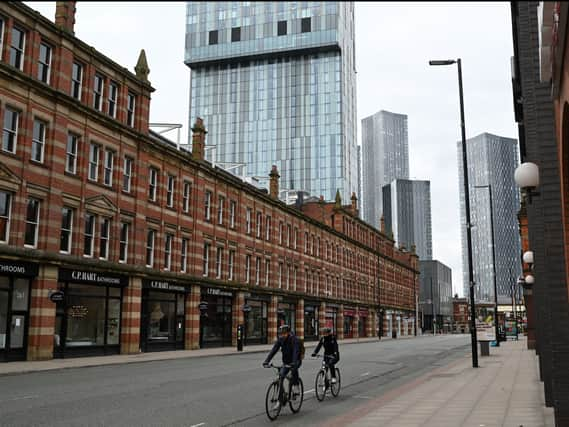 Manchester City Council has unveiled its latest expanded plans to boost walking and cycling in the city centre and is calling on the public to have its say.
A consultation has been launched on the most up-to-date proposals on changing the road layouts on some key entry routes into the middle of the city.
The plans centre on the Deansgate and Whitworth Street areas and include building new segregated cycle lanes, improved facilities for pedestrians and a 20mph zone.
This is the latest part of the City Centre Active Travel Scheme, which aims to provide safe links between Piccadilly, Victoria and Deansgate train stations and boost active travel in the middle of Manchester.
What are the latest walking and cycling proposals?
The works in the Chester Road and Deansgate area include the creation of a segregated two-way cycle lane on the east side of Deansgate between Peter Street and Great Bridgewater Street.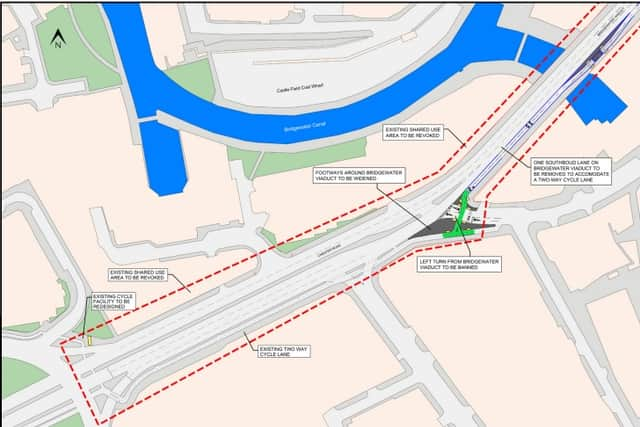 The carriageway would be reduced on both sides of Deansgate from the Peter Street junction to Camp Street to increase the area available to pedestrians and would continue on the west side of Deansgate to the junction with Liverpool Road. On-street parking in the area would also be removed.
Temporary bus stops in the area would be removed, parts of Camp Street and Tonman Street would become one-way, and a bus gate on the westbound carriageway of Whitworth Street West would be installed to only allow buses, hackney carriages and cycles to approach Deansgate on this route, with a segregated cycleway for cyclists pedalling eastbound.
There would also be an upgraded junction at Deansgate, Liverpool Road and Great Bridgewater Street with pedestrian and cycle facilities and one lane taken away from the Bridgewater Viaduct to accommodate a two-way cycle route.
In addition there are plans to build new footways and traffic islands as well as controlled crossings and crossing points for pedestrians.
The council says the cycleway would keep riders separated from other road users with a combination of kerbs for segregation and flexible bollards.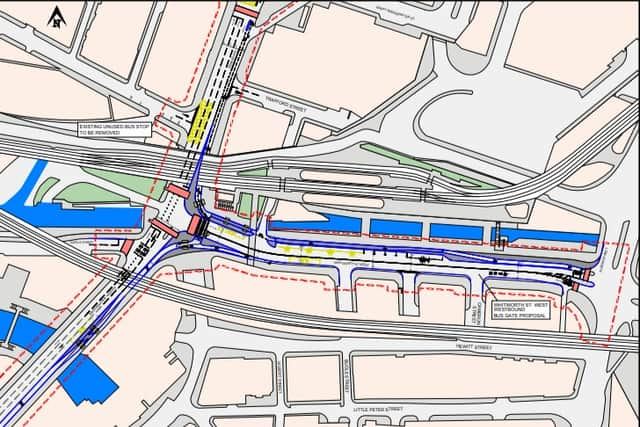 The proposals for the Whitworth Street area include two-way segregated cycle routes on the north side of Whitworth Street and on the west side of London Road to the junction with Auburn Street as well as a cycle crossing over the Metrolink tram tracks on London Road.
There are also plans for crossings with tactile paving at the junctions of Cobourg Street, Minshull Street South, Back Acton Street and South Pump Street where they meet Whitworth Street and making part of Whitworth Street one way.
Part of a bus lane and parking bays would also be removed and signs for a 20mph zone installed.
Why is this consultation taking place?
These plans are the latest updated version of the City Centre Active Travel Scheme which is being funded through the Government's Active Travel Fund.
Manchester City Council hopes to make walking and cycling easier in the city centre and to safely link up three major train stations for those on foot or on two wheels.
The town hall has an ambitious target for 90% of all journeys in the morning peak period into the city centre to be done by active travel methods or on public transport by 2040.
How do I have my say on the proposals?
The consultation launched on Monday (23 May) and runs until Monday 19 June.
The full plans can be viewed on Manchester City Council's website here.
An online consultation event will take place via Microsoft Teams on Thursday 26 May between 6.30pm and 7.30pm. Email atscitycent[email protected] to receive a link before the event to join.
An in-person event will also be taking place on Wednesday 1 June at the Friends Meeting House on Mount Street between 4pm and 7pm.
What has been said about the new plans?
Coun Tracey Rawlins, executive member for environment at Manchester City Council, said: "Through previous consultations we know that the public are in favour of steps to reduce the number of cars in the city centre and make it easier for people to commute in the city by cycling, walking or by public transport.
"Manchester has an ambitious goal of becoming zero carbon by 2038 and it is through schemes like the Active Travel Fund that we will encourage people to a long-term shift to more sustainable and green ways of travelling.
"I hope people will take the time to take part in this consultation and help shape a city centre which is cleaner and greener."