Greater Manchester children will be encouraged to walk or cycle to school more after a new Government funding pot to promote active travel was announced.
Much of the money will go towards continuing to fund the Walk to School Outreach project in more than 1,000 schools across England.
Details of exactly how much money will be allocated to different parts of Greater Manchester and which schools will get active travel schemes are yet to be revealed.
What has been announced and how will Greater Manchester benefit?
Greater Manchester has been revealed as one of the areas which will receive cash from the Walk to School Outreach funding for Living Streets.
£2m out of the £2.5m of funding announced will go into the outreach programme, which will be running with schools in more than a dozen different areas up and down the country.
Living Streets says the Walk to School Outreach programme has led to 17 million new walking journeys and 1.8 million fewer car miles since 2017.
The Government, meanwhile, has set itself a target of having 55 % of primary school children walk to school by 2025.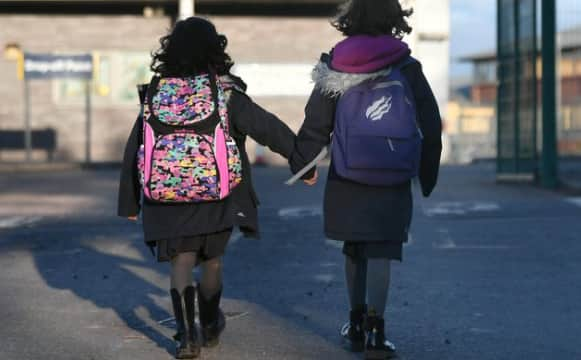 Alongside the outreach programme for schools the Government has announced money to support the expansion of the Modeshift STARS programme in which schools and businesses promote more sustainable and active modes of travel.
And there will be cash for a new Active Travel Academies pilot, in partnerships with Modeshift and the Bikeability Trust. This will involve young people becoming active travel ambassadors as well as providing the skills and infrastructure to walk and cycle to school.
What will happen now?
It is expected that the £2m in the active travel pot for schools will be allocated to the different local authorities and city-regions by the Department for Transport (DfT).
It is not yet clear exactly how much money Greater Manchester will be receiving.
Living Streets said that schools and local authorities which are particularly interested in getting money to get more pupils arriving at their lessons on foot or on two wheels should get in touch.
What has been said about the announcement?
Trudy Harrison MP, parliamentary under-secretary of state for the DfT, said: "Behaviour change outreach programmes are key to giving people the inspiration, information, skills and confidence to enable them to choose to walk, wheel or cycle more of their everyday journeys.
"The funding I was pleased to confirm will allow Living Streets, Modeshift and Bikeability Trust to ramp up activity and work with partners to remove even more barriers to walking and cycling.
"I'm particularly keen to see progress in including those from more deprived communities in these programmes."
Stephen Edwards, interim chief executive at Living Streets, said: "We want every child who can walk to school to be able to do so. This funding is a step towards making that happen.
"Walking rates to primary schools have declined rapidly within a generation. However, in schools where we run our walk to school challenge, the opposite is true.
"Walking rates in our WOW schools typically increase by 23 per cent and the number of cars at the school gates reduces by 30 per cent, helping to reduce congestion, air pollution and road danger.
"We are excited to be working in partnership with Modeshift and Bikeability Trust to continue to help people change behaviours and develop healthy habits for life."
A Transport for Greater Manchester spokesperson said: "We welcome additional active travel funding for Greater Manchester that will encourage more people to walk, cycle or scoot for everyday journeys."