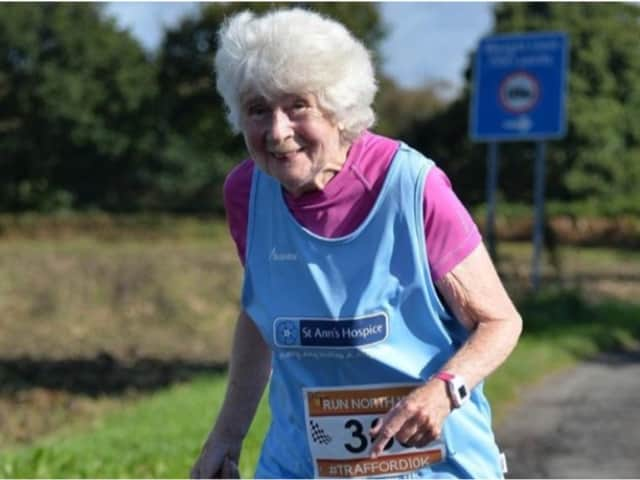 An astonishing 84-year-old grandmother from Greater Manchester who enjoys nothing more than lacing up her trainers and heading out for a run shows no signs of slowing down.
Barbara Thackray, from Altrincham, only took up running in her late 70s but shows no sign of slowing down.
She enjoys regularly 10k runs and is taking part in an event over that distance to support St Ann's Hospice, based in Cheadle.
She is determined to keep on running for the facility as it is where her late sister Audrey was cared for.
'I've warned my son not to slow me down!'
Barbara took up running at the age of 77 and seven years later still absolutely loves her active lifestyle.
She goes out for a 10k run twice a week and has no intention of packing her hobby in.
She is currently training hard for a 10k race which takes place on Sunday (4 September), where she will be raising money for St Ann's Hospice where her sister Audrey was a patient before she died.
Her son James is also going to be on the starting line alongside her, but Barbara has warned him not to slow her down as his fitness level is probably not going to be the same as hers.
She makes it her goal to do 10,000 steps every day, counting her physical exertions with a watch she bought using the £25 vouchers she won as the fastest runner in her age group in the Trafford 10k race.
She also has a JustGiving page to support her fund-raising for the hospice, where you can donate.
What has Barbara said about her running and charity fund-raising?
Barbara, who works in education, said she was keen to support St Ann's Hospice as not only is there a family link with its work but it is running the Build it Together appeal to find the final £2m it needs to build a new hospice next door to the current building in Heald Green which is some 150 years old.
She also spoke of the positive effect keeping active as on her in her ninth decade of life.
She said: "I've always supported St Ann's Hospice and helping them has been an extra motivation to keep running. I know they're building a new hospice and need funds now more than ever.
"At 84, you can't afford to lose it. In your 70s you can start new things, but I'm not convinced you can in your 80s, so I didn't want to risk it.
"I'm a lark and best in the morning, so that's when I like to run, at 6 am or 7 am. The only time I don't run is if it's snowing.
"It usually takes me about 90 minutes and I don't stop or walk at all. I say hello to the deer in Dunham Park which is important to me as I love nature, so I find it healing and inspirational.
"I've been the only competitor in my age bracket in the annual Trafford 10k race. My message to anyone of a similar age considering starting running is to begin gently and listen to your body."