A Manchester children's hospice has a charity shop once more after two years without a retail outlet to bring in funds.
Francis House has thrown open the doors to its new premises in Withington after the Covid-19 pandemic caused the previous shop in Burnage to close its doors for good after more than two decades of trading.
The charity is hoping turning the former toy shop into a charity store will help to swell the coffers and support its work helping children with life-threatening and life-limiting illnesses.
Charity shops are an important source of income for causes like the children's hospice, which is reliant on donations for most of its annual running costs which amount of thousands of pounds per day.
What is the new charity shop and where is it?
Francis House's new charity shop is on Wilmslow Road and sells clothing, shoes, books, toys, toiletries, textiles and bric-a-brac.
The charity says the store is bigger and brighter than its previous retail location and hopes to attract its regular supporters back as well as some new faces.
A team of 10 volunteers has been waiting for a new shop to open since the old one shut and Francis House said they could not wait to get back to work serving customers.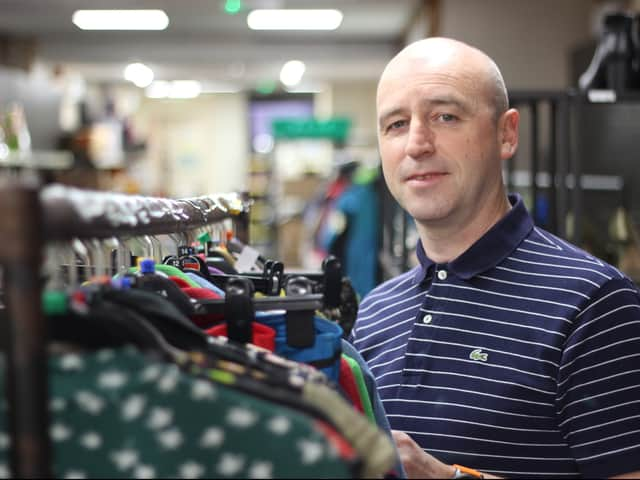 The shop is open from 10am to 4pm Tuesday to Saturday.
Donated items, excluding electricals, furniture and safety goods such as child car seats, can be donated during shop opening hours, and there is parking and unloading available at the back of the shop on Gledhill Street.
The charity also sells more niche items via eBay to see if the online auction format will bring in higher prices for them.
Based in Didsbury and opening its doors in 1991, Francis House relies on charitable donations to fund the majority of its £12,900 daily running costs.
What has been said about the opening?
Shop manager Jason Connor said he hopes switching the focal point of the charity's retail efforts from Burnage to Withington will coincide with a general uptick in fortunes.
He said: "It's a good opportunity to move to Withington. If we'd moved further away, we might have lost the volunteers as 80 per cent walked to work and a couple used to drive.
"They have been a big help in setting up the new shop and have gone straight back into doing what they did before, so we've not had to train all new staff.
"Withington is a busier area for donations and for footfall. The shop in Burnage had been a part of the community for 22 years but in recent years it got a bit quiet for us with all the other shops closing down.
"There are a lot more students here so it will be interesting to see what the custom will be and what people think of the new shop.
"I'm looking forward to getting back to trading and to having the space, more stock and a few more lines to give people more choice so that they spend money, which is after all what we are here for."
There are already a number of other charity shops on the street in Withington, but Jason sees that as a positive rather than a negative.
He said: "You do get a type of shopper who is a charity shop shopper, they will come and do all the charity shops, looking at each one of them in turn.
"My mum used to do that, she'd go to a place and go in all the charity shops. Speaking to the neighbours here on Wilmslow Road, one said it's good to have another shop because your custom will come into us and vice versa.
"It could dilute our donations a bit. In Burnage we were the only one there, so everyone would bring their stuff into us.
"It's different here, if you've got two bags full of stuff to donate you might pass two shops to come to us, but people will come out of their way to get to us, and we always pick up from people if needed."