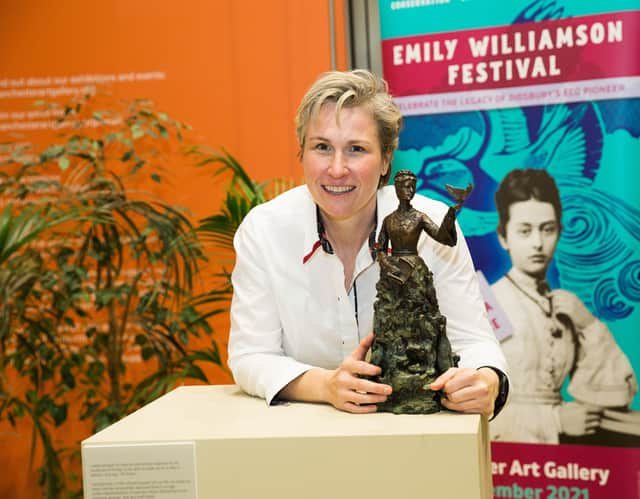 Sculptor Eve Shepherd has won a competition to design a statue of conservation trailblazer Emily Williamson
The winning design in a competition to create a statue of Manchester conservation trailblazer Emily Williamson has been revealed.
Sculptor Eve Shepherd was the winner of the public vote to come up with a suitable tribute to the amazing wildlife protection pioneer who founded what would go on to become the Royal Society for the Protection of Birds (RSPB).
The design was unveiled at the weekend during the Emily Williamson Festival in Manchester which celebrated her life and work through events spanning conservation, campaigning, science and art.
Who was Emily Williamson?
Born Emily Bateson in Lancaster in 1855, she married Robert Wood Williamson, a solicitor who was also the son of the curator of the Manchester Natural History Museum.
The couple created a beautiful green space at their Didsbury home which is now Fletcher Moss Park and, as in Emily's lifetime, is a vital haven for birds and wildlife.
Emily was horrified by the Victorian slaughter of birds so that their feathers could be used in decorative hats.
Emily Williamson, who helped to found the RSPB
Having failed to gain support for a campaign from existing organisations, she founded her own all-female group, the Society for the Protection of Birds, in 1889.
It became the RSPB in 1904 when it gained Royal Assent, having already attracted tens of thousands of members by that point.
What is Eve's winning statue of Emily Williamson like?
Eve's winning design captures Emily Williamson both as a young woman and her legacy through the story of her achievements.
She wears a long crinoline skirt in the design, but looking closely shows the ruffles are actually a cliff face containing some of the birds she helped to save.
Part of Eve Shepherd's winning design
More than 12,000 people voted in the final stage of the campaign for the new statue.
Four shortlisted designs were picked from 24 entrants and miniatures called maquettes were created of them before the public got the chance to have its say.
What will happen now?
It is hoped that Eve's design will be unveiled as a full-size statue in Fletcher Moss Park in 2023.
Now the campaign will focus on fund-raising to make the statue a reality.
This will include the release of 20 limited-edition maquettes of Eve's design.
What has been said about the statue design?
Eve, whose recent work includes celebrating educational and equality campaigner Betty Campbell with a statue in Wales, was thrilled to have her design selected.
And the end of the design competition marks an important milestone for the campaign.
The RSPB, which ultimately traces its roots back to Emily's campaigning group in Victorian times, has also expressed its delight at having a permanent tribute to her and recognising her achievements.
Part of the public vote involved touring the four shortlisted maquettes around a number of RSPB wildlife havens for organisation members to take part.
Eve said: "I'm deeply honoured to be chosen to create the Emily Williamson statue for Fletcher Moss Park, Manchester and the bird loving community.
"I feel very humbled and privileged to sculpt such an important pioneer and eco-activist.
"She was an incredible visionary, a quiet, yet stoic woman, who stood against the norms of her day.
Eve Shepherd has been announced as the winning sculptor in a design competition for a statue to conservation trailblazer Emily Williamson
"She co-created a legacy, the RSPB, a charity that has saved countless bird lives and protected precious natural habitats for future generations to enjoy. In my eyes Emily is a shining beacon of how we can save our fragile ecosystem in these unprecedented times.
"Emily Williamson was one of those amazing women who has been forgotten because of her gender.
"This statue will be a triumph, a milestone, for how far we have come to balance the scales of equality for women within public sculpture, though we still have some distance to go.
"I am so very delighted and excited to have been selected to be part of this!"
Beccy Speight, CEO of the RSPB, said: "I'm delighted that over 12,000 people took part in the vote to decide this important, timely statue for Emily Williamson.
"One hundred years ago, alongside other determined, inspirational women, Emily successfully campaigned to stop the slaughter of millions of birds for fashion.
"While the RSPB which they founded has grown and evolved, campaigning is still at the heart of what we do, perfectly illustrated as we took to the UK's streets during COP26 to demand that world leaders urgently address the nature and climate emergency which threatens wildlife, habitats and humanity itself.
"Eve Shepherd's glorious, beautifully detailed vision of Emily serves as a reflection to the past, our heritage and the unbreakable bond between nature and people.
"But crucially, this statue can inspire the next generation, who understand the power and fragility of nature, and will be reminded by Emily's legacy, that there is always hope, and the fight must continue."
Chair of the Emily Williamson Statue Campaign, Coun Andrew Simcock, said: "We had four exceptionally high quality entries on this shortlist.
"On behalf of the selection committee I'd like to thank Clare Abbatt, Billie Bond and Laury Dizengremel for their massive contribution to this contest.
"Their designs all polled well with the public and it is telling that less than 1% of those voting said 'none of the above."
"As I toured the four countries of the UK visiting RSPB reserves with the maquettes there was tremendous engagement with the designs.
"Eve's, in particular, was a big hit with children. There was a real sense of their delight as they realised how many birds were present in Emily's skirt.
"Many congratulations to Eve and I really look forward to working with her to create this statue of Emily Williamson."
Author and social historian Tessa Boase, who is a key member of the statue campaign and a co-founder of the Emily Williamson Festival, said: "Sculptor Eve Shepherd is renowned for the depth of her research, and her iconoclastic approach to public artwork.
"Her statue of Emily Williamson will be an inspiring monument not just to a woman, but to the beauty and vulnerability of birdlife.
Emily Williamson Festival co-founder Tessa Boase
"If we want the next generation to cherish nature and to safeguard biodiversity, we need to engage young minds and hearts – through telling stories.
"This statue will contain a multitude of stories and species, drawing the viewer back again and again. Shepherd's proposed use of augmented reality technology to enhance interpretation will bring an exciting extra dimension."
What was the Emily Williamson Festival?
The winning statue design was unveiled as part of the Emily Williamson Festival which celebrated her life, work, ideas and legacy in her home city.
It opened with a debate focusing on how many key roles in British conservation are currently held by women, hosted by well-known naturalist and TV presenter Megan McCubbin.
Six events were then held over the weekend, including Tessa giving a talk about her research into Emily's life.
Other subjects at the panel discussions included the relationship between feathers, science and nature, including looking at the Victorian feathered hat collection still held in Manchester today, and the contrasts between conservation in the city in Emily's time and now.
Conservation groups from across the city and green and environmental activists were all invited to the event to take part.