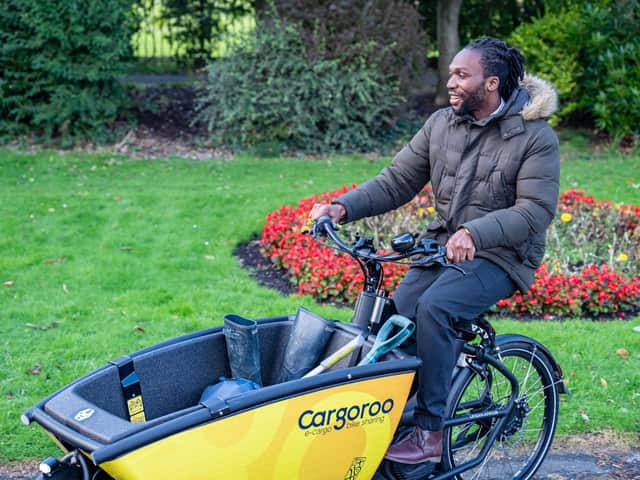 E-cargo bikes are being made available for hire in parts of Manchester
A scheme allowing residents in parts of Manchester can hire an electric cargo bike has arrived in the city.
A fleet of the two-wheeled vehicles which can carry loads as well as passengers is being rolled out in the city centre.
It's all part of a year-long pilot project which aims to give residents in different parts of Greater Manchester alternative modes of transport which also reduce the burden on the environment.
What are e-cargo bikes and where in Manchester can you hire them?
E-cargo bikes are a common sight in many European cities. They have a large open compartment between the rider and front wheel which can be used to carry up to three children or cargo.
They have a battery range of around 60 miles and a maximum speed of 15mph.
The Manchester ones are being rolled out in the Chorlton, Ancoats and Whalley Range areas and will be available to hire from Monday (6 December).
You will be able to pick a bike up from a number of designated bike parking bays across the three locations.
You can now hire e-cargo bikes in Manchester
Altogether there will be 25 e-cargo bikes made available for the public to use.
It will be an app-based scheme and is being run by Cargoroo, which already offers e-cargo bikes for hire in cities in the Netherlands and Belgium.
The maintenance and operation of the e-cargo bikes will be delivered by Manchester Bike Hire.
Why is the scheme being rolled out?
The idea is to give residents in parts of Greater Manchester electric alternatives to private cars to help them make more sustainable and environmentally-friendly travel choices.
The eHubs website says around one in three households in the city-region do not have a car.
The project also includes an electric car club scheme, which will be available in East Didsbury, Bury town centre and Prestwich.
The whole scheme is being funded by Interreg North-West Europe.