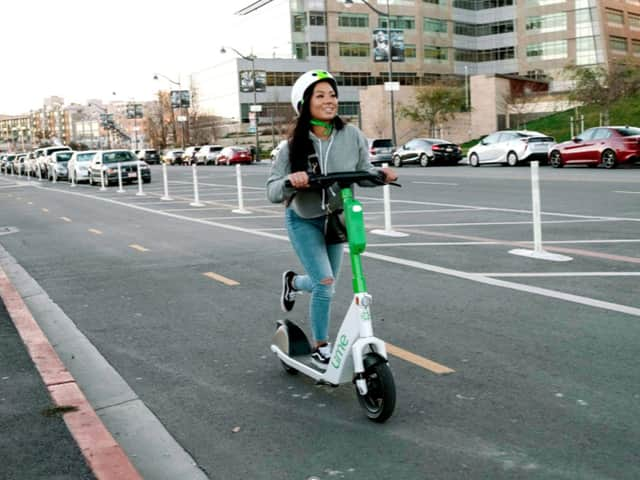 Greater Manchester transport bosses and police have come under fire from campaigners for their perceived attitude towards e-scooters.
Transport for Greater Manchester (TfGM) made public the results of a survey by Safer Roads Greater Manchester which found most stores selling the machines were properly briefing customers on the legalities of where they can be ridden.
The disability charity claims the risks from e-scooters are leading other cities to take a much harder line on them and it is baffled why authorities in Greater Manchester are not following suit.
However, TfGM has robustly defended its position on e-scooters while also saying that it simply does not have some of the powers needed to do what the campaigners want.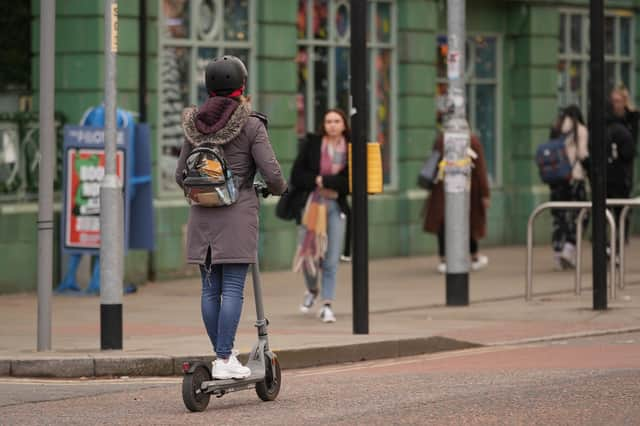 What did Transport for Greater Manchester say about e-scooters?
TfGM said that more than 40 stores in the city-region were visited by mystery shoppers to check that staff were passing on correct information about e-scooters to buyers.
They found that 75% of retailers correctly told customers that it is illegal to ride e-scooters on roads and pavements, and that its only permitted use is on private land.
Staff at almost two-thirds of the stores surveyed also recommended that customers wear a helmet when riding an e-scooter, even though they are not a legal requirement.
TfGM said feedback was in the process of being given so improvements could be made and stores that did not pass the test were being chased up.
What are the rules around riding e-scooters in Greater Manchester?
The only way e-scooters can legally be ridden on Greater Manchester's roads is as part of the two trial schemes taking place in Rochdale and Salford.
Hire e-scooters are legal to ride on roads, cycle lanes and tracks within trial areas, which are set up by local authorities in consultation with the DfT.
But it is illegal to ride e-scooters on roads, pavements, cycle paths and other publicly accessible spaces such as car parks, public squares, and university campuses. Use on private land is allowed subject to permission from the owner or occupier of the land.
By law, high street retailers and independent shops are allowed to sell e-scooters, but staff need to provide customers with accurate information about the legal restrictions on their use.
According to Lime, the company partnering with councils and TfGM for the Greater Manchester pilot schemes, a total of 55,000 riders have made 220,000 trips using the scooters, covering a combined total of over 239,000 miles as of January 2022.
What did disability campaigners say?
The survey and its aftermath were greeted with considerable anger by NFB UK, which wants all e-scooters permanently banned and the trial schemes scrapped on safety grounds.
The charity's street access campaign coordinator Sarah Gayton said that Greater Manchester's approach was different to that being taken in other parts of the country.
Ms Gayton said: "I have to question why there has been no ban on carrying on private e-scooters on all public transport in Manchester and Greater Manchester, on trains, trams and buses?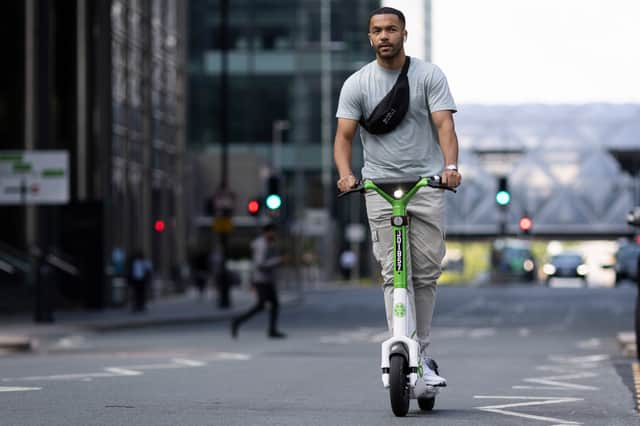 "Why have other public transport companies not followed the actions of Transport for London in banning e-scooters on their services?
"They are trying to work with retailers when to me the Department for Transport should be stopping the shops from selling them, full stop. The legal trials should be shut down.
"Where is the private land in Greater Manchester people can ride them on? It is obvious the majority of them are going to end up on the public highway.
"E-scooters are inherently dangerous by design and are being used as vehicles of anti-social behaviour, being ridden on pavements and public spaces terrifying and terrorising pedestrians.
"These are inherently unsafe vehicles, which are unstable, unfit for purpose and unroadworthy. "
What have the authorities said?
TfGM said e-scooters are permitted to be sold by the Government so it was reasonable for it to conduct an exercise to ensure customers were being given accurate information on their legality when being used.
It said e-scooters were already banned from Metrolink under a bye-law forbidding bicycles or any "other wheeled vehicle" except wheelchairs, buggies and prams being brought on to trams or into stations.
And as Greater Manchester does not yet have an integrated or franchised transport system responsibility for deciding whether e-scooters can go on public transport lies with private operating companies or, in the case of taxis, with the local town halls which are the licensing authorities.
The authorities have also stressed that they do not condone the illegal use of e-scooters.
Superintendent Julie Ellison from Greater Manchester Police's Specialist Operations Team said: "If you are caught using an e-scooter on a public road, pavement, or other prohibited space you are committing a criminal offence and could be prosecuted.
"The parents of children using e-scooters may be responsible for any fines incurred from them being ridden illegally, so I would urge parents to think before buying an e-scooter as a present."