Transport for Greater Manchester (TfGM) is currently working with private company Lime on a trial of e-scooters in two boroughs.
But now the trial has been questioned by a disability charity which has called for it to be scrapped.
The National Federation of the Blind of the UK claimed the machines were dangerous and not being properly maintained while no efforts were being made to ensure they were being ridden properly or safely.
Those behind the scheme, though, have offered a robust defence of the trial and their commitment to ensuring the scooters are safe.
Why are e-scooters being trialled?
Last year the Department for Transport (DfT) fast-tracked and expanded the trials of rental e-scooters.
This was part of attempts to support a green restart of local travel and to mitigate reduced public transport capacity during and after the Covid-19 pandemic.
The Government says e-scooters offer the potential for fast, clean and inexpensive travel that can also help ease the burden on transport networks and allow for social distancing.
The initial trials are set to run for 12 months.
What do the authorities say about the Greater Manchester trial?
TfGM set up a trial in partnership with the operator Lime in Rochdale and Salford.
Transport bosses say it has proved incredibly popular, with over 120,000 trips being made by 35,000 users since the trial begun.
Altogether residents have used e-scooters to cover a distance of more than 230,000km.
A spokesperson for TfGM said: "Rental e-scooters provide a flexible and socially-distanced travel option that contributes towards regional transport goals such as reducing congestion, improving air quality, and improving connectivity to public transport hubs."
The National Federation of the Blind of the UK recently visited Rochdale and Salford as part of its efforts to monitor e-scooter trials around the country.
It is so horrified by what it has found nationwide that it is now calling for all attempts to widen the use of the vehicles to be stopped.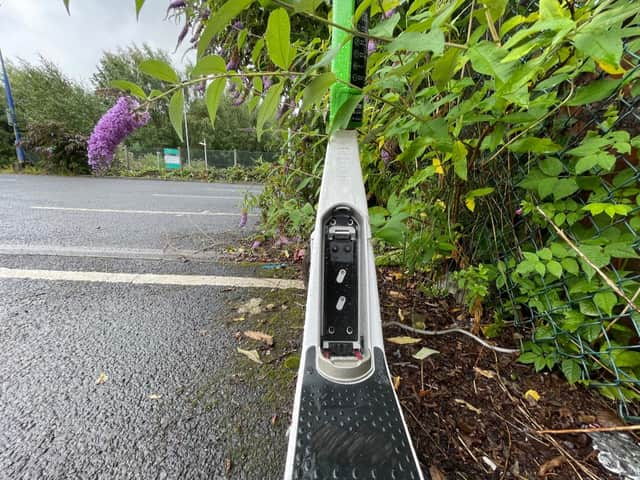 The charity said it found numerous examples of faulty machines available for use on the streets, rules not being followed and safety issues, particularly for people with visual impairments, such as e-scooters being abandoned in the middle of the pavements even on a short visit to the city-region.
Shared space co-ordinator Sarah Gayton said: "In Rochdale I found seven scooters with really dodgy left-hand brakes.
"They weren't functioning properly and they hadn't been checked.
"Brake casings were scratched and damaged on many of the e-scooters, one had a cable cut in half on the back wheel and the battery was missing from one.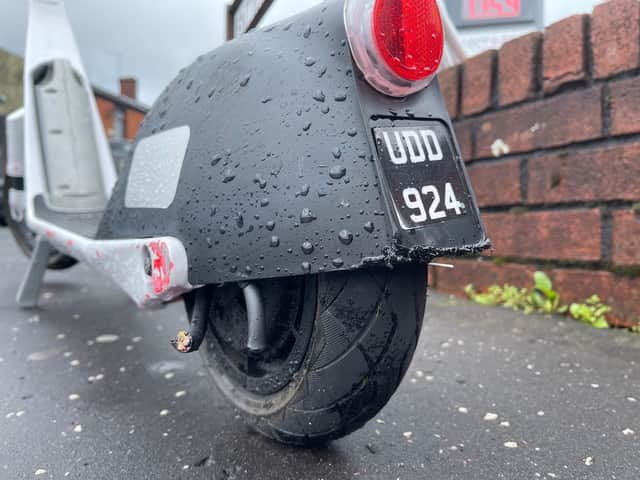 "Four or five of them were knocked over or left on the pavement, presenting a major trip hazard.
"I've been watching and people aren't checking the machines before they scoot off.
"At Salford I saw a man letting a child ride the e-scooter. Anybody could rent one and then just hand it over to somebody else.
"The Salford ones also have a back brake you operate with your foot. Many people are riding them double, and if you do that how are you controlling the back brake?
"There are massive safety concerns and the trial should be shut down. These e-scooters are not fit for purpose and are dangerous."
Are there rules for operating e-scooters?
The Department for Transport (DfT) said operators of the trials need to have some form of motor vehicle insurance policy in place.
E-scooter users also need a valid driving licence.
Cycle helmets are recommended.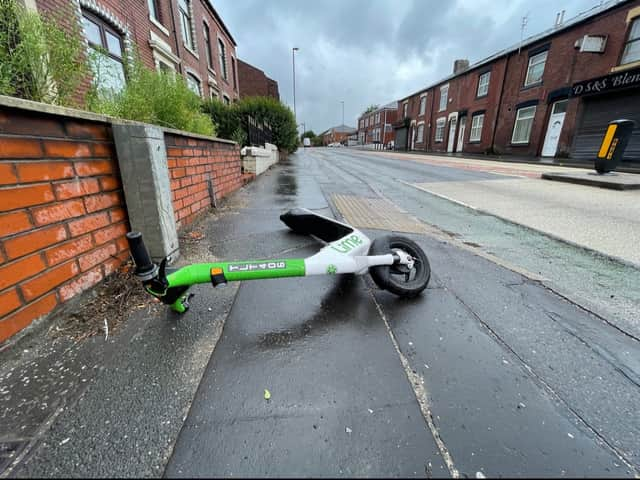 E-scooters are allowed on the roads (except on motorways) or in cycle lanes.
Lime also has safety information on its website.
What have those responsible for the trial said?
TfGM and Lime have vigorously defended the safety of the Rochdale and Salford trials, saying hardly any serious incidents have been recorded and insisting that Ms Gayton's experiences of the state of the machines and them being left scattered on the streets are not typical.
They also insisted they are working with disability groups and charities to understand and alleviate their concerns about e-scooters.
The TfGM spokesperson said there had been 95% compliance with the parking bays provided.
The spokesperson said:"We are working with the DfT and their UK-wide monitoring and evaluation programme to fully understand the benefits and impacts of e-scooters on public space.
"Safety remains our top priority and, working in partnership with Rochdale Council, Greater Manchester Police, and operator Lime, we have taken steps to ensure that the scheme is as safe as possible for everyone.
"These include mandatory parking bays, implementing a maximum speed of 12mph (3.5mph lower than DfT requirements) which is reduced to 6mph in slow-speed zones, and automatic slow-speed and no-ride zones.
"We continue to work closely with several sight loss charities, including the Royal National Institute of Blind People, and local disability groups to ensure the scheme is managed in a way that is considerate of vulnerable road and pavement users.
"We'd like to remind people that rental e-scooters may only be hired by users aged 18 and over who hold at least a provisional driving license and must not be used on the pavement.
"The use of privately owned e-scooters in public spaces is still illegal."
lan Clarke, director of policy and government affairs for Northern Europe Lime, said: "Lime operates shared e-scooter and e-bike services in over 200 cities all over the world. Safety is our critical focus in each of these markets.
"The claims made by NFBUK are based on several inaccuracies and misunderstandings of the processes we have in place to deliver safe and well managed services in Rochdale and Salford, where we have now successfully delivered over 100,000 rides with no serious safety incident reported.
"These rides include over 3,500 free rides provided by Lime for local key workers, lower income users and riders travelling to their vaccine.
"We regularly check that all 300 vehicles deployed across our Rochdale and Salford services are safe to ride, and any hardware issues reported via local maintenance teams, on-vehicle self diagnostic systems or riders themselves, lead to the vehicle being immediately taken offline and made unavailable to hire ahead of being collected and returned to the Lime warehouse for repair.
"We understand the importance of delivering a service that works for everyone in Rochdale and Salford, and have a strong track record of engaging with disability groups to help inform the way in which we run our scheme here, for instance by requiring all users to park in marked e-scooter parking bays only.
"Lime's ride numbers demonstrate strong progress in providing local Rochdale and Salford residents with a safe and sustainable transport option, helping to reduce reliance on cars for shorter trips and creating happier and healthier urban environments for everyone.
"We are focused on continuing to deliver these services to local residents."