Airlines from all over Europe and the rest of the world are reviewing the use of airspace near Ukraine.
Will flights to and from Manchester Airport fly over Ukraine?
No. Ukrainian airspace is shut to civilian aircraft.
Are flights to Ukraine running from Manchester Airport?
Ryanair operates two routes out of Manchester to Ukraine.
The routes are to the capital of Ukraine, Kyiv and the largest city in the east of the country, Lviv.
"Due to the closure of Ukrainian airspace overnight, and the apparent invasion by Russian forces all Ryanair flights to/from Ukraine have been suspended for at least the next 14 days," said a Ryanair spokesperson.
"All affected passengers will receive email notices later this morning and all flights to/from Ukraine have been removed from sale for at least next four weeks until further information becomes available from EU safety agencies."
The spokesperson added: "Ryanair remains committed to our services to/from Ukraine and we look forward to restoring flight services there as soon as it is safe to do so.
"We sincerely regret and apologise for these unprecedented disruptions and any inconvenience that they will inevitably cause to our Ukrainian customer."
At the time of publishing, passengers could still book a one way direct flight costing £7.99 with Ryanair from Manchester Airport to Kyiv on Monday March 24.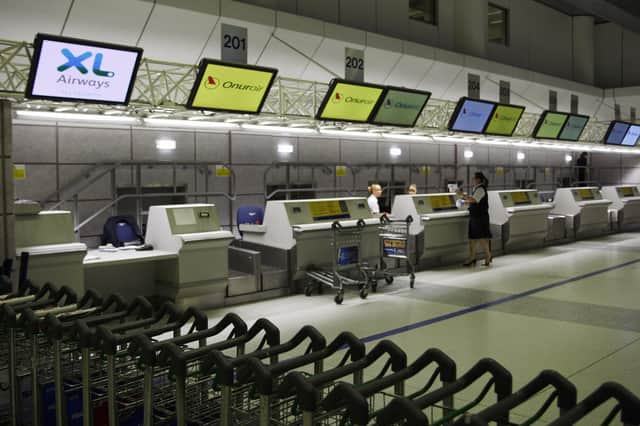 Which countries have closed their airspace?
Ukrainian airspace is closed to all civilian aircraft.
The European Union Aviation Safety Agency (EUASA) has published an update to the Conflict Zone Information Bulletin.
This extends the affected airspace to include Flight Information Region of Chisinau (Moldova) and Minsk (Belarus).
It further recommends that air operators exercise caution when operating in the whole Flight Information Region of Moscow and Rostov due to heightened military activity, which may include launches of mid-range missiles penetrating into controlled airspace.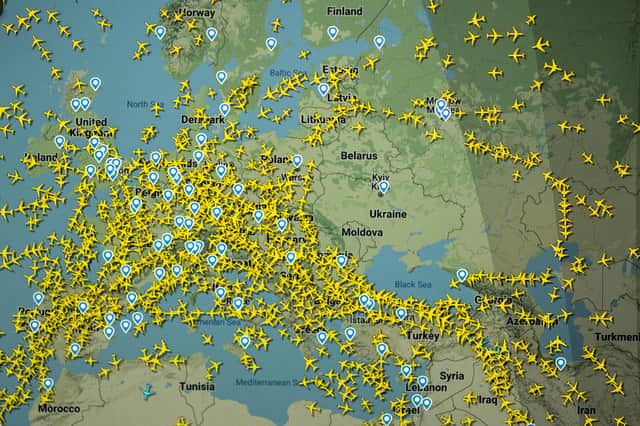 What's the latest travel advice from the Foreign, Commonwealth & Development Office?
"Russia has started military operations in Ukraine," said the FCDO.
"There are multiple reports of widespread military activity and real risk to life.
"We advise British nationals to leave Ukraine immediately if you judge it is safe to do so.
"Following the introduction of martial law on February 24, you should follow the advice of the Ukrainian authorities while you remain in Ukraine.
"It is likely that commercial routes out of Ukraine will be severely disrupted and roads across Ukraine could be closed.
"If you are in the vicinity of military activity and you cannot leave safely, you should stay indoors, away from windows, and remain alert to developments that would allow you to leave safely."
The FCDO added: "If you decide to remain in Ukraine, you should remain vigilant throughout for any potential combat operations, keep your departure plans under constant review and ensure your travel documents are up to date. You should monitor the media and this travel advice regularly, subscribe to email alerts and read our advice on how to deal with a crisis overseas.
"Before you travel within Ukraine, you should check local measures in place under Ukraine's State of Emergency, that roads are open and, where appropriate, that scheduled train and bus services are operating before you travel.
"Ukraine's airspace is closed. Check our travel advice for any neighbouring country that you are planning to travel to or through. If you need assistance in any of the countries you are transiting through, you can find the contact details of our consular teams there on the travel advice or embassy webpage of the relevant country.
"Ukraine introduced martial law across the whole country on February 24, in addition to the nationwide State of Emergency. You should check the measures in place in your location as they will vary from region to region and follow the instructions of the local Ukrainian authorities.
"The Ukrainian military may rapidly change the measures in place in response to the level of threat. You should expect increased documentation checks on people and vehicles, transport restrictions and increased security measures for public buildings and infrastructure. Other measures could include additional border controls, restrictions on large public events, curfews, restrictions on telephones, internet and broadcasting, and evacuations of certain areas.
"The Ukrainian State Border Service announced additional temporary measures for border zones with Russia and Belarus, neighbouring rayons to Crimea and non-government-controlled Donetsk and Luhansk oblasts, and along Ukraine's coastline. If you have decided to remain in Ukraine, you should check the measures in force in your area.
"The British Embassy office in Kyiv has temporarily relocated. Embassy staff are operating from the British Embassy office in Lviv.
"The in-person consular services that British Embassy office in Lviv can provide are extremely limited. If you are in need of assistance to leave Ukraine, you should call +380 44 490 3660 or +44 (0)1908 516666 and select the option for "consular services for British nationals." You can also send an enquiry via the web contact form.
"Russia's military action in Ukraine will severely affect the British Government's ability to provide consular assistance in Ukraine.
"British Nationals should not expect increased consular support or help with evacuating in these circumstances.
The FCDO continued: "Public demonstrations regularly take place. Policing of these events may include road closures. You should avoid all demonstrations and take extra care at public gatherings. In Kyiv, the areas around Maydan Nezalezhnosti (Independence Square) and government buildings such as the Verkhovna Rada (parliament building) and the Cabinet of Ministers are most frequently affected."