The default speed limit on roads in Manchester is set to be reduced to 20mph in a bid to make walking and cycling safer in the city. Manchester city council's new active travel strategy also aims to cut 40mph speed limits to 30mph by 2028.
It comes after town hall bosses revealed last year that speed limits on all 40mph roads were under review and could be reduced to 30mph. The council says the decision to drop speed limits is primarily for public health reasons, citing benefits such as less pollution, better fuel efficiency and fewer crashes.
However, the local authority says the move would also make cycling safer. The proposal is now part of the council's plans to make walking 'the natural choice' for short journeys and double the proportion of trips by bike within five years.
Campaigners have praised the new plans saying they hope speed limits can be reduced 'as soon as possible', alongside a ban on pavement parking. They say lowering vehicle speeds makes streets safer for everyone – including drivers.
Walk Ride GM described the move as a 'win-win' for all road users, saying it would encourage more considerate driving while reducing noise and danger. They also argue that lowering speed limits means vehicles travel at more consistent speeds, leading to less wear and tear and making it safer for others.
A spokesperson for the campaign group said: "In the event of a crash, the likelihood of death or serious injury is also greatly reduced. All the smart cities understand that reducing the impact of vehicles, starting by slowing them down, is necessary to create a safer, healthier, fairer place for everyone."
The Manchester Active Travel Strategy and Investment Plan says that at least £10 per person will be spent every year in order to achieve the ambitions in it. The local authority also wants at least 70 pc primary school pupils to walk or cycle to school by 2028 and 40 pc of secondary school pupils to do the same.
The report published last week also commits to closing roads outside at least one school in every neighbourhood in the city at drop-off and pick-up times. Manchester council leader Bev Craig said: "We want Manchester to be one of the best places in the country to live and work. That means attractive, green, and connected neighbourhoods with safe streets which prioritise residents.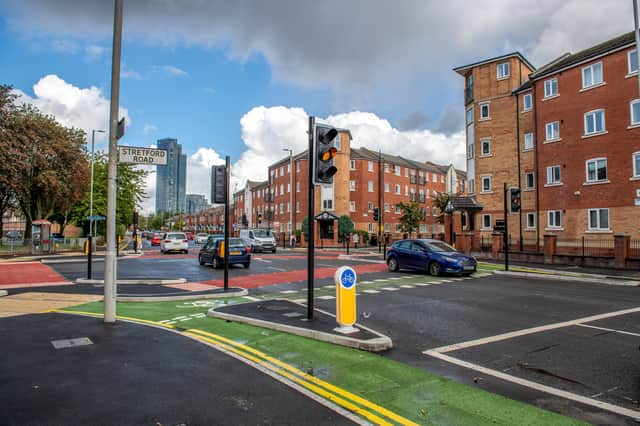 "Running alongside Greater Manchester's launch of the Bee Network we feel this policy puts detail on Manchester City Council's long-running ambition to make sure our roads our safer and that air pollution can be tackled."
The council says it has a 'solid base' to build this plan on with the majority of journeys under 2km already on foot, but only 6 % of journeys are by bike. One of the most cited barriers to walking, wheeling or cycling is the speed and volume of traffic, the local authority found after asking people for their views.
Crossing busy roads and junctions also came up during the consultation as well as the poor condition of pavements. Asked about solutions to the barriers, 70 % of respondents to the survey suggested creating segregated spaces for cyclists, 53 % suggested putting filters in place to create low-traffic streets, and 38 % thought level surfaces and dropped kerbs would remove barriers.
A draft of the new strategy, which will be presented to councillors at a scrutiny committee meeting this week, sets out priorities for the next five years. This includes reducing the speed limit 'where justified and consistent with overall road safety' and delivering one 'school street' in each of the 32 council wards.
School Streets are an initiative where there are 'pedestrian and cycles only' restrictions in roads in front of schools at morning drop-off and afternoon pick-up times. However, where residents need access to a school street, they are allowed through under the supervision of a marshal if they drive smoothly.
There are currently seven pilot schemes at primary schools in Manchester which are enforced by 'Experimental Traffic Regulation Orders' and volunteer marshals. The council has applied to the Department for Transport for powers that would allow it to enforce school streets without the need for marshals.
The council has also committed to removing all barriers on walking and cycling paths which block access to non-standard cycles and double the number of people who live within a minute walk or cycle to local green spaces. The new active travel plan has been welcomed by campaigners from Walk Ride GM.
They said: "Manchester at last seems to grasping the opportunity for its citizens and setting out this new active travel strategy and investment plan. We welcome the focus on making travel to school safer for children and on providing cheap, quick, freely accessible transport alternatives in areas where people have lowest incomes and have the least, especially no access to a car.
"By making it safer and easier for people to get about on foot, bike or using a mobility aid – for example, to get to school or shops or the bus – we get safer, cleaner, fairer neighbourhoods. We look forward to seeing it delivered in full as quickly as possible – and the ambition increasing to include further measures."
Labour councillor Tracey Rawlins, who is Manchester's executive member for environment and transport said: "Active Travel is one of the most important policies in recent memory that Manchester City Council has proposed.
"We know how important it will be in not only creating a greener and less polluted city – contributing to our goal of becoming zero carbon by 2038 or earlier – but in shaping our neighbourhoods to become more vibrant and safer, as well as improving health across generations.
"School safety also plays an incredibly important part in the work we are doing. Providing safe and accessible spaces for our young residents is something the Council is eager to work on as in many areas schools lie at the heart of our communities.
"Most importantly, this work will be inclusive and we will work hard to make sure that every one of our residents is represented. Our city is for everyone to enjoy and it is crucial that no one is left behind for any reason. We must work tirelessly to identify barriers that get in the way of active travel ensure that Active Travel works for everyone."