Greater Manchester organisations are supporting a campaign urging ministers to think again about care home visitors having to pay for Covid-19 testing.
As it stands care home visitors are not be among the people who are still entitled to free lateral flow testing under the Government's Living With Covid plan.
The Alzheimer's Society has now begun lobbying to reverse this decision and more than 500 people in the city-region have already written to their MP backing it.
Campaigners say many people in Greater Manchester will struggle to afford lateral flow tests if they are not free - in the middle of a cost-of-living crisis causing bills to soar - and are worried about care home residents' wellbeing if they do not see their loved ones as often.
What is the campaign about?
Free lateral flow testing was dropped except in a specific number of cases on Friday 1 April under the Government's plan to treat the novel coronavirus more like a seasonal illness such as flu.
Care home staff and some visitors who provide close personal care do still get free tests, but it has been argued that this does not go anywhere near far enough.
The Alzheimer's Society has now started a petition to bring back free lateral flow tests for care home visitors and has been supported by the head of a Greater Manchester charity which leads a national coalition of organisations supporting people with dementia.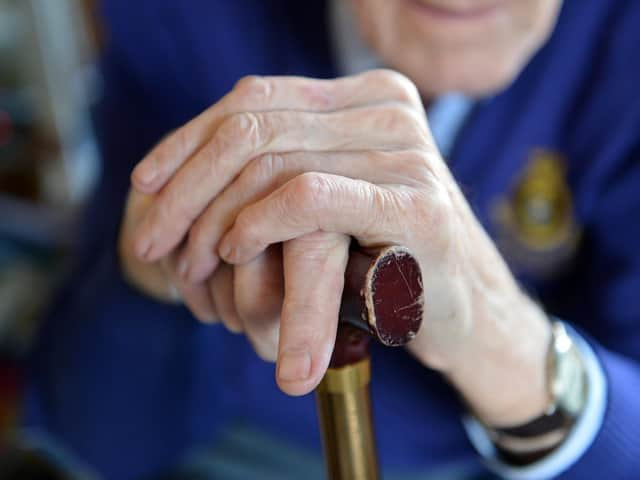 So far 533 people in the city-region have written to their MP with their concerns.
The Alzheimer's Society says some high street shops are now charging up to £12 for a pack of five tests, which comes to a financial outlay of more than £70 per month.
With the cost of living crisis seeing energy bills shooting up and food prices rising, there are concerns that some people will simply not be able to afford to visit their loved ones in care homes.
The charity says people with dementia have already been hit hard by the Covid-19 pandemic.
What has been said about keeping free lateral flow tests?
Sue Clarke, area manager for the Alzheimer's Society in Greater Manchester, said: "With the end of Covid rules, people may well assume infections are dwindling. But the reality is that cases have been soaring which means scrapping all isolation rules and ending free tests is a dangerous gamble.
"It poses an unnecessary risk for people living with dementia being exposed to infected people not isolating in the community, but also from untested people visiting care homes whilst infected.
"It's a relief to see a small number of those giving close personal care receive free tests for care home visits, but this doesn't go nearly far enough to allow everyone to visit safely and provide families with the reassurance needed.
"At a time when the cost of living is rocketing, thousands of families will now be hit by the extra costs of paying for lateral flow tests purely to make sure their visits are safe, and their loved ones protected.
"Isolation is devastating for people living with dementia and charging for tests could lead to missed visits which we know has a huge impact to their wellbeing.
"The Government must go further and provide free lateral flow tests for all visitors to care homes, not just a select few, so that families can keep their vulnerable loved ones safe as the UK continues to open up."
Jacqui Cannon, CEO of The Lewy Body Society which is part of One Dementia Voice, said: "We absolutely support the Alzheimer's Society petition.
"This is just another added layer of problems for people trying to visit relatives in care homes.
"There will be some people who won't be able to afford tests with the cost of living crisis and they will then have to make a choice about visiting relatives with everything else that is happening.
"I hoped the Government would at least give free lateral flow tests to the named family member who is down as the named key carer for that person.
"At the moment many care homes are saying you still have to have tests to visit, but it depends on how things are being interpreted and one of the problems is that the rules are only guidance, not law. Some homes are being very cautious and still have testing and restrictions in place."
What has the Government said?
The Government said the public now has stronger protection against Covid-19 than at any other time during the pandemic and that vaccines would be used as the primary line of defence against the virus.